Picking out the right snowboard can be a puzzling experience for a newcomer to the sport, especially as, aside from the graphics on the base, most boards look identical to the untrained eye.
It's easy to assume that the only thing that changes from snowboard to snowboard is its length, and it's only natural for us to assume that the taller you are, the longer the board you'll need. However, this is a common trap that people fall into.
Whether your snowboard is as long as you are tall depends on several factors, as body height and board length are less related than most people think. Your weight, riding style, and ability level are all far more important factors when it comes to determining your board's length.
It sounds counterintuitive, but there are many factors that determine what size board is right for you. Let's look at this in more detail below.
Relation Between Snowboards and Height
1. Where Does This Idea Originate?
In the early days of snowboarding, most new riders grabbed a board, stood it on its tail, and checked how high up it came relative to their own height.
As snowboards were originally solely made out of wood and had no bindings, as long as the board was roughly the same height as you, you were good to go, but as snowboarding grew in popularity, manufacturers began to make more advanced boards with plastic cores and fiberglass skins.
These boards were much lighter and easier to control. By the 1980s, snowboarders could choose from various profiles, including flat, camber, rocker, and hybrids of all three.
Today, snowboarders can also choose from a wider range of sizes, materials, and colors.
2. Does Height Matter For Snowboards
Snowboarding is a sport that requires a lot of precision and skill. Snowboard manufacturers began to pay more attention to how different boards perform under certain conditions to make things easier for riders.
They realized that if they wanted to sell more products, they had to consider how different materials and shapes affected board performance.
In order to do so, they developed a formula that would help them determine what size board would work best for each rider.
By multiplying a rider's body height by 0.88, they could come up with a rough estimate of the ideal board length.
However, this number wasn't exact because it didn't consider the rider's weight, riding style, or other factors.
For example, someone who weighs 200 pounds and rides aggressively may require a longer board than someone who weighs 150 pounds and prefers to ride smoothly.
So, instead of relying solely on body height, snowboarders should base their decision on a combination of factors, including weight, riding style, terrain, skill level, and personal preference.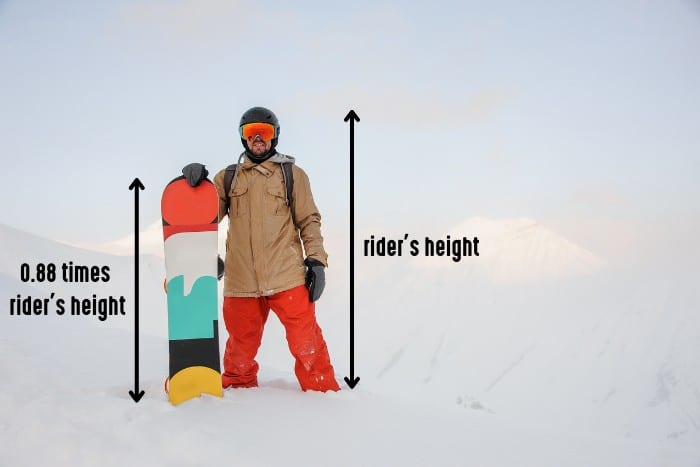 How High Should A Snowboard Be On You?
Let's take a closer look at some of these factors and how they impact the board size you might want to choose.
1. Type of Riding
If you plan to spend most of your wintertime in the snow park, then a shorter board might be the best option.
Short boards are easier to get into the air and spin, so they're ideal for those who aren't planning to carve as much.
They also provide more stability during turns, so they'll be a good choice if you like to spend most of your day riding through forests and need to nimbly navigate between trees and other obstacles.
Longer boards are great for those who like to bomb down groomed slopes because the increased length allows you to reach higher speeds without sacrificing control.
You may also find yourself moving your bindings farther back over the tail of your board if you're heading off-piste, allowing you to ride deeper into the powder.
2. Flex
These days, snowboard construction is much more complicated, with every aspect of the board carefully designed with a particular purpose.
Rather than being made of a single block of wood, snowboards are made from a variety of materials.
Strips of plywood usually make up the board's core, although specialized foam or aluminum honeycomb can also play a part in the design. This is to give snowboards flexibility.
Snowboards need enough flex so they can turn and carve in the powder, and your ability to make the board flex enough depends on your weight rather than your height.
For this reason, if you visit a ski manufacturer's website and check out their size chart, their length recommendations will often be based on weight.
Using the body height method or the length formula can be somewhat accurate, but if you're overweight or underweight for your size, it might not give you the best result.
3. Ability Level
Another thing to consider when choosing a board length is your ability level. Generally speaking, shorter boards make it easier to perform quick, sharp turns on a slope.
Beginners often struggle to learn how to link turns, and the ability to come to a complete stop quickly is an important skill to master.
However, shorter boards lack stability at higher speeds, and it's unlikely that a beginner will ever reach those velocities when just getting started.
On the other hand, longer boards allow riders to carve far smoother and provide that much-needed stability when they've got speed under control.
A lot of riders begin with slightly shorter boards and then gradually lengthen them as their skills improve.
Other Factors To Consider
Once you've figured out your preferred snowboard length based on the factors above, there are a few other things to bear in mind that will affect the type of board you pick.
1. Profile
The profile of a snowboard is the shape the base takes when viewed from the side.
Traditional flat camber profiles are difficult to find these days; they're really good for groomed slopes but not so great for riding powder.
A classic camber is an all-mountain option providing aggressive edge control and good pop for tricks, but it can be a steep learning curve for beginners.
A rocker profile is a more forgiving option that helps with flotation on deep powder but lacks the stability needed at higher speeds.
Modern bases come in various hybrid options to allow riders a greater choice regarding their preferred features.
2. Width
A board's width naturally affects its surface area, which plays an important role in flotation if you ride in the backcountry through deep powder.
In addition, the width of your base will also impact the arc of the sides of your board, which dictates how fast you can turn.
However, the most important factor in selecting the right width is your snowboard boot size; if your feet are too small, you'll have to work hard to engage the edges, and if your feet are too large, you're at risk of tripping over your heels and toes when you turn, which could lead to an injury.
Final Thoughts
So, in conclusion, when deciding what length of snowboard to choose, push body height to the back of the list of factors to consider.
Lazy rental shop staff are likely to use this method to get newcomers out of their hair more quickly, but you'll want to start by using body weight as a metric, followed by ability level and the other factors listed above.