Too Long Didn't Read (TL;DR)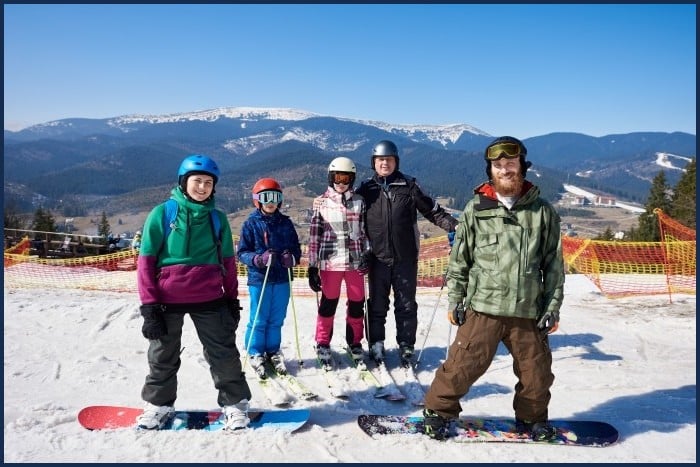 Hey there! We're Pete and Veronica.
Our website, Snowboarding Help, shares useful information and nuanced insights into the enthralling snowboarding world.
We also explore how snowboarding adds value to our life. You'll love our in-depth guides and reviews packed with practical tips and tricks to boost your performance.
You'll also gain valuable knowledge about gear, accessories, correct techniques, and captivating tricks.
Down The Rabbit Hole
As an avid snowboarder, I, Pete, have immersed myself in everything snowboarding for more than 15 years.
The journey has inspired me to share all I've learned with my gnarly friends in the community. That's why I launched the Snowboarding Help blog in 2017.
Veronica, my long-time girlfriend, has collaborated first-hand with many accomplished snowboarders and participated in numerous global competitions.
From teaching kids to improving her performance, from consultation to always trying to learn something new, she has been turning her snowboarding dreams into reality for around a decade now.
You'll be fascinated to know that we have also worked as dedicated trainers and consultants at some of the most beautiful snowboarding resorts in the USA, France, and Austria.
We find joy in arming every snowboarder with methods that bring out their personal best but keep on challenging them simultaneously.
This role has always rewarded us with a passionate and comprehensive perspective of the snowboarding industry.
Everyone Has A Story
As an 11-year-old boy, I received my first snowboarding lessons, practicing away on a 2000 Town and Country Freeride owned by my friend, well before these new-age snowboards had flooded the market.
As an adult, 10 years later, I still didn't know much about life or my future. All I knew was my passion for snowboarding, and I wanted to pursue that passion for as long as possible.
That's when I bought my first personal snowboard, the Burton Harvest. This key event introduced me to the marvelous world of classy snowboards.
These expensive boards mesmerized me and promised all sorts of possibilities that the usual ones could not offer.
At age 24, I decided to learn everything I could about these fascinating objects and related accessories.
I applied for a sales job in the snowboarding section of a nearby store that dealt with all sports that used a board.
That's where I met Veronica.
I researched these new-age boards and technological advancements in great depth and tried to stay up to date with the rapid developments of this fast-changing sport.
During our two-year stay, Veronica and I aimed to provide our customers with the best possible snowboarding advice.
During this memorable journey, I discovered that only a handful of websites offered accurate and quality info about snowboarding questions that almost everyone has.
And those websites, too, did not cover several topics well enough to satisfy my queries.
I struggled to find trustworthy, in-depth reviews of relevant models or obtain basic data and guidance about the ever-expanding snowboarding world.
Fast forward two years, after doing countless shifts in the store and celebrating my 26th birthday, I was determined to take the lead.
I wanted to provide every snowboarder with a resource I had desperately wanted but never got.
I named this project Snowboard Help and launched it as a one-man army.
Then I partnered with Veronica, who also manages the tech side of things (like managing the site, hiring writers, graphic designers, etc.).
Our Team
Both Veronica's and my experience have given us a thorough understanding of the industry, especially when it comes to riding the board and looking for gear.
But let's be honest, you can't expect us to be an expert on everything!
Therefore, to provide a valuable, high-quality perspective on relevant topics which lie beyond our expertise, we teamed up with other skilled contributors.
They are experts when it comes to digging the right info from the right place and who love to share their knowledge through articles on this site.
A big shoutout to Mira Lazine, Wangeci Mbogo, Karthick Muthu, Kyle Shanley, Rhiannon John, and Bharti Negi!
These fellow snowboarding fanatics have joined us by sharing their extensive knowledge about generic queries, snowboarding gear, tips, tricks, techniques, and more.
We all love to know about snowboarding! Each one of us at Snowboarding Help is an enthusiast in one area or another.
From tricks to techniques, from equipment to safety and best practices, we have you covered!
If you are a snowboarding enthusiast like us and have something to add to this website, then by all means, please drop us an email. We'd be thrilled to read and revert!