Rear entry snowboard bindings allow you to get riding much quicker than traditional ones. While early models were not very successful, they have come a long way in recent years and are now a good option for people who want to get underway quickly rather than spending lots of time at the top of every lift strapping in.
Rear entry snowboard bindings are among the fastest ways of attaching a snowboard to your feet. There are some detractors, but many riders are die-hard fans. If you want to try rear-entry snowboard bindings, check out the Flow Fenix Fusion and Flow NX2-GT hybrid, which are our favorites.
Rear entry bindings require you to set up the straps so you can just step in, lift the high back, and be good to go. If this sounds like something you'd be interested in, keep reading as we will go through our favorite rear-entry snowboard bindings you can buy right now.
Our Pick Of The Best Rear Entry Snowboard Bindings
Compare The Best Rear Entry Snowboard Bindings
Detailed Analysis Of The Best Rear Entry Snowboard Bindings
1. Flow Nexus Snowboard Bindings

Overall Score: 78
Advantages
Versatile
Good construction
Suitable for all ability levels and riding styles
Power transfer
Disadvantages
It can be tricky to use if you have big feet
Ease Of Use
The Flow Nexus rear entry snowboard bindings are incredibly easy to use for most snowboarders. You simply slide your feet in and lift the high back until you are locked in.
However, some riders with large feet complain that these bindings can be tricky to get into. So if you wear big snowboard boots, you may need to look elsewhere for easy access snowboard bindings.
P.S.: Please be aware of the consequences of wearing big snowboard boots which I've detailed in my article.
Comfort
The wide straps distribute the force across your feet very well, ensuring a good level of comfort.
These bindings use Flow's Fusion PowerStraps with a locking ratchet to keep your feet secured in the bindings, no matter how hard you ride.
Therefore you shouldn't need to worry about any movement, even when putting a lot of pressure on your bindings.
Performance
Snowboarders who have chosen the Flow Nexus rear entry bindings report that they are impressed with how well they transfer power to the board.
They are also very responsive due to the Axis series base plate, which is made from nylon and has an asymmetrical design to give you excellent balance and control while you're shredding.
They also feature the Hybrid PowerCapStrap, which provides a precise and responsive feel.
Quality
The quality of the Flow Nexus bindings is pretty good. They feel robust and durable, so they should last a long time.
However, many riders suggest they are best suited for lighter snowboarders as they may not be robust enough for heavier and aggressive riders.
There have been a couple of reports of screws pulling out if they experience too much pressure. But these reports are few and far between, so most people should be okay.
These could be faulty bindings from the factory. Still, it's worth knowing if you are a heavier or particularly aggressive snowboarder.
Price
We believe that the Flow Nexus is well-priced for rear-entry snowboard bindings. The price is realistic for the features you get and the convenience these bindings provide.
They're not the cheapest, but neither are they the most expensive, which is a good indication of their quality and who they are aimed at.
2. Flow Fenix Fusion (Great all-mountain bindings)
Overall Score: 79
Advantages
Great all-mountain rear-entry snowboard bindings
Great build quality
Very versatile
Good choice for intermediate and advanced riders
Disadvantages
Some people have claimed that the cable broke after a while
Ease Of Use
These snowboard bindings are true to form and are very easy to use. You can quickly get in and out of them without any trouble.
Again, like the other minds of this type, people with larger feet sometimes find it a bit tricky to get their boots into the binding.
Some riders say you have to take special care when clearing snow from inside the bindings, as it can make entry challenging.
These bindings are perfect for intermediate to advanced riders. If you are looking for snowboards for a similar level, do check out my article on the best snowboards for intermediate riders.
Comfort
Flow Fenix bindings are comfortable for most riders, and Flow has given them a high-density EVA, padding, and a molded composite rocket base plate, giving you good cushioning and shock absorption.
You can adjust all the straps without needing a tool to fine-tune how these bindings fit your feet and your boots.
Therefore, you should be able to get a perfect fit to maximize comfort and control after a couple of runs.
But here is an interesting question? Will any snowboard boot be fit for any binding? Do read my article by clicking on the link.
The high back of the Flow Fenix bindings is adjustable, so you can tweak it laterally to ensure it suits your preferences regarding the support and response it gives you.
You can also adjust the forward lean, pushing it forward to optimize it for hard carving.
Flow has also made the canted footbed adjustable. This means you can fine-tune the angle so your knees are perfectly aligned to reduce fatigue and stress. This is good news for riders who like a wide stance.
Performance
The Fenix has a medium flex rating, which means it performs well in most conditions, making it a good choice for all-mountain versatility.
The Axis base plate provides excellent power transfer and balance, which complements the adjustability mentioned above.
You may want a stiffer set of bindings if you're an advanced rider who likes to lean into your turns.
This is because these bindings may not meet your expectations if you are exceptionally aggressive or take on extremely challenging terrain. However, they are suitable for most abilities.
Quality
The Flow Fenix snowboard bindings are renowned for being high-quality and durable.
This comes from the high-strength composite materials used in the construction and tough straps that will withstand the repeated use and demands of snowboarding.
Flow is a well-respected brand when it comes to rear entry snowboard bindings, as they were one of the first to start producing them.
Therefore, the Flow Fenix are among the best if you are in the market for rear-entry bindings.
Price
The Flow Fenix rear entry snowboard bindings are pretty good value for money. They offer a good blend of performance, comfort, and features that enhance your time on the mountain.
Due to the durability of these bindings, they will last you a few seasons, adding to their value.
They might not be the cheapest on the market, but they are a good choice for riders who want reliable and high-performing rear-entry snowboard bindings.
3. Flow Omni Fusion (Best choice for women)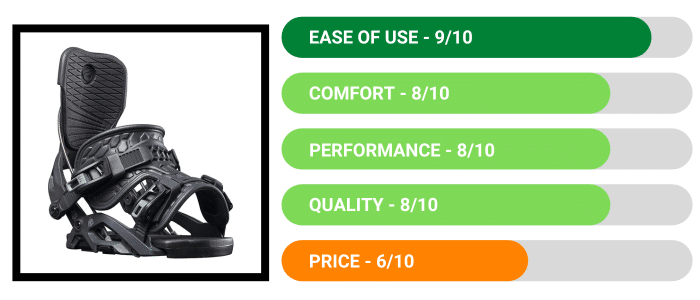 Overall Score: 78
Advantages
Best choice for women riders
Great level of comfort
Excellent adjustability
Durable enough to last a few seasons
Suitable for pretty much every riding style
Disadvantages
These bindings are pretty pricey
There are lighter bindings on the market
They are quite complex in terms of how adjustable they are, which could be overwhelming for novice riders
Ease Of Use
The Flow Omni Fusion rear entry snowboard bindings are effortless to get in and out of. They also have features that make them easy to live with, such as tool-free strap adjustments.
These bindings are designed for the ultimate convenience of shredding the mountain.
Comfort
Like most snowboard bindings from Flow, the Omni Fusion has high-density EVA padding and a canted footbed. This ensures you have a comfortable ride and good shock absorption.
The straps are also wide to spread the load across your feet more evenly, preventing uncomfortable pressure points.
These bindings are incredibly adjustable, so you can tweak them perfectly to suit the shape of your feet and your preferences.
As we mentioned earlier, you can adjust the straps without needing a tool, so you can easily fine-tune them on the mountain to get the perfect fit.
You can also tweak the high back's angle and forward to the optimum angles.
The canted footbed Flow has given the Omni fusion does a great job of aligning your knees and reducing fatigue.
These can be adjusted to ensure you have optimal support and be as comfortable as possible.
Performance
Flow's Active Strap Technology keeps your feet secure and improves power transfer into your snowboard.
These bindings have a medium flex optimized for female riders who don't want to compromise on their bindings anywhere on the mountain.
You'll find that once you've dialed in all the adjustments, you will have a comfortable and stable platform at your feet, providing an excellent level of control with outstanding ride quality.
Female riders who use these bindings find that they hit the sweet spot for all-mountain riding.
There is always a compromise at some point, but it will take you a long time to work out what this is when it comes to the Flow Omni Fusion.
Quality
These bindings are considered high-end items, so you can expect the Omni Fusion to be made with high-quality materials.
This means you shouldn't have to change them any time soon as they will last a long time.
Price
The Flow Omni Fusion rear entry bindings are pretty expensive when compared to other bindings of this type.
However, as with most things in life, you get what you pay for, and these are well worth the extra money if you can afford them.
You'll love their versatility, comfort, and the fact that they will last longer than most rear-entry bindings.
4. Flow NX2-GT Hybrid (Best for freeriders)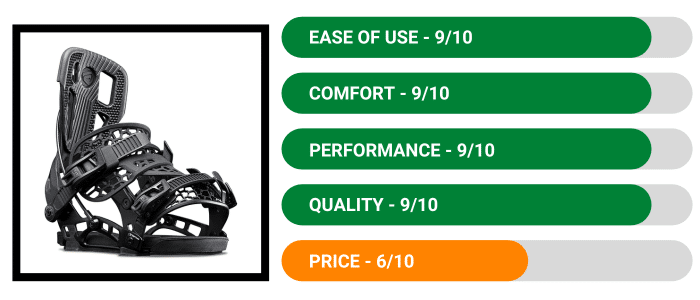 Overall Score: 84
Advantages
A high level of comfort
Extremely adjustable for the perfect fit
Made from high-quality materials
An excellent choice for advanced riders
Disadvantages
Too stiff for beginner riders
They're expensive, but you get what you pay for
Ease Of Use
As you would expect, these bindings are incredibly easy to get in and out of due to their practical design. But also find it incredibly easy to dial in the perfect fit thanks to how easy they are to adjust.
Comfort
Flow has equipped the NX2-GT Hybrid rear entry snowboard bindings with N-Gel cushioning.
This stuff is excellent at reducing vibrations from the snow when you are charging at high speeds, and it also provides excellent shock absorption when you land big jumps in the park or drop cliffs in the backcountry.
Performance
The NX2-GT Hybrid are high-performing rear entry snowboard bindings aimed at advanced riders looking for precision and responsiveness.
Therefore they have quite a stiff flex rating which increases performance but is less forgiving, so to get the most out of them, you need to know what you are doing.
These bindings are great for experienced riders who like to charge hard and work well for those who want to explore freeride terrain.
Much of this high performance comes from the hybrid power straps. These give you a tight and secure fit that is easy to tweak to perfection quickly.
The design translates to excellent edge hold for a binding of this type. Therefore, you will be confident they won't let you down when riding hard-packed snow and ice.
Quality
As the NX2-GT Hybrid rear entry snowboard bindings are designed for advanced riders who are likely to use them in challenging conditions, Flow has made them incredibly durable.
Part of this durability comes from the extra stiff flex rating; therefore, they won't deteriorate as quickly as softer bindings.
This, combined with the high-quality straps, means that these snowboard bindings are built to last, even if you put them through a lot of punishment.
Price
The NX2-GT Hybrid rear entry snowboard bindings are not cheap, but this is expected when you take into account their durability, the nature of riding they are used for, and their features.
They are among the most expensive rear-entry snowboard bindings, but this is actually reassuring; as you know, you are going to get something that won't let you down while you are in potentially dangerous terrain in the backcountry.
Final Thoughts
Rear entry snowboard bindings are incredibly convenient to use. Some people think they don't have control of regular strapped bindings, while others swear by them.
However, by choosing one of these findings, you are sure to equip your board with a quality pair. You will notice that all these bindings come from the same manufacturer.
This is because Flow makes the best rear-entry snowboard bindings right now.
This has come from years of experience and trial and error in developing a fast and convenient way of strapping in to get riding more quickly.