So you've mastered the basics of snowboarding, spent some time in the park, explored powder, and feel you are ready to take your riding to the next level. During this time, your super flexible beginner snowboard starts to feel like it just won't cut it, especially now your speeds are increasing. Therefore it's time to buy your first intermediate snowboard.
Intermediate snowboarders have a seemingly limitless choice of boards. So, you need to consider what kind of rider you want to be to help you decide. But you can't go wrong with a Gnu Headspace for freestyle, the Korua Shapes Otto if you love carving, or the Salomon Dancehaul for all-mountain fun.
This is an exciting time as a more advanced snowboard will help you ride faster, hold an edge much better, advance your preferred riding style, and open up more possibilities for exploring the mountain. Therefore we have compiled a list of the best snowboards for intermediate riders. Whether you want to focus on the backcountry, freestyle, or all-mountain riding, you will find something on this list that will suit you perfectly.
Best Snowboards For Intermediate Riders
Compare Top Intermediate Snowboards
| Snowboard Name | Overall Score | Bottom Line | Price |
| --- | --- | --- | --- |
| Jones Frontier | 74 | Superb all-mountain snowboard from a great brand | Check Out On Amazon |
| Korua Shapes Otto | 72 | Something a little bit different with exceptional carving ability | Check Out On Korua |
| Salomon Dancehaul | 73 | A playful snowboard suitable for riding anywhere | Check Out On Amazon |
| Gnu Headspace | 64 | A great intermediate snowboard aimed at freestylers | Check Out On Amazon |
| Neversummer Snowtrooper | 62 | A genuine all-mountain slayer that will keep you entertained for a while | Check Out On Amazon |
| Burton Process Flying V | 59 | Excellent all-rounder from a well-known brand | Check Out On Amazon |
Detailed Analysis Of The Best Intermediate Snowboards
1. Jones Frontier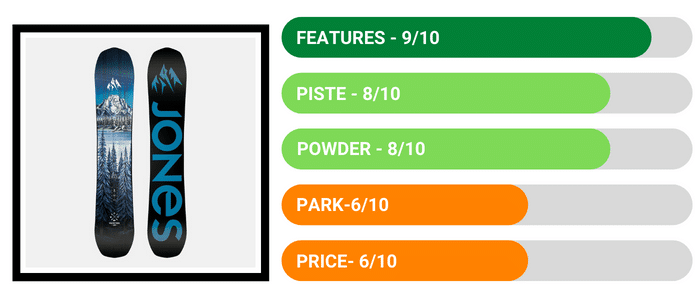 Overall Score: 74
Advantages
Great for all-mountain riding
Excellent edge hold
Floaty in powder
Hard to catch an edge
It should last you a long time
Disadvantages
A bit pricy, but you get what you pay for
Features
There is quite a lot to the Jones Frontier, as it has a directional shape and a rocker profile.
In case you want to know more about directional snowboards, I have an article on the pros and cons of directional snowboards to help you out.
This, combined with the traction tech 2.0 edges, make this snowboard versatile and suitable for riding all over the mountain.
It also has a sintered 8000 base, which is super slippery and allows you to charge hard.
Piste
The directional shape and those high-tech edges mean that when you're blasting the groomers, you'll find the Frontier easy to turn while being aggressive.
The edges are also designed to reduce edge catch when riding at slower speeds.
Powder
The directional rocker profile of the Jones Frontier gives it lots of float in powder.
Therefore, you can have lots of fun in the backcountry or when you have to bounce through choppy, tracked-out side-country terrain.
Park
You can ride the Jones frontier in the park, but the directional shape will mean riding and landing switch will take some adaptation.
Also, its medium stiffness means it's slightly less forgiving than the beginner boards that you may be used to. Nevertheless, it is an all round snowboard, so catching air time and pulling tricks is entirely possible.
Price
The Jones frontier is quite a high-end snowboard; therefore, it is pretty pricey. However, it is incredibly versatile and has a durable build quality.
Combined with the fact that you won't grow out of it very quickly, this makes it an excellent value-for-money snowboard.
2. Korua Shapes Otto – Best for Carving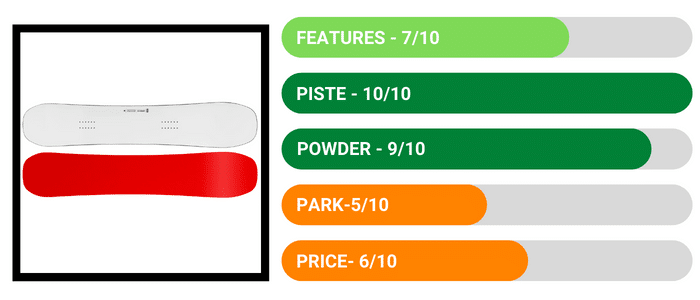 Overall Score: 72
Advantages
It carves like a dream
Something a bit different
Lots of fun anywhere on the mountain
Disadvantages
The base is a little slow on slush
Features
The Korua Shapes Otto features a float camber, which means you have a camber from your front foot to the tail and a rocker nose, making the profile like an S shape.
It is also a pretty wide snowboard, meaning you can run a shorter size than usual. So, you can whip around trees while still maintaining float in powder, and it's good for riders with larger feet.
You can read more about the advantages and disadvantages of a wide snowboard in my article on the same.
The snowboard is a directional twin shape which helps its turning abilities. It has a P-Tex 2000 base, which is pretty good, but you may find it a little slow during spring when the snow gets slushy and heavy.
Piste
To ride the Korua Shapes Otto on groomed slopes is an absolute joy. You will find carve turns addictive, and you will try to get lower and lower Euro-style.
It also has a playful personality, so you can bounce around and jump between moguls when the slopes get choppy.
Even though this is a directional twin, you can ride it switch, but it does take a bit of getting used to.
Powder
The long nose with an early rise and the setback stance makes the Korua Shapes Otto an excellent powder board.
It floats incredibly well, thanks to its width, and it gives you lots of control, so you shouldn't have any problems riding through tight tree runs.
Park
Although this snowboard isn't made for the park, you should feel comfortable hitting small and medium features. You'll like its snap off jumps and its stability when you land.
If you want to do some tricks outside the park, you will love carving into side hits and spinning off them.
Price
Korua Shapes is quite a niche brand; therefore, their snowboards are a little more expensive than your average big brand's. However, this is not your average snowboard.
It offers incredible edge hold and something slightly different for your money. It has no graphics, as Korua put all their budget into its shape and construction, which is more important in my book.
3. Salomon Dancehaul

Overall Score: 73
Advantages
Great edge hold
Fast base
Excellent all-rounder
Playful ride
Disadvantages
Features
The Salomon Dancehaul has a medium flex and a "rock-out" camber which makes the board flat between the bindings, creating stability, but it has a camber near the feet and a rocker at the nose and tail.
It also has a tapered directional shape to make it easy to initiate turns. This shape also improves float in powder and maintains good edge hold on groomed slopes.
It has a sintered base that is super fast and holds wax well.
Piste
This snowboard holds its edge extremely well on groomed slopes, allowing you to initiate your turns exceptionally easily for a wide board.
You will notice that it is springy when you perform fast and hard turns; however, this isn't a super stiff board explicitly designed for carving.
Powder
The Salomon Dancehaul has a setback binding stance, a long nose, and a short tail. Therefore it stays on top of the powder very well, so you can be sure of a fantastic off-piste experience.
Park
Even though this is a tapered and directional snowboard, the Dancehaul is perfectly capable of riding switch.
Therefore you can have lots of fun in the park, and it won't hinder switch takeoff and landings too much.
Price
This snowboard is priced pretty well for such a high-end model that you can add to your quiver or use as your daily ride. You can ride it anywhere, and you will struggle to find a better all-mountain snowboard.
4. Gnu Headspace – Best for Freestyle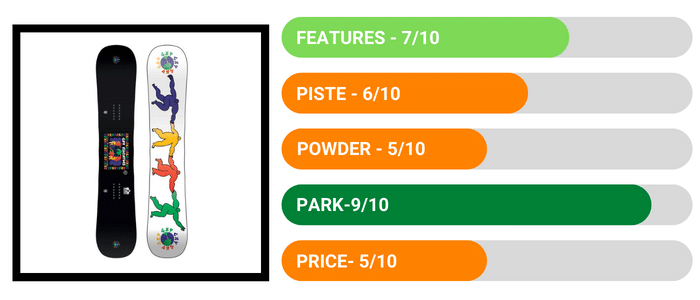 Overall Score: 64
Advantages
Fantastic park snowboard
Playful
Disadvantages
Not something you'd want to take into the backcountry
Features
The Gnu Headspace is an asymmetric-twin freestyle snowboard featuring Magne-Traction, a sintered base, and a C3 camber profile.
The C3 profile puts a camber outside each foot with a mild rocker between the bindings, which gives you control, precision, and power.
This snowboard is aimed at intermediate to advanced snowboarders, who like to focus on freestyle riding, but want something they can ride on other parts of the mountain too.
Piste
Although this snowboard isn't focused on carving up the groomers, you can have lots of fun as it is responsive and powerful.
It holds an edge well thanks to its medium flex, but if you want a hard-charging carving snowboard, you may want to look elsewhere.
But when riding the Headspace, you may find yourself looking for side hits while blasting down the pistes.
Powder
The Gnu headspace isn't designed for riding powder or taking into the backcountry.
You'll probably have some fun on a powder day off the side of the pistes, but you may find it lacking if you ride it on anything more adventurous.
Park
You love how this snowboard performs in the snow park. It will undoubtedly help you progress as a freestyle rider on pretty much any feature you come across.
The responsiveness and pop allow you to catch air with ease and spin to win.
Price
The price of this snowboard isn't far off some of the other all-mountain snowboards on this list.
However, it is more biased toward the park rider. If you are a committed freestyler, you won't have much of a problem paying for the Gnu Headspace.
But if you want something a little more all-mountain biased, you will find that there are better-value snowboards.
5. Neversummer Snowtrooper – Best All-rounder
Overall Score: 62
Advantages
A genuine all-rounder
Great edge hold at high speeds
Floats in powder well
Works well in the park
Disadvantages
Features
Thanks to its features, the Neversummer Snowtrooper is a genuine all-round snowboard that will suit any rider and riding style.
It has Neversummer's original rocker camber profile, which makes it a playful snowboard, but it also gives lots of float in powder, enhanced by a setback stance.
It has a mid-level flex offering versatility for all-mountain riding.
Piste
This snowboard performs well on groomed slopes as the directional shape gives you great control and excellent edge hold. It also provides lots of stability when you haul ass.
The Durasurf XT Sintered 5501 Base provides lots of glide, so you can keep the speed up when you want to.
Powder
The powder riding characteristics of this snowboard will allow you to enjoy the deep fluffy stuff. Its high level of float and surfy style comes from the larger nose, slightly setback stance, and directional shape.
This board is excellent for big powder, slashes, and whipping around trees.
Park
The playful nature of the Neversummer Snowtrooper is carried into the park as it is a very proficient freestyle snowboard. You will have no problem hitting kickers and rails, but it really shines in the half-pipe.
It's not the best board for jibbing due to its flex and shape. That doesn't mean you can't jib on it, but this is not where the Gnu Snowtrooper excels.
Price
The Snowtrooper is one of the more expensive snowboards on this list. Still, it does offer a high level of versatility as it will suit pretty much any terrain and any rider from the intermediate level and up.
It may be too much if you're a complete beginner, but the snow trooper is a good choice as long as you have some basic skills down.
6. Burton Process Flying V

Overall Score: 59
Advantages
You can ride it anywhere
It has a playful personality
Almost limitless stance options
Disadvantages
Features
The Burton Process Flying V is a fantastic snowboard with rocker zones on the outside of your feet, making it playful while creating lots of float in powder.
My article on whether rocker snowboards are worth it or not will help you learn more about them.
It also has cambered zones under your feet that help you with edge control and fast turns. Burton has made the snowboard a true twin, so it rides the same backward as forwards.
Piste
The Burton Process Flying V performs well on groomed slopes, even though it is a soft and playful snowboard. It holds an edge surprisingly well.
However, you will find that it chatters a little bit as you pick up speed, so if you prefer a fast carving snowboard, you may want to look elsewhere.
But, it is effortless to ride, almost to the point it feels like cheating.
Powder
The slightly wider nose and tail give the Burton Flying V good float in powder. It's not an all-out powder board, so you probably would want to avoid taking it into the extreme backcountry.
However, mild off-piste and side-country terrain is lots of fun on this snowboard.
Park
Burton has made the Process Flying V for freestyle riders who want something to ride all over the mountain. Therefore, it works well in the park, thanks to its snappy flex and excellent stability.
If you are a dedicated park rat, you may want to look for a more park-oriented snowboard. But if you like to visit the park occasionally, you'll have no problem riding a Burton Process Flying V.
Price
The Burton Process Flying V is not quite the price of a high-end snowboard, but it is still not cheap. However, you need to consider it a quality snowboard with excellent construction.
Don't forget you also get Burton's incredible warranty included.
Final Thoughts
As an intermediate snowboarder, your choice of snowboard seems limitless. This is the point where you decide what kind of rider you want to be and what type of terrain you want to focus on.
Therefore your choice of snowboard is important. But this list gives you some great options to choose from that will surely suit you and help you progress to the next level.