Australia offers a handful of resorts to experience a day on the slopes. Snowboarding in Australia is a unique experience for those of us who are familiar with riding in the Northern Hemisphere. Not only riding in different months, but varying terrain and snow conditions make snowboarding in Australia a fun change of pace.
To snowboard in Australia, you can choose from a variety of resorts such as Perisher, Thredbo, Mount Hotham, Falls Creek, and more! The ski season typically runs from June to October, but the best time is usually July and August. Snow conditions vary, but July and August typically offer the most snow, and resorts will average about 2 meters of snow in a season.
Going to a new area to snowboard can be intimidating, and there is often an overwhelming amount of information to sift through before your trip. I'll give you insight into what to expect from snowboarding in Australia and a few tips!
Where To Snowboard in Australia – The Main Resorts
There are 5 major ski resorts in Australia, each offering varying terrain, snow conditions, and family friendliness.
I've compiled a list of the top 5 ski resorts in Australia for you to visit to get the most out of your trip.
1. Perisher
Perisher is the largest ski resort not only in Australia but also in the Southern Hemisphere. It is located in the Kosciuszko National Park in New South Wales, about 5 ½ hours from Sydney.
The resort has 7 mountain peaks, with the summit of Mt. Perisher topping at 2,054 meters. Perisher Ski Resort is unique because it contains 4 resort areas for you to explore.
The resort areas are Perisher Valley, Blue Cow, Smiggin Holes, and Guthega. The resort, in total, offers 47 ski lifts and has more than 1,200 hectares of skiable terrain.
More than half of the resort is best for intermediate riders, and almost a quarter of the resort is beginner friendly. Perisher resort has a wide variety of terrain for all styles and levels of riders.
Whether you want to stick to the groomers, ride the terrain park, or drink hot chocolate in the lodge, Perisher offers something for everyone!
A bonus feature of Perisher ski resort is that it is included on the Epic Australia mountain pass.
This pass provides access to a multitude of resorts, which gives riders the ability to ski different resorts in one season.
Best for: Intermediate riders looking to ride the terrain park or beginners who want to experience varying terrain.
Also great for those who want to cover a lot of ground and have the option to explore different areas.
2. Thredbo
Thredbo ski resort is also located in the Kosciuszko National Park in New South Wales and is worth a visit when taking your snowboard trip to Australia.
Thredbo is near Perisher and will also take you about 5 ½ from Sydney. Thredbo has 14 lifts, about 480 hectares of skiable terrain, and a vertical drop of 672 meters.
This makes Australia's resort with the longest runs and highest lifts. Thredbos' terrain and skill level accessibility variability are similar to that of Perishers'.
About 67% of the resort is best for intermediate riders, while 16% will be ideal for beginners. With that said, it still offers plenty of room for beginners to learn and explore the mountain.
Best for: Intermediate and advanced riders who want longer runs and more vertical feet.
3. Mount Hotham
Mount Hotham is located in the Victorian Alps National Park in Victoria, Australia. It will take you about 7 ½ hours if you're driving from Sydney, but you can also fly into the area from Melbourne.
The Mount Hotham ski resort is unique because it is "upside down" compared to other resorts.
The village is located above the ski runs, and the slopes drop below it. Since the top of the mountain is flatter, most beginner runs are located at the top, while the more advanced runs will be further down.
Like Perisher, Mount Hotham is also on the Epic Australia pass for 2023. Mount Hotham ski resort has a vertical drop of 395 meters and a peak elevation of 1,861 meters.
They have a total of 13 lifts and 33 hectares of skiable terrain. This resort is best designed for intermediate or advanced riders because only 20% of the terrain is beginner-friendly.
Best for: Intermediate and advanced riders who want the best chance to experience a powder day in Australia while having a unique experience at this "upside down" resort.
4. Falls Creek
Falls Creek ski resort is located in Victoria, Australia, in the Alpine National Park. If you're planning on driving from Melbourne, it will take about 4 ½ to 5 hours.
The alternative to driving is to fly into the nearby town of Mount Beauty. Falls Creek is also included on the Epic Australia Pass, so you can check off 3 Australian resorts in one visit!
This resort offers the most skiable terrain in Victoria, coming in at 450 hectares, accessible by 14 lifts. The peak elevation of Falls Creek is 1,780 meters and has a vertical drop of 380 meters.
Falls Creek has primarily intermediate and advanced trails, but approximately 17% of the mountain is beginner friendly. Since it has an array of trails for all levels, it is a great place to bring the whole family!
A multitude of lodges are also accessible from the parking lot, and a few are accessible from beginner trails on the mountain.
Best for: There is a great ratio of beginner trails to intermediate and advanced trails, making this resort a great option for all riders.
5. Mount Buller
Mt. Buller is located in Victoria, Australia, and is known as the most accessible major ski resort in Australia because of its proximity to a major city. Mount Buller is approximately a 3-hour drive from Melbourne.
This resort offers 330 hectares of skiable terrain to explore, 22 lifts around the mountain, and about 415 meters of vertical drop to get your turns in.
This is a great resort for beginners and families because it has easier trails and a snow-play area for the kiddos. There are also plenty of intermediate and advanced trails to keep every shredder entertained.
Mount Buller is also home to many ski clubs that provide private room lodging, with access to fun and friendly common areas, such as a kitchen, dry room, and games room. Some even offer daily meals!
Best for: Since it is the most accessible and has plenty of beginner-friendly terrain, it is great for beginners.
That being said, much of the resort has moguls or runs that are not groomed, which is better left for intermediate to advanced riders.
Where To Snowboard In Australia – The Hidden Gems
While the main resorts in Australia can offer diverse terrain and lots of trails to keep your days interesting, there are a few smaller resorts that are worth a visit.
Especially if you're looking to avoid long lift lines, going to a smaller resort can be beneficial if you're looking to get more mileage in.
1. Charlotte's Pass
Located in New South Wales in Kosciuszko National Park, Charlotte's Pass is a lesser-known resort for skiers and snowboarders in Australia.
It is about a 3-hour drive heading south from Canberra, but you'll need to allow extra time due to the unusual access to the snow.
A very unique feature about Charlotte's Pass is that you can't drive up to the parking lot in the winter.
This resort is only accessible by over-snow transportation, such as a snowcat, so keep this in mind when planning your trip to this spot.
This is Australia's oldest and highest ski resort, with a peak of 1,765 meters.
Charlotte's Pass offers plenty of beginner runs to get you started, as well as a terrain park and a handful of intermediate trails to work up to.
Although it's smaller than the previous resorts listed, Charlotte's Pass Snow Resort still has 50 hectares of skiable terrain accessed by 5 lifts.
Best for: Riders who want to avoid crowds, have a unique resort experience, and ride beginner-friendly trails.
2. Mount Baw Baw
Due to its close proximity to Melbourne (roughly 2 ½ hours' drive), Mt. Baw Baw is a popular spot for those who want to grab some quick turns.
This ski resort is located high in the Great Dividing Range of Victoria, Australia. Mt Baw Baw is a great option for beginners due to the fact that about 30% of the resort is green trails.
That being said, there are still options for the more advanced riders and some options for those who would prefer to opt-out of shredding.
Mt Baw Baw has 35 hectares of skiable terrain to explore and is accessed by 7 lifts.
Best for: A day trip from Melbourne, beginners, and families who want to snowboard in addition to other snowy activities.
3. Selwyn Snow Resort AKA Selwyn Snowfields
Selwyn Snowfields, or Selwyn Snow Resort, is located in Kosciuszko National Park in New South Wales, Australia. The city most nearby this resort is Canberra, which is about a 3 hours' drive to the resort.
This is a family owned and run resort, which makes sense due to its family-friendly environment. With 9 total lifts and 45 hectares of skiable terrain, Selwyn has something for every person in the family.
Since it is primarily designed for families, its beginner terrain is great for those who are learning or the young.
They have a vertical drop of 121 meters and a summit that reaches 1,613 meters, allowing riders of all levels to join in on the fun.
Unfortunately, Selwyn Snow Resort suffered extensive damage from a bushfire in 2020 and has been rebuilding ever since.
They are estimated to open for the 2023 season and guarantee guests a "new and improved" experience.
Best for: Families looking for a smaller resort to take the kiddos and who want the option to ride more challenging terrain.
When To Ride In Australia?
The ski season in Australia is typically from June to October.
However, the best time to ski or ride in Australia is July and August because these months tend to be the coldest and offer the best snow conditions.
While these are the best months to plan your snowboard trip, remember that snow conditions will vary depending on the season and even the day.
To avoid the slushy conditions that come with the afternoon heat, aim to be on the mountain early in the morning. It's always best to do a bit of research and planning before hitting the slopes.
If you're looking to avoid crowds, I recommend not visiting during the Australian winter school breaks. You can even check the ticket prices for the time frame you're looking for.
If the prices are hiked up, it's safe to assume it will be busy during that time.
What To Expect From Snowboarding In Australia?
If you are familiar with the conditions common in the Northern Hemisphere (i.e., Europe and the U.S.), snowboarding in Australia is going to be a different experience than what you're used to.
I want to ensure that you are prepared for the changing conditions and environment you might expect to see while skiing in Australia.
1. The Snow
The snow conditions and depth in Australia will differ from that in the Northern Hemisphere because Australia typically does not get as much snow.
On average, most resorts in Australia will receive around 2 meters (6 ½ ft) of snow per season. The combination of little snow and warm days can result in slushy snow conditions.
That said, Australia can offer powder days if you catch it at the right time.
2. The Après
While Australia does have plenty of terrain and trails for you to explore, possibly the most notable feature of skiing and snowboarding in Australia is the après.
If you're unfamiliar with this term, après typically refers to the post-skiing drinks and eats you have with your friends.
Après is a long-standing tradition for skiers and snowboarders worldwide and is a staple in Australia.
Especially at the bigger resorts, you can expect many locations to grab food and drinks after a day on the mountain. I've listed a few options from the resorts above to check out!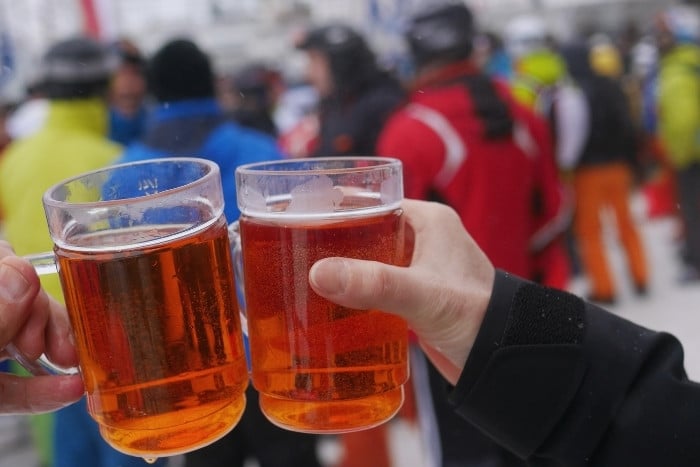 Perisher
Base 1720 Bar and Restaurant
YAMA Noodle Bar
Loco Mexican
JAX Bar
Snow Gums Restaurant and Bar
Thredbo
Alpine Bar
Schuss Bar
Après Bar
The Local Pub
Lounge Bar
Candlelight Restaurant
T-Bar Restaurant
Mount Hotham
Miss Mary's
Chill Bar and Cafe
Hotham Hotel
Zirky's Cafe, Bar, and Bistro
The General
Jack Frost
Falls Creek
Feathertop Restaurant
Astra Bar and Restaurant
Lakeside Lounge, Bar, and Eatery
Milch Cafe and Bar
Bob Sugar Falls Creek
Apartment 3 Bar
Mount Buller
Kooroora hotel
Abom
Enzian bar
Black Cockatoo Restaurant
Birdcage
Wrapping Up
As we established, there is a ton of information and research to be done before planning your snowboard trip to Australia.
Depending on what type of riding you want, which area you'll be in, and your riding ability, you have many resort options.
Even if you don't want to spend your whole day on the snow, there are plenty of restaurant and bar options for you as well.