Snowboarding is an activity that combines high speeds and unpredictable terrain, and even the greatest riders take a tumble now and again. The best way to avoid an injury is by wearing the proper protective gear, and the most important body part to safeguard is your head.
The best women's snowboarding helmets are those that offer industry-leading protection (like Wildhorn Outfitters Highline and MIPS) and meet international safety standards. You'll also want to choose a helmet that's warm enough, fits correctly, and provides adequate ventilation before considering any other available features.
Also, it's worth pointing out that ski and snowboard helmets are unisex, with absolutely no functional difference between those labeled as men's and those labeled as women. Most manufacturers have ditched the outdated gendered marketing terms, so you're unlikely to find too many labeled in this way; you can rest assured that you're free to use any helmet you like, as long as it fits correctly and meets the proper safety standards.
Best Women's Snowboarding Helmets
Compare Top Women's Helmets For Snowboarding
| Helmet Name | Overall Score | Bottom Line | Price |
| --- | --- | --- | --- |
| Retrospec Comstock | 68 | Bare-bones features but safe and affordable | Check Out On Amazon |
| Anon Prime MIPS | 80 | A top-of-the-line helmet packed with modern features | Check Out On Amazon |
| Wildhorn Outfitters | 90 | A superb all-rounder that's used by the pros | Check Out On Amazon |
| OutdoorMaster Kelvin | 76 | A great mid-range option that makes up for in design what it lacks in features | Check Out On Amazon |
| Oakley MOD3 | 72 | A modern helmet for those who prefer a removable brim | Check Out On Amazon |
| Salomon Brigade | 78 | Perfect for snowboarders who love the old-school BMX look | Check Out On Amazon |
Detailed Analysis Of The Best Women's Snowboarding Helmets
1. Retrospec Comstock Snowboarding Helmet

Overall Score: 68
Advantages:
It can be converted for use for skateboarding and BMXing
Adjustable vents
Highly affordable
Disadvantages:
Missing modern features like audio support
Comfort
With a moisture-wicking netted lining and ten adjustable vents, the Retrospec Comstock offers superb temperature regulation when working up a sweat out on the slopes.
The ergonomic adjustment dial makes it easy to tighten or loosen your helmet without removing your gloves, and the chin strap features extra soft cushioning to prevent any uncomfortable chafing.
We also found the extra plush earmuffs were a nice bonus during the extra cold days on the mountain.
Design
The Comstock is a modern-looking helmet available in a range of matte colors, which are mostly muted but include a few brighter options.
The clip at the back is handy for securing your goggles, although the lack of a brim means the fit with goggles could be better, and the earmuffs don't have space for drop-in headphones.
Our favorite feature is that you can remove the earmuffs and replace the fleece lining with the foam padding included, and you can also use the helmet for mountain biking or skateboarding in the off-season.
Safety
With a robust ABS outer shell that cuts down on unnecessary weight and an interior constructed from EPS foam to absorb impacts, the Comstock provides a lot of protection in the event of a collision.
All of Retrospec's helmets are tested and certified by the United States Consumer Product Safety Commission and the European Norm lab to meet the ASTM F 2040 and CE EN 107 standards for safety.
It's worth checking for these certifications whenever you're looking to purchase a helmet, as some insurance companies will only pay out if you wear protection rated to these standards.
Range
The Retrospec Comstock comes in a solid range of nine different colors.
Most of these, such as the matte black, slate, forest, and burgundy options, are relatively nondescript, but the rose and blue ridge options offer a bit more flare.
In terms of size, the Comstock is available in three sizes: Small, Medium, and Large. Make sure you measure your head first, as these helmets come up a little bigger than usual.
A Large is listed as 58-61cm (head circumference), which is considered Extra Large (XL) for many other brands.
Price
This helmet was the cheapest of those we tested out.
While it may have lacked some of the more premium features, such as drop-in headphone support, it was warm, well-ventilated, fit securely, and met our safety standards, so it can be considered superb value for money.
2. Anon Prime MIPS Snowboarding Helmet

Overall Score: 80
Advantages:
Superb airflow including, dedicated goggle ventilation
Magnetic Fidlock chin strap buckle
Best-in-class MIPS safety technology
Supports most audio systems
Disadvantages:
Utilitarian style isn't for everyone
The color range is lacking
Expensive
Comfort
Anon is the snowboarding accessories brand of Burton, so you know you're going to be getting a helmet from folks that really know their stuff.
Both the fleece liner and ear pads of the Anon Prime are pill-resistant and moisture-wicking to keep your head nice and toasty in any riding conditions.
When you start to get too hot, you've got adjustable control over a whopping 23 meticulously positioned vents.
For adjustment, the Prime employs a 360° BOA Fit System, modeled after the same system used for tightening and securing BOA-style snowboarding boots.
Design
While the overall design of the Prime is somewhat utilitarian, which may be off-putting to the more fashion-conscious snowboarders, the features themselves are truly cutting-edge.
The ear pads are audio-ready and compatible with most helmet music systems for taking your favorite tunes out on the mountain with you.
There's a dedicated goggle ventilation channel to stop your lenses from fogging up, and Anon also uses the very latest in buckle technology with an easy-to-use magnetic snap system from Fidlock.
Safety
Aside from the hybrid shell that combines lightweight molded materials with a durable hard exterior, the Anon Prime employs one of the most highly sought-after safety features you can have in a helmet.
MIPS was invented by a Swedish brain surgeon and stands for Multi-directional Impact Protection System; MIPS helmets feature a low-friction layer sandwiched between the inner liner and the outer shell, mimicking the natural defense mechanism found in our own skulls.
It massively reduces the rotational forces that impact the head on impact, and while every helmet is different, those with MIPS test around 10% safer on average than those without it.
That may not sound like a lot, but it's a big deal when it comes to protecting your brain.
Range
The Anon Prime only comes in four colors, with blue, navy, black, and green available, all in pretty subdued shades.
If you prefer the understated look, this won't be an issue; however, as we mentioned before, it may not be the number-one pick for trend-setting snowboarders.
In terms of sizes, they range from a Small (starting at 52cm) to an Extra Large (capping out at 64cm), a better variety than many of its competitors.
Price
The Anon Prime is the most expensive helmet on this list and will likely set you back a couple of hundred dollars.
However, you can't put a price on safety and this helmet, with its futuristic features, is one of the best around.
While you might find the Prime at a discounted price, it's important to know that you should never buy a secondhand helmet as you have no idea whether it's still safe.
Remember, any helmet should be replaced after a significant crash as it can no longer be considered as offering suitable protection.
3. Wildhorn Outfitters Highline Snowboarding Helmet

Overall Score: 90
Advantages:
Official supplier for the US Ski Team
X-Static liner that eliminates odors
The same modern features as the Prime
MIPS protection
Disadvantages:
Still relatively expensive
Comfort
The Wildhorn Highline is the perfect all-weather snowboard helmet.
Not only are the X-Static removable liner and accompanying earpads extremely comfortable, warm, and moisture-wicking, but the fabric itself releases positively-charged ions that work to naturally eliminate odor.
Twelve strategically-positioned air vents provide superb breathability and include a three-stage adjustable system for highly customizable climate control.
Design
Visually, there's a lot to love about the Highline's two-tone design and construction.
This helmet is also packed with many of the same high-tech features that are found in the Anon Prime; you've got the handy Fidlock buckle system, audio device compatibility, a quick-snap goggle retainer, and fog-reducing brow vents, all included.
Safety
At this point, it's worth noting that Wildhorn is the official helmet supplier for the United States national ski team, so you can guarantee they're held to the highest safety standards.
The Highline also implements MIPS to offer that extra protection from angular head impacts and has secured both the ASTM F 2040 and CE EN 107 international safety certifications.
Range
The Highline comes in Small, Medium, or Large sizes, but it's worth noting that the Small is suitable for head sizes as small as 49cm, which is 2cm lower than you can go with the Anon Prime.
On the flip side, the Prime allows for head sizes up to 64cm with its XL model, whereas the Highline's Large caps out at 61cm.
In terms of color choices, there are eight to choose from, including a mix of one and two-tone varieties and the option to pick between a glossy finish, a matte finish, or a combination of the two.
There's also a good balance between subtle color options and a few louder ones.
Price
While the Wildhorn Highline isn't a budget helmet, our research found it was around 25% cheaper on average than the Anon Prime.
Given they share most of the same modern design features and best-in-class MIPS protection, it's hard not to love the Highline, and we think it's excellent value for money.
4. OutdoorMaster Kelvin Snowboarding Helmet
Overall Score: 76
Advantages:
Removable liner and ear pads for easy cleaning
Supplier to the US Ski Team and USCSSA
Huge range of colors available
Disadvantages:
May come up small
Brim is slightly high, which may leave a goggle gap
Construction is safe, but finish varies in quality
Comfort
The Kelvin from OutdoorMaster is a perfectly comfortable helmet with a warm inner fleece liner and ear pads, both of which can be easily removed for washing.
There are fourteen air vents for that crucial circulation, although, unfortunately, they aren't adjustable like some of the more premium helmets on the market.
It's also worth noting that the Kelvin can come up small on some people, so it's worth double-checking your head measurements if you're on the borderline between two sizes.
Design
We like Kelvin's sleek, modern aesthetic: it's simple and classy.
There's no peak on the brim, which isn't an issue in and of itself; however, we found that the brim was slightly too high for our own preferences and can leave too much space above your goggles if they're not a compatible size.
There's no audio compatibility on this model, and while the build quality has no issues from a safety perspective, the outer shell does appear to scratch a bit too easily, and the construction of the inner fabric could be better.
Safety
The Kelvin features a shock-absorbing EPS core and a reinforced ABS outer shell that offers excellent protection from impacts to the head.
While the Kelvin doesn't feature MIPS technology like some of the pricier helmets on the market, OutdoorMaster is also an official helmet supplier to both the US Ski Team and the US Collegiate Ski & Snowboard Association, so you can be assured of their safety standards that meet international regulations.
Range
We found the OutdoorMaster Kelvin to offer the best range of all the helmets we reviewed for this article; first up, the sizes range from Small to Extra Large, and cover head sizes ranging from 48cm all the way up to 63cm.
In terms of color options, there are more than fifteen different styles to choose from.
The ear pads of every model are black, but you'll find subtle single-color helmets, subdued helmets with bright contrasting straps, eye-catching domes of baby blue or deep purple, and even a few with bright, neon gradients.
Price
The Kelvin is roughly half the price of the Wildhorn Highline, which is honestly a great bargain if you're not fussed about all the bells and whistles.
While you won't have the MIPS, native audio accessory support, or the magnetic chin strap buckle, the Kelvin is still a perfectly safe and functional helmet with a far more comprehensive range of styles on offer.
5. Oakley MOD3 Snowboarding Helmet
Overall Score: 72
Advantages:
Very lightweight
Odor-eliminating X-Static liner
MIPS protection
Disadvantages:
Chin strap protector can't be removed
Dated design isn't for everyone
Comfort
Oakley's MOD3 is an extremely lightweight helmet, making it one of the more comfortable of those we tried.
The ear pads and lining are nice and soft and use the same odor-neutralizing X-Static fabric employed in the Wildhorn Highline and the BOA system used by Anon.
The one downside of the MOD3 is that the chin strap protector can't be removed; most folks prefer the protector and find it makes a helmet more comfortable, but others prefer taking it off when wearing a buff over their face.
We also found that while the earpads could fit audio devices, they weren't that comfortable unless the headphones were fairly small.
Design
The "MOD" in MOD3 stands for Modular Brim System (MBS) and is much less complicated than Oakley makes it sound.
Aside from the built-in anti-fog ventilation, the brim itself can be taken off without impacting the goggle fit.
Truthfully, to brim or not to brim is usually an aesthetic choice and most riders are unlikely to change their preference from day to day, but it's nice to know the option is there.
From a visual perspective, we're not the greatest fan of how the MOD3 looks.
The angles on the helmet's surface are supposed to symbolize the corduroy lines of a freshly-groomed piste, but if we're honest, we don't see it.
Along with the faux-leather ear pads and the fact the removable brim only comes in black, no matter what color the rest of the helmet is, it's a bit dated.
Safety
The MOD3's hybrid shell uses ABS in the front and In-Mold for the rear, as well as the mighty MIPS, resulting in great safety and amazing weight-saving.
It meets all recommended safety standards, and even the outer shell is scratch-resistant.
Range
The MOD3 comes in a Small, Medium, or Large with a total head size range from 51cm to 63cm.
Interestingly, each size has a range of 4cm compared to the 3cm offered by most other helmet brands.
The upside here is that you've got more options for wearing extra headgear under the helmet on days when the weather is particularly miserable.
There are seven matte colors to choose from but they're all relatively subtle, and as we mentioned before, they all come with the same black brim.
Price
Price-wise, the MOD3 sits somewhere between the OutdoorMaster Kelvin and the Wildhorn Highline, which is pretty reasonable.
Personally, we'd rather spend the extra cash on a Highline to take advantage of the premium features or save the money and go with the more stylish Kelvin.
6. Salomon Brigade Snowboarding Helmet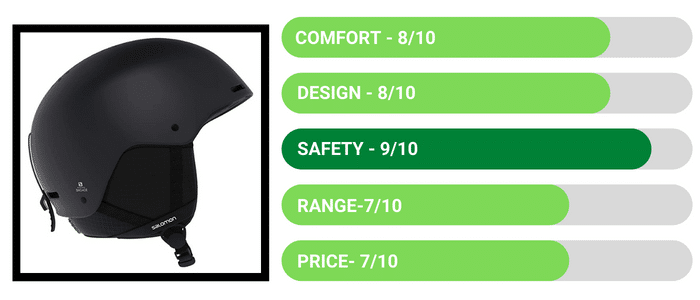 Overall Score: 78
Advantages:
Sleek old-school design
Adjustment system can be finely tuned
Proprietary protective liner integrates ventilation
Superior audio compatibility
Disadvantages:
Could be more color options available
Comfort
The Salomon Brigade is an immensely comfortable helmet thanks to the integrated Custom Dial adjustment system that offers superb control over the fit – when set correctly, the helmet won't budge an inch.
Salomon also include their patented EPS4D liner technology in this model, which, aside from offering comfort and protection, also integrates ventilation within the lining itself, leaving your head cool without needing additional external vents.
Design
We're big fans of the Brigade's design, reminiscent of an old-school BMX helmet due to its smooth, one-piece dome and lack of vents.
The earpads can accommodate both wired and wireless audio devices, and the 3D perforated construction allows for better sound transition whether you're listening to music or not.
Safety
While the Brigade doesn't employ MIPS technology, Salomon's proprietary EPS4D tech offers a similar level of protection from both vertical and angular impacts.
In fact, in-house testing has shown that EPS4D and the injected ABS shell provide as much as 30% more shock absorption than the industry standards, and the Brigade is certified for both alpine and bike use.
Range
The Brigade comes in Small, Medium, Large, and Extra Large, so it covers most adult head sizes, and the high-quality adjustment dial allows for some non-literal wiggle room here.
The range of available colors could be larger, although it's nice to choose between subtle tones and beautifully bright options like "Orange Pop" or "Turkish Til."
Price
The Brigade is similar in price to the Oakley MOD3. Ultimately, the choice between these two is down to design preference. If you like the old BMX helmet look, go for the Brigade.
If you prefer the racing look and a brim, the MOD3 will be a better pick.
Final Thoughts
Ultimately, our favorite helmet of the bunch is the Highline from Wildhorn Outfitters. Aside from being incredibly warm and comfortable, it has all the high-end features you could want from a helmet.
We feel that MIPS is a must-have from a safety perspective, and we loved the stylish design and range of color options available.
While not one of the cheapest helmets you can buy, the Highline is excellent value for money, and it's hard to overlook any equipment that's considered the best by the sport's top professionals.