As a rule of thumb, the stiffer a snowboard boot, the more responsive it will be to your movements. Your board will react more quickly, meaning that while there's less room for mistakes, stiffer boots are the way to go if you prefer charging down the slopes and carving at speed over spinning around in the snowpark.
The best stiff snowboard boots are those that offer rigidity without being uncomfortable or failing to absorb vibrations as you ride. They should also come with a suitable lacing system, like boa laces, so you can secure your feet well enough to take advantage of the boots' stiffer flex.
Below, we've reviewed six of this year's best stiff snowboard boots, which rate at least 8/10 on the flex scale. For this article, we've decided not to cover hard-shell racing boots as they're a fairly specialized style of boot that most snowboarders will never need.
Best Stiff Snowboard Boots
Compare Top Stiff Snowboard Boots
Detailed Analysis Of The Best Stiff Snowboard Boots
Do check out our article on the pros and cons of stiff snowboard boots to ensure that they meet your expectations.
1. K2 Thraxis Snowboarding Boot

Overall Score: 96
Advantages
Triple boa system for superior adjustment
Keeps maneuverability at slower speeds
Disadvantages
Comfort
The K2 Thraxis boots are hugely comfortable thanks to their Pro Foam 3D liner that's designed with warmth and comfort in mind.
The liner features reflective panels that keep the cold out while trapping heat inside the boot.
They're also heat moldable which makes all the difference and reduces the breaking-in period down to practically no time at all.
Fit
The Thraxis boots run true to size, so you don't have to worry about picking the wrong size if you order online.
As mentioned above, the heat moldable liners make for a superb fit without pinch points or cramping.
Combined with the lacing system covered below, you should find they fit like a dream straight out of the box.
Lacing
With not one, not two, but three boas, the Thraxis boots offer incredible adjustability, which is always a bonus when it comes to stiff snowboard boots.
You've got two that tighten the outer shell – one for the upper section and one for the lower section – and a third that lets you tighten the inner liner around the ankle from the outside.
For extra support, there's also a velcro strap that you can secure around the top of the liner which also pads your shins.
Performance
These deliver everything stiff boots are supposed to when it comes to performance.
They're great for bombing at and carving at high speeds, and the increased energy transfer means you don't need to work as hard to get more out of your board.
They're effective at absorbing shocks, and while it's commonplace for stiff boots to make it harder to maneuver at slower speeds, the Thraxis boots don't suffer from this as much as other boots in their category.
Price
At almost $500, the Thraxis boots aren't going to be within everyone's budget, but they're worth the price if you're looking for quality.
However, if you wait until the end of the season, you'll find big discounts on boots like these.
2. Vans Infuse Snowboarding Boots (Best for All-Mountain)
Overall Score: 93
Advantages
Customizable flex from mid to stiff
Highly adjustable
Disadvantages
Longer breaking-in period
Comfort
The Infuse snowboard boots from Vans took a little longer to break in than the Thraxis', but that's pretty common for stiffer boots, so it's not really a drawback.
After heat molding the liners and a day of riding, they were extremely comfortable.
The liner and footbed are both plush and warm, and while the boots are on the heavier side, this is also pretty standard for stiff snowboard boots.
Fit
Without heat molding, the Infuse snowboarding boots didn't fit as well as we'd have liked after a few days of putting them through their paces, so you'll want to take care of that before taking them up the mountain.
Once they've been molded, however, they're ideal.
It's also worth mentioning here that what sets the Infuses apart from the competition is the ability to insert or remove tongue stiffeners that let you adjust the fit of the boot as well as the flex itself.
Lacing
The Vans Infuse boots are some of the most adjustable on the market.
First, you've got a hybrid system that gives you the customization options of traditional laces combined with the security of a multi-boa system.
On top of that is the power strap that lets you adjust how tight the boot is around your calves – leave it off for softer flex or strap it nice and tight for added stiffness.
Performance
The most interesting feature of the Infuse boots is the flex control system which consists of removable inserts that can loosen or stiffen up the boots to your liking.
This means you can set the flex down to a 5 out of 10 or crank the stiffness up to a 9, an amazing feature for riders who like to kick it in the snowpark or jib around the slopes but also want to be able to increase the responsiveness of their boots to carve aggressively down the mountain.
Flex control aside, these boots also have great shock dampening in the sole while maintaining a solid board feel.
Price
The Vans Infuse boots usually retail for around $400 at the start of the season and are a fair amount cheaper than the Thraxis boots.
You can't argue with the value for money when you consider you're effectively getting two boots in one with the adjustable flex.
3. ThirtyTwo Jones MTB Snowboarding Boots (Best for Splitboarding)
Overall Score: 89
Advantages
Walk mode for longer strides
Compatible with crampons
Disadvantages
Comfort
The Jones MTB boots look and feel great, thanks to their heat-injected energy foam that can be molded for comfort.
But it's their patented "walk mode" that makes them stand out compared with other boots intended for splitboarding.
Walk mode lets you adjust the boots for easier walking, obviously, but they also allow you to take longer strides when your board is split, so traversing the mountain is more comfortable than using regular snowboard boots.
When it's time to descend, you can revert from walk mode to stiffen up the boots for downhill carving.
Fit
The Jones boots fit true-to-size with half sizes available, feature enhanced spine support, and a 3D-molded tongue that gives an even flex throughout the boot.
The stand-out feature when it comes to fit is the included heel hold kit that consists of heel inserts to customize the fit and minimize heel lift.
However, it should be pointed out that the heel hold kit does get in the way of speed-entry bindings, making them effectively useless as you'll have to undo the straps anyway to exit the binding.
Lacing
The Jones MTB boots come with superb adjustability, although the different straps and laces used to achieve this make getting them on and off a little bit cumbersome.
Having said that, the dual boa system works very well in conjunction with the Tongue Tension+ tech that helps lock down your heels and the full zip gaiter that works great in keeping out the elements, a must-have out in the backcountry.
Performance
These are some of the best-performing splitboard boots you'll find on the market.
They're stiff enough to ensure your board is responsive and carves well at high speeds, but they don't force you to ride too aggressively to make the most out of them.
When your board is split or while you're traversing the mountain on foot, the walk mode feature is unbeatable. They're even compatible with manual or semi-automatic crampons.
Price
At around the $700 mark, the Jones MTB boots are the priciest boots on this list and are likely sitting around the limit of what most people are willing to spend.
However, splitboarding is a more expensive sport in general due to the more specialized nature of the gear required and the lower demand for said equipment.
4. Ride Insano Snowboarding Boots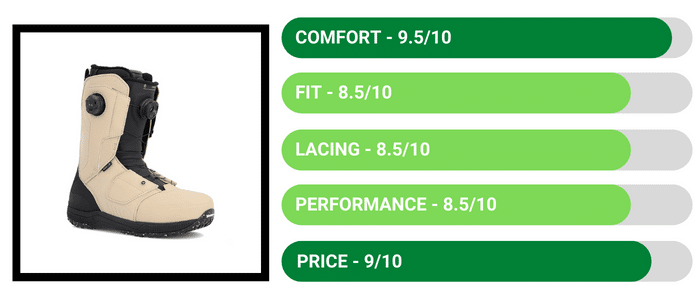 Overall Score: 88
Advantages
Little to no breaking in period
Excellent at high speeds
Disadvantages
Not for inexperienced riders
Comfort
The Ride Insano snowboard boots don't feel particularly plush compared to the competition. Still, this doesn't impact the high level of comfort you get with these boots.
There was no hint of cramping or pinch points, and they felt good from the moment they were on, a rarity for boots that usually need at least a day of breaking in.
The heat-reflective foil is also an added bonus when it comes to keeping your feet toasty in sub-zero temperatures.
Fit
The Insano boots came up true to size, but it's worth mentioning that they were a little tight for someone with wider-than-average feet.
Out of the box, they came with a fairly low arch which was nothing out of the ordinary, and heat molding before a day of riding perfected the ultimate fit.
The internal and external J bars also work well at increasing both ankle and heel hold.
Lacing
For the Insano boots, Ride utilizes a standard dual boa system for independently adjusting the upper and lower lace sections of the boot.
While it's not as complex or adjustable as the Thraxis boots, it does the job just fine.
They also come with Ride's "Tallboy" harness tech that adds an extra level of laces higher up around the ankle for a more secure fit.
Performance
The Insano boots are an example of stiffer boots that suffer at lower speeds and require an advanced rider who knows how to ride aggressively and put enough energy into them.
However, when you do, you get plenty back in return.
They feel superb riding at speed, and you'll find you can hold your carves longer and deeper than most other boots while avoiding chattering through great shock absorption.
Price
The Insano boots are a little more expensive than the Vans Infuse boots, so they're still reasonably priced for a pair of excellent stiff snowboarding boots.
Having said that, we'd have liked to see more adjustability when you look at what Vans offer at a similar price mark.
5. Burton Ion Boa Snowboarding Boots

Overall Score: 83
Advantages
Very comfortable from the get-go
Moisture-wicking, heat-reflective lining
Disadvantages
The inner liner can't be adjusted with the external boa
Comfort
Burton's Ion boots were comfortable immediately, which is uncommon for stiffer snowboard boots.
There was a little bit of shin bite to start with, but that disappeared by lunchtime, and by the afternoon, the boots felt great.
Burton is also on to a winner with their DryRide lining that reflects heat back within the boot while also wicking out any moisture, keeping your feet warm and dry throughout the day.
Fit
The Ion boots fit true-to-size, coming up a quarter of a size small if we're being really picky, but the overall fit is solid.
Burton also uses their Tuff Cuff that wraps around the ankle with lateral and medial support to increase heel hold while allowing flex from heel to toe.
Lacing
The Ion boots have a dual boa system, with one for the upper and lower laces. They work well, and Burton is known for their high lace quality, meaning it's easy to get the tightness you're after with stiff boots.
The only downside is that the inner liner still needs to be adjusted manually from within, whereas other boots come with a third boa for this purpose, which makes it easier to adjust the whole boot on the go.
Performance
The Ion boots are great stiff boots that improve carving and are stable at high speeds.
At lower speeds, you'll feel a little less nimble with your turns which can be expected, but they're not so stiff you won't be able to pull off some freestyle tricks or butters.
Price
At over $600, it's hard to say whether the Ion boots are worth the price when considering the alternatives.
With Burton, you get guaranteed quality that can't be ignored, but whether that's worth the price tag is down to you.
6. DC Transcend Snowboarding Boots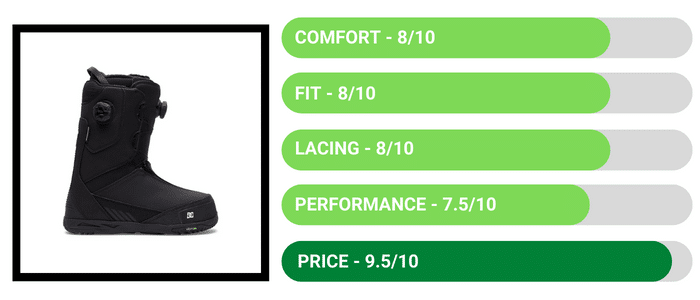 Overall Score: 82
Advantages
Great for those on a budget
Cozy inner lining
Disadvantages
A good all-round boot with better alternatives
Comfort
DC's faux fur and 3M Thinsulate liner used in their Transcend boots is very cozy, keeping your feet toasty while offering enough ventilation throughout.
They didn't take long to wear in, and as long as you pick the right size, you shouldn't have any issues with pinching or tightness.
The only downside is the faux fur might soak up moisture if you don't make sure you keep the snow from getting inside the boot.
Fit
The Transcend boots run a little small for some people, so it's probably best to pick a size based on what hiking boots you'd wear with thick socks rather than your sneaker size.
The heel grab in the liner minimizes heel lift, and the footbed has enough room if you've got a slightly wider-than-average fit.
Lacing
The Transcend boots use a fairly typical dual boa system like many other boots on this list.
You know the drill by now – one for the upper section for ankle adjustment and one for the lower section to customize the fit around your forefoot.
There's also a zip-up storm flap to keep out the elements along the top of the foot area, but we can only see this being a big benefit if you're used to wading around in slushy conditions.
Performance
The Transcend boots are a good stiff snowboarding boot, rating around nine on the flex scale.
The soles don't offer much traction when you're off the board, but when riding hard, these boots offer the responsiveness necessary for hard-charging piste runs, with some trade-offs at slower speeds.
Like the Insano boots, the Transcend boots give back what you put into them, so they'll work best for experienced, aggressive riders.
Price
At around $400, the Transcend boots are the lowest-priced boots on this list but not necessarily the best value for money. If you're on a tight budget, waiting until the sales start may be better.
The Final Verdict
Ultimately, the best stiff boots will fit well and give you the performance boost you're looking for.
If you're still relatively new to the sport, try to avoid boots that are too stiff, as they don't allow much room for error and are best suited for confident, aggressive riding styles.
Having said that, if speedy carving is your thing, grab a pair of stiff snowboarding boots before the winter is out.