Capturing your time on the mountain with an action camera is a great thing to do as it gives you something to look back on at the epic shredding you have done with your friends. Putting together great edits is also great for your social media profiles.
The most popular action cam brand at the moment is GoPro. They have a few options in their lineup, but which is best for snowboarding?
When it comes to choosing the best GoPro for snowboarding, you can't go wrong with the GoPro Hero 11 Mini. We like it for its fantastic video, quality image stabilization, and its long list of features. Alternatively, you may want to choose the GoPro Max 360 so you don't miss any of the action.
This article will highlight the best GoPro cameras to record your snowboarding from all angles.
Best GoPro Cameras For Snowboarding
Compare Top GoPro Cameras For Snowboarding
Detailed Analysis Of The Best GoPros For Snowboarding
1. GoPro Hero 10 Black
Overall Score: 88
Advantages
Fantastic video quality
Brilliant images stabilization
It has lots of features
Robust and waterproof
Disadvantages
Battery life is compromised in some modes
They are known to overheat
Features
One of the best features of the GoPro Hero 10 Black for snowboarding is its HyperSmooth 4.0 image stabilization.
This means you can film at the highest resolution while capturing steady footage, even when you are smashing through the roughest mogul field.
GoPro has fitted this camera with the G2 processor, which is faster than the ones in its predecessor and makes it easier to use.
You are not limited to videos; it can take fantastic photos pretty much anywhere and is waterproof up to 10 m.
But more importantly, for snowboarding, it is incredibly shockproof, so it should be safe after a crash, and at least you'll be able to watch the footage back.
Footage Quality
This action camera can record at 5.3K resolution and at a speed of 60 frames per second, which is seriously impressive.
This means you can watch your footage back in super slow motion, adding drama to your edits.
Ease Of Use
The GoPro Hero 10 Black is pretty easy to use once you have gotten used to it. This is thanks to the LCD touchscreen, which makes scrolling through the menus easier when you've learned what they do.
An extra bonus is the voice control which allows you to activate it without touching it while it's on your helmet. But remember to set it to your regional accent, as it can get confused, or not listen to you at all.
Battery Life
GoPro cameras have never had good battery life due to the amount of power they require. But the GoPro hero 10 should last about 40 minutes before you need to change the battery.
However, this can be significantly reduced when you shoot in 5.3K at 60 frames per second. This setting puts more demand on the camera, zapping its battery power.
It would be best if you also remembered the cold will negatively affect battery life, so charge up a spare to keep in your pocket.
Mounting Options
As this is a GoPro, you have a seemingly limitless number of mounting options that allow you to get inventive with camera angles. You can buy individual mounts or bundles for your chosen sport.
2. GoPro Max 360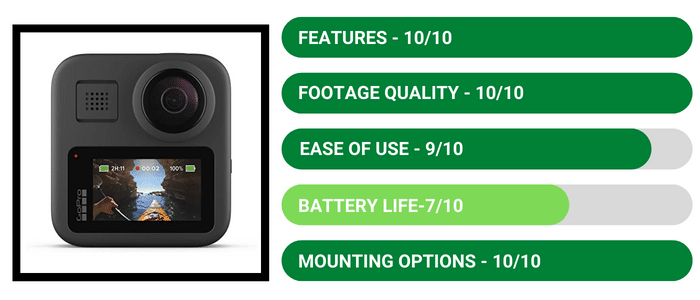 Overall Score: 92
Advantages
Records in 360 degrees
Great audio to match the footage
High-resolution footage
Voice command
Disadvantages
The stabilization mode could be better
Expensive
Not great for normal photos
Can overheat in 360 mode
Features
The GoPro Max has features you won't find on any other GoPro camera. The most obvious one is that it has multiple lenses, so it can record in 360°.
This means you never miss an angle as you would with a regular GoPro that isn't quite pointed in the right direction.
Another unique feature is that this camera can take 270° panoramic photos. This means you can capture wide images with an automatically straightened horizon.
The only downside is that it doesn't take regular photos very well. The GoPro Max is waterproof up to 5 m, so this shouldn't bother you too much while snowboarding.
But you can capture some incredible underwater footage during the summer.
Footage Quality
The footage captured by the GoPro Max in 360 mode is outstanding, as it has a resolution of 5.6 K at 30 frames per second. But you can also capture awesome videos without 360 mode.
Ease Of Use
Using the camera is actually very easy, as you don't have to think about which way it is pointing. Therefore you don't have to worry about missing your epic cliff drop or your friend's faceplant.
However, there is a trade-off when it comes to editing. The editing process is lengthy, as you need to watch every second of your footage and choose where the field of view is pointing.
To do this, you need to download new software and learn how it works. Some people love the editing process, but you need to be patient with 360 footage.
As 360 mode puts a lot of demand on the camera, it can occasionally overheat. Therefore, you need to be patient until it returns to its optimum operating temperature to continue recording.
Battery Life
The battery life is surprisingly long for such a technical action camera. You should get about 78 minutes of recording time, but this may reduce in cold temperatures.
Mounting Options
There are many ways you can mount your GoPro hero Max; however, a great way to do it is with a helmet mount. Or even better, mount it to an extended pole out of your backpack for that video game follow-cam view.
3. GoPro Hero 9

Overall Score: 88
Advantages
More affordable than other options
Good battery life
Smooth video stabilization
Great for both videos and photos
Disadvantages
It can overheat when recording in 5k
Features
The GoPro Hero 9 has many features without costing as much as the 10 or the max. It has front and rear LCD screens to make navigating the menus and framing your shot super easy.
One of the cool things about it is that you can live stream straight onto the Internet and even use it as a WebCam.
The hyper smooth 3.0 stabilization automatically levels the horizon and creates smooth footage, even on the most rutted ski slope.
Thanks to its ultra-high frame rate, you can also make fantastic timelapse scenes and eight-times SloMo videos.
On top of this, you can activate "Hindsight mode," which catches video 30 seconds before you've even pressed the record button. Therefore you won't miss vital moments on the mountain.
Footage Quality
You can expect incredible detail from your footage as this camera shoots in up to 5K resolution and 20 MP photos.
So you can be sure to really catch the moment and play back your footage with realistic quality.
Ease Of Use
The GoPro Hero 9 is much easier to use than previous models. This is because the menu system has been refined and is accessible through the rear touchscreen.
The front display makes it easy to frame your shot when the camera points back at you. A few owners of this camera report that it overheats when used in 5k for long periods.
This means it shuts down or freezes until it cools down again. This is frustrating when you have some epic moments to record.
Battery Life
The GoPro Hero 9 has good battery life; you can expect about 100 minutes of recording when you use full HD mode.
When you use 5K mode, you can get about 90 minutes of recording until the battery drains completely.
Mounting Options
You can expect many mounting options with the GoPro Hero 9. This is down to the frame system that allows you to utilize all the official GoPro mounts and aftermarket products.
4. GoPro 11 Hero Black Mini

Overall Score: 92
Advantages
More compact than other models
Incredible video quality
Award-winning video stabilization
Lots of features
Disadvantages
Features
This camera is the smaller, lighter version of the new GoPro Hero 11. Considering its small size, it has a huge and impressive list of features.
The smaller size makes it even more suitable for capturing POV footage. This is because it is more comfortable to wear and doesn't get in the way as much as the other versions.
This new camera features the Emmy award-winning, Hyper smooth 5.0 video stabilization. This means footage on choppy snow and uneven terrain comes out buttery smooth, creating outstanding POV shots.
Footage Quality
The Hero 11 Black Mini steps up the footage quality from its predecessor. You get 5.6K video at 60 frames per second.
The photo image quality is like something you've never seen before from a GoPro, but you take the image from your video footage.
It has 27 Megapixels featuring 1 billion colors, so your colorful snowboard outfit will stand out from the blue and white background.
Ease Of Use
GoPro has made this camera easy to use with its one-button simplicity. It is made so you can just point it and shoot it.
Set your camera up with the required settings, press the shutter button to switch on the camera, and start shooting.
Battery Life
The battery is built into this camera, insulating it from cold weather and extending its run time. This means you get about an hour of recording at the camera's highest settings.
However, if you choose less demanding settings, you could get around two hours of use.
Mounting Options
There is the usual massive list of GoPro mounts for this camera. However, it is best suited as a helmet cam due to its smaller size and lighter weight.
You will find it more comfortable to wear than the heavier regular-sized GoPros.
It also has a secondary method of mounting the camera on a helmet with the extra mounting fingers on the rear, making it easier to point it forwards for POV footage.
5. Insta360 X3
Overall Score: 80
Advantages
360 footage
A great alternative to a GoPro
Smooth footage
Never miss an angle
Disadvantages
Historically the battery life isn't great in the cold, but you can manage it
Features
Okay, this is not a GoPro, but we thought it would be cool to give you an alternative from a different brand. The X3 is the latest 360 camera from Insta 360 with some great features.
These include flow state stabilization, horizon lock, and clever editing software that uses AI to help you reframe your footage.
This camera is also waterproof, so you don't have to worry about getting it wet when you are slashing the pow!
Footage Quality
The X3 can capture 360° footage up to 5.7K from its dual half-inch, 40 8MP sensors. You can also take 72MP photos and superb 8K time-lapses.
Ease Of Use
The camera is straightforward to use; however, the menus are not quite as intuitive as the ones on the higher-end GoPros.
But once you get used to how everything works, you won't have any problems capturing great footage on the mountain.
Battery Life
The Insta 360 X3 has a powerful battery that can give you up to 81 minutes of recording time. Of course, you can extend this battery life by using lower settings if you need to.
Previous models of this camera could have performed better in cold temperatures in terms of battery life. Therefore you may want to keep your battery warm in a separate pocket until you are ready to use it.
Mounting Options
As this is a 360° camera, the mounting options are a little more limited, but that's because you want to mount it in a way that catches everything around you.
One of the best mounts for this camera is on your helmet. However, it's quite a long camera, so it protrudes far above your head.
This does make it look a bit silly, and it can get in the way when you try to put the bar down on the chair lift. One of the unique ways you can mount this camera is with the invisible selfie stick.
This works just like a regular selfie stick, but somehow the camera magically erases it from the footage, creating a drone-like camera angle, but closer.
Some people like to carry their selfie stick in their hand or jam it into their backpack to create a follow-cam-like view.
Final Thoughts
Capturing your snowboarding on an action camera is great for reliving memories, showing off, and contributing to your social media.
GoPro is the leading brand of action cameras and has come a long way since the early days. No wonder they are used by professional snowboarders and film crews to record all the best action in the mountains.