Bindings are easily one of the most overlooked pieces of equipment when it comes to snowboarding, with most folks assuming they're just there to attach the board to your feet. But this couldn't be further from the truth.
Not only does the quality of the binding matter – the last thing you want is your foot slipping out mid-run – but the flexibility and comfort can also make a big difference in the riding experience, especially for beginners.
The best beginner snowboard bindings are more flexible as they make turning easier. Stiff bindings are more responsive but less forgiving of minor mistakes. As a beginner, you'll take your board off more often, so it's important your bindings are easy to enter and exit while out on the mountain.
We've put together a list of bindings we've tried and tested that we believe are some of the best options for beginner snowboarders.
Our Favorite Bindings For Beginners
Compare Top Snowboard Bindings For Beginners
| Bindings | Overall Score | Bottom Line | Price |
| --- | --- | --- | --- |
| Union Flite Pro | 80 | A great all-rounder that offers control but remains responsive | Check Out On Amazon |
| Ride C2 | 90 | Great for beginners who want to focus on technique over speed and tricks | Check Out On Amazon |
| Burton Freestyle | 78 | A reliable binding with some nice tech | Check Out On Amazon |
| Flow Nexus | 84 | An excellent binding for beginners who've mastered the standing start. | Check Out On Amazon |
| Nidecker Muon X | 86 | The perfect binding for those on the cusp of intermediate skills | Check Out On Amazon |
| Salomon Rhythm | 84 | A fine binding if you're watching your budget | Check Out On Amazon |
Detailed Analysis Of The Best Beginner Snowboard Bindings
A quick note: The "flex" of snowboard equipment is usually rated on a scale of 1-10, with 1 being a super soft flex and a 10 being completely stiff.
For the purposes of this article, a higher score in the "Flex" category reflects a higher suitability for a beginner snowboarder rather than a flex rating.
If you also want help with finding what's the best type of beginner snowboard, then do check out my article on the best type of snowboards for new riders!
1. Union Flite Pro
Overall Score: 80
Advantages:
Flexibility is ideal for beginners who want to improve
Super comfortable
Disadvantages:
May experience binding slippage
Flex
Union's Flite Pro soft and surfy bindings are great all-mountain bindings that offer a "loose truck" feel and make it easy for any beginner to maintain control over their board.
They're forgiving enough for the park yet not so soft that they won't perform at speeds on or off-piste as you start to build your skill level.
Comfort
The Union Flite Pros feature a Duraflex base, which provides a smooth and responsive feel, and a Duraflex highback with a 3D-molded heel cup for a secure and precise fit.
The padded Forma ankle straps are super comfortable, and the thermoformed EVA full bottom pushing's cancel out most vibrations when riding.
Adjustability
The Flite Pros come in three sizes and are adjustable using ratchet-style straps. The aluminum ratchets are strong and sturdy, but they have their limits.
If you're on the upper limit of one of the sizes, it's worth moving up a size, as the straps are known to slip if put under too much tension.
They come with universal disk mounts, so you can use them with the vast majority of snowboards and easily fine-tune your stance angles.
Entry/Exit
The Flite Pros are front-entry which is pretty standard for beginner bindings.
The straps are padded but not particularly cumbersome so they don't get in the way when you're strapping in or stepping off your board.
The flexible highback also makes it easier to slide your foot in than a stiffer binding.
Price
In general, these bindings tend to be in the middle of the pack compared to other high-end options on the market and shouldn't cost more than a couple hundred bucks.
They offer a good balance of performance and value, making them a popular choice among riders looking for a high-quality binding that won't break the bank.
It's worth noting that prices can vary depending on the size and color of the bindings.
2. Ride C2 – Best for complete beginners

Overall Score: 90
Advantages:
A canted footbed helps with posture
Great for complete beginners
Disadvantages:
Price can vary and may spike when demand is high
Flex
Ride's C2 bindings are super flexible, making them a good choice for beginners who prefer to spend most of their time in the snowpark or are progressing a bit more slowly and aren't bothered about hitting high speeds on the slopes.
They also use a plastic disc that offers more lateral flex than the standard aluminum.
Comfort
The C2's ultralight canted footbed uses subtle angles to better align your knees and ankles when riding.
This allows for a more natural and, therefore, comfortable riding position and is great for beginners as it makes it easier for you to find the correct posture and a preferred riding stance.
The plastic disc mentioned above is also more comfortable than aluminum; however, the trade-off here is that there's a limit to the amount of punishment it can take, but that shouldn't be an issue for beginners.
Adjustability
The C2s have a simple one-piece ankle strap that manages to offer comfort and response despite its simplicity.
The linkage ratchet is highly durable and designed to eliminate ratchet wag, so it'll hold fast despite feeling nice and smooth. It also has an impressive ladder durability, so they should last you a good while.
Entry/Exit
The aforementioned one-piece ankle strap makes entering and exiting the C2s a quick and easy process, something not to be overlooked by a beginner who may need to remove their board more often than an experienced snowboarder.
The minimalist design isn't just visually appealing; it removes all the frills that can get in the way when all you want to do is get your board on and ride.
Price
The Ride C2s can vary a bit in price, depending on the time of year and progress of the snowboard season.
Usually, you should be able to find a pair for a similar price to the Union Flite Pros; however, when stock is low, and demand is high, you might find the asking price is upwards of two hundred dollars.
3. Burton Freestyle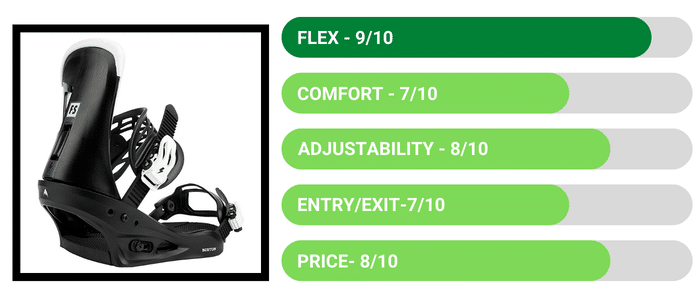 Overall Score: 78
Advantages:
Feel great underfoot
Nice flex offers great control
Adjustable highback
Disadvantages:
Buckles can ice up and get stuck
Flex
Burton's Freestyle bindings employ the company's Re:Flex baseplate technology, using composite materials and a one-piece base to offer smooth, consistent flex while remaining responsive on the mountain.
The plates also work with universal mounting systems so, they're not restricted to use with Burton boards.
Comfort
The FullBED cushioning system feels great underfoot; however, the one-piece baseplate doesn't dampen vibrations as much as some other bindings.
The ankle straps are perfectly comfortable, and while they weren't the best-padded straps we've tried, they did make up for it in responsiveness, making them a good fit for beginners on the cusp of becoming intermediate riders.
Adjustability
The Burton Freestyle's straps are fairly standard and use a run-of-the-mill adjustable ratchet system.
They also feature Burton's MicroFLAD system, which uses a sliding plate and lever to let the rider set the lean angle of the highback, something many bindings don't offer.
It's worth noting that adjusting the Freestyle's straps can be tricky if they get clogged up with ice or snow.
On the bright side, the baseplate of the Freestyle's has a trapdoor that allows easy access to the hardware below, so it's quicker to make stance adjustments on the go.
Entry/Exit
The ankle and two straps on the Burton Freestyle bindings open up nice and wide so getting in and out is a fairly straightforward affair.
However, as mentioned above, they do get a bit stuck when they get icy, which is something that's not uncommon on the slopes.
You might even have to take your gloves off to free the buckle, which is less than ideal on extra cold days.
Price
The Freestyles shouldn't cost more than a few hundred dollars and are a pretty reasonable price, around the same as the previous two entries on our list.
At the same time, they don't have the same premium feel as the Flite Pros or the C2s, and for a mid-range binding, we don't expect to have issues with straps icing up as frequently.
4. Flow Nexus – Best rear-entry

Overall Score: 84
Advantages:
Very comfortable
Superior buckle adjustment
Disadvantages:
Complete beginners may struggle with rear-entry
Flex
Flow's Nexus bindings are a medium-soft flex, so they hit that sweet spot between responsiveness and control for beginners who want to ride hard to progres.
They also feature a nylon highback with a glass core that lets you get creative in the park without feeling like you're at risk of losing control of the board at any point.
Comfort
The Nexus' ComfortFit Fusion strap offers a 3D one-piece design that covers a larger surface area than many other bindings, securing the foot while reducing much of the pressure across the top of the snowboard boot, so they don't have to be tightened as much as other bindings.
Combined with the EVA heel cushioning to absorb impacts, we found the Nexus one of the more comfortable bindings on this list.
Adjustability
Flow's Nexus bindings feature buckles on both sides of the strap that allow fine-tuning and provide a more secure fit overall.
We had no issues with ice clogging up the bindings, but the construction isn't as robust as other alternatives, so it remains to be seen how well they hold up over time.
Entry/Exit
The Nexus are the only rear-entry bindings on this list, and they're a double-edged sword for beginner rides.
Rear-entry bindings are much easier to slip into than front-entry bindings; the highback folds down so you can slide your foot straight in, and then it's secured back into place.
The issue for beginners is that you normally need to be standing upright when you slide your feet into rear-entry bindings and as most snowboarders will tell you, when you're learning, you spend most of the time on your backside.
If this was a list of bindings for more advanced riders, we'd score them higher, but for inexperienced riders, they may not be suitable.
Price
Flow's Nexus bindings are slightly pricier than the previous bindings on this list, as rear-entry systems usually bump the cost up no matter the brand.
It is worth bearing in mind that should you have an issue with these on a snowboarding trip, the parts to repair them aren't always available, as rear-entry bindings are far less common than their front-entry counterparts, so you may end up paying more in the future.
5. Nidecker Muon X – Best for quick learners

Overall Score: 86
Advantages:
Great value for money
Extremely comfortable
Disadvantages:
They may be too stiff for complete beginners
Best when matched with Nidecker snowboard boots
Flex
The Nidecker Muon X bindings are the stiffest on this list.
There's more heel-toe response thanks to off-axis power beams that more efficiently deliver energy to the edge of the board; however, there's less lateral stiffness in the binding which means there's still a fair amount of forgiveness for riders who are still working on their technique.
Comfort
The Muon X's asymmetrical shape provides a canted riding angle for a more comfortable and natural riding position, and the glass-filled nylon baseplate is great at transferring energy while absorbing vibrations from the ground.
The ComfortFit ankle strap also features an extremely comfortable padded foam core and offers superb support when paired with the 3D-hinged Hexo toecap.
It is worth mentioning that while these bindings work with any snowboard boots, they're designed specifically to make the most out of the design of Nidecker's own snowboard boot range.
Adjustability
Nidecker is the same company that owns Flow, so it's no surprise to see them employ some of the same features. In this case, the double strap buckle makes an appearance that we loved on the Flow bindings.
The action of the ratchets is smooth yet sturdy, with a tough composite lever for easy release.
Entry/Exit
The Nidecker Muon X's are front-entry bindings that are pretty simple to get in and out of.
That being said, the trade-off of having padded straps for extra comfort is that they can get in the way if you're in a hurry to strap in.
Ultimately, it's up to you whether it's worth it; we certainly didn't mind it too much.
Price
Despite the extra comfort and features, the Muon X bindings are some of the cheaper bindings on this list, second only to the Salomon Rhythm bindings below.
The only thing stopping them from being the best value-for-money bindings on this list is that brand-new snowboarders may still struggle with the stiffness a little, but they're pretty much perfect for intermediate riders.
6. Salomon Rhythm
Overall Score: 84
Advantages:
Good on a budget
Extra comfortable
Disadvantages:
Extra comfort is at the expense of build quality
Flex
Salomon's Rhythm bindings have a soft flex that makes up for the control you'll lose in speed and responsiveness.
They're a good choice first binding for beginners with their own board who've decided renting isn't worth the lack of investment anymore.
The highback is also pretty flexible, but it doesn't feel as well-made as some of the other products we reviewed.
Comfort
The Rhythm's are comfortable bindings with their EVA cushioned footbed. They also eschew aluminum, which offers better support and strength for composite plastic bindings.
In general, plastic is more comfortable and the go-to for beginner bindings that won't see too much of a beating.
The ankle strap also has thicker padding than some 3D-modeled variants and doesn't need to be tightened as securely as some alternatives.
Adjustability
Like the Burton Freestyles, the Salomon Rhythm bindings have an adjustable highback that can be moved with the flick of a lever and provides superior customization.
The ankle and toe straps did the job; it's a single buckle ratchet system but well made and complemented by the padded ankle strap, which offers a forgiving fit.
Entry/Exit
The Rhythm's are a simple front-entry binding and easy to get into, whether standing up or sitting down on the snow.
We had some issues with the bindings icing up after riding through deep snow, but overall they were easy to undo, and we didn't experience any slippage of the ratchet ladder.
Price
The Salomon Rhythm's are the cheapest bindings on this list, but only by a little.
They're good value for money as a step up from renting, and they're a solid beginner's binding, but to be honest, it's probably worth spending the extra twenty bucks or so and going with the Union Flite Pro or the Ride C2 bindings instead.
Final Thoughts
At the end of the day, the main things you want to look for in a beginner binding are the right level of flex; we suggest medium-soft and a nice, comfortable fit.
The Ride C2 is our pick for a complete beginner, as the super soft flex is ideal for getting to grips with your board and learning how to turn. Our second favorite are the Muon-X bindings from Nidecker.
Sure, they're a little stiffer, so they may take a bit more time to get used to, but when you get the hang of things, you'll definitely appreciate their versatility on the mountain.