Back in the day, snowboarders were shunned by most ski resorts around the world and had very little choice in where they could ride. Today, we're almost spoiled for choice, but a handful of locations are seen as must-visit spots by the majority of boarders. They tend to have several things in common. A high volume of reliable snowfall, plenty of top-quality groomed runs, expansive backcountry, extreme snowparks, and pumping nightlife.
Snowboarding is most popular in Canada, the United States, and the Alpine regions of Europe, such as France, Austria, and Switzerland. However, thanks to their unique terrain and snow conditions, countries like New Zealand and Japan have begun to attract adventurous riders in recent years.
While everyone will have their favorite, below is a list of the ten most popular resorts in the world for snowboarding and why they continue to top the charts as the most desirable ski areas.
Places Where Snowboarding Is Insanely Popular
1. Whistler Blackcomb – Canada
The Whistler and Blackcomb mountains in British Columbia are linked by the Peak 2 Peak gondola to form the biggest ski area on the North American continent.
Together, the two mountains provide a massive 8,100 acres of snow-covered terrain, including three glaciers, sixteen alpine bowls, and over two hundred marked trails.
Whistler Blackcomb boasts the best snowfall in Canada, averaging over 400 inches a year which, combined with a notably stable snowpack, make it a snowboarder's paradise both on and off-piste.
The Whistler backcountry, consisting of the Spearhead and Fitzsimmons ranges, is a huge draw.
Riders with a big budget can splash out on heli-snowboarding tours to take advantage of the untouched powder runs. The resort's main appeal is the variety it offers snowboarders.
Aside from being suitable for everyone from complete newbies to world-class pros, Whistler Blackcomb is a dream location for freeriders and park rats alike.
Freestylers can take their pick of five beautifully-maintained terrain parks containing almost two hundred different jumps and features of varying difficulties.
As well as an 18-foot halfpipe, the resort also boasts an XL park.
Some of the biggest and most technical features on the planet make it a mecca for the world's best riders, who use the area as a base of operations while training for international competitions.
2. Breckenridge – USA
Enveloping five lofty peaks of the Ten Mile mountain range in Colorado, Breckenridge holds a special place in history as the first resort in the state to allow snowboarding on its slopes.
As hosts of the freestyle World Snowboard Championships over 35 years ago, the resort has always been deeply involved in the evolution of the sport and associated culture, giving it a more laid-back vibe than most other ski areas in the country.
However, it's not just Breck's role in the sport's development that makes it a must-visit resort for snowboarders; nearly 3000 acres of skiable terrain and the highest average snowfall in the state guarantee an incredible riding experience for beginner to strong intermediate visitors.
Breckenridge is also home to one of the best snowboard parks in North America, with enough variety to cater to the needs of experts and newcomers to the sport.
Because of its popularity, snowmaking at the Freeway Super Park tends to start early in the winter season.
This means it's normally the first park open to snowboarders each year and the best spot for freestylers who just can't wait to get back on their board.
3. Niseko – Japan
Hokkaido is world-renowned among snowboarders for its "champagne" powder (generally agreed to be the best type of snow for skiers and boarders alike) and mind-boggling snowfall: over fourteen meters per year.
Niseko is arguably the most popular with snowboarders of all the ski resorts in Hokkaido.
Japan's relaxed yet safety-conscious backcountry riding regulations make Niseko a once-in-a-lifetime experience for freeride fans that can't get enough of surfing through perfect powder and weaving in and out of some of the world's best tree runs.
Niseko is also well-known for its excellent night riding; the whole ski area stays open and rideable every evening until 8.30pm, thanks to a system of high-tech floodlights.
If the snow dumps down in the day and visibility is poor, there's a high chance things will clear up at night, so you can still make the most of the best riding.
Niseko offers cat and heli-snowboarding for exploring its expansive backcountry and features a pair of parks for the freestylers.
Unlike most other Japanese ski resorts, Niseko provides a range of accommodations to fit both high and low budgets, making it more accessible to those who've already spent a large chunk of their savings on airline tickets to Japan.
4. Banff & Lake Louise – Canada
Returning to Canada, we come to Alberta's Banff and Lake Louise, a UNESCO World Heritage Site comprising three resorts: Mt. Norquay, the Lake Louise Ski Resort, and Sunshine Village.
With a jaw-dropping backdrop of the Canadian Rockies, top-quality snow, and one of the longest ski seasons in North America, Banff and Lake Louise are always high up the checklist of snowboarders' dream destinations.
The SkiBig3 lift pass gives riders access to 8,000 acres of terrain, including the 9,200-foot-tall Goat's Eye Mountain, world-famous for its abundance of technical descents for advanced snowboarding.
The ski area also has a relatively low number of lifts compared to its size; while this may sound like a drawback, the result is an increase in the amount of untracked terrain available for carving out fresh lines.
Banff and Lake Louise's backcountry is up there with Whistler's in terms of quality and size, with heli-snowboarding available for hardcore explorers, and there's no shortage of terrain parks.
While Mt. Norquay only features one park, Sunshine Village and Lake Louise have a whopping four each, with various difficulty levels available.
5. Tignes // France
Like Breckenridge across the pond, Tignes was one of the earliest adopters of snowboarding, allowing the sport to take place on its slopes way before other French resorts followed suit.
One half of the Espace Killy ski area, the other being Val D'Isere, Tignes draws in snowboarders from all over Europe thanks to its sheer volume of challenging runs both on and off-piste, as well as a snow park, to rival any in North America.
At 2100m, Tignes offers snowboarders some of the most reliable snowfall in the Alps and is seen as a premier destination for those who've mastered the basics of the sport and are ready to take things to the next level.
For freestylers, the Col du Palet park is one of the biggest in the world, featuring all the usual features dialed up to eleven.
On top of the usual fare, however, is a boardercross course, halfpipe, quarter-pipe, and an airbag.
Although, what really sets Tignes apart from the rest of snowboarding's most popular resorts is its almost year-round ski season.
The main lifts open at the start of September and stay open until the end of May, but that's not all.
The Grande Motte glacier allows for snowboarding in the summer and opens as early as June, making it perfect for those who just can't hold out until winter.
6. Lake Tahoe – USA
Straddling the Nevada and California border, Tahoe is home to some of the best snowboarding and the highest snowfall in the country and has a long and storied history in winter sports.
Lake Tahoe is generally divided into three areas with a massive array of resorts. At Donner Summit, you'll find Boreal, Soda Springs, Sugar Bowl, and Donner Ski Ranch.
North Lake Tahoe is home to Alpine Meadows and Palisades Tahoe, Diamond Peak, Mount Rose, and Northstar. Meanwhile, South Lake Tahoe has Sierra at Tahoe, Kirkwood, and Heavenly.
While Boreal's terrain is more suited to beginners, its Woodward terrain park is a big pull for freestylers.
In contrast, intermediate riders and tree run fans tend more towards Heavenly, the largest ski area in the region at 4,800 acres.
The most advanced snowboarders come to Tahoe for Kirkwood and Palisades; the former has some world-class backcountry known to hold its powdery snow cover due to Tahoe's infamous snowstorms.
Palisades is well-known in the snowboarding world for its steep drops, cliffs, and chutes, as well as the "Mothership," the nickname given to the legendary KT-22 chairlift that serves an unfathomable amount of world-class terrain.
This resort was also the birthplace of modern extreme skiing, pioneered by legends like Shane McConkey, making it a must-visit spot for snowsports aficionados from around the world
7. St. Anton – Austria
If you're at least an intermediate snowboarder, St. Anton is arguably one of the best spots in Europe for freeriders and a place for those who love to both work and play hard.
Although very few of St. Anton's 134 groomed runs are rated as advanced, you'll find a huge variety of technical riding off-piste. Most beginner runs would be considered intermediate in most other resorts.
The backcountry is easy to navigate with a splitboard and skins and leads to breezy descents into wide bowls and steep lines that'll get the adrenaline pumping.
While St. Anton's terrain park features jumps, rails, slides, and a halfpipe, it's a relatively small affair that won't make any best-of lists, so if freestyle is more your thing, you may need to look elsewhere.
The other main draw to the Austrian ski town is its party reputation, offering arguably the best après-ski scene in Europe.
Mountain bars like Mooserwirt are pumping by the late afternoon with live DJs and dancing, giving you plenty of time to get a good night's sleep ready for the first lifts in the morning.
8. Verbier – Switzerland
Verbier is a world-class resort featuring a massive modern lift system and 400 kilometers of immaculately groomed pistes.
The resort offers something for everyone; however, it's worth noting that none of it comes particularly cheap, so it's not a great pick for snowboarders on a budget.
Having said that, you only need one lift pass to access the 4 Vallees area that links up with La Tzoumaz, Val de Bagnas, Veysonnaz, and Nendaz.
Beginners may want to hang out on the easy terrain around Verbier village.
Whereas more experienced snowboarders can make tracks to Mont Fort, Chassoure-Torin, and Mt Gele where they'll find no shortage of easily reachable, challenging backcountry riding.
The area also features the Bec des Rosses, home of the Verbier Xtreme; the final event in the Freeride World Tour, the most prestigious snowboard and ski contest on the planet.
While the array of terrain is vast, Verbier does get pretty packed, so if heliskiing is too pricey for you, it's worth hiring a guide for a few days to guide you to the best spots.
Lastly, the Verbier Snowpark has unparalleled views of the Grand Combin and showcases plenty of jumps, rails, and other features for all ability levels, as well as an airbag for practicing those big air tricks without the risk factor.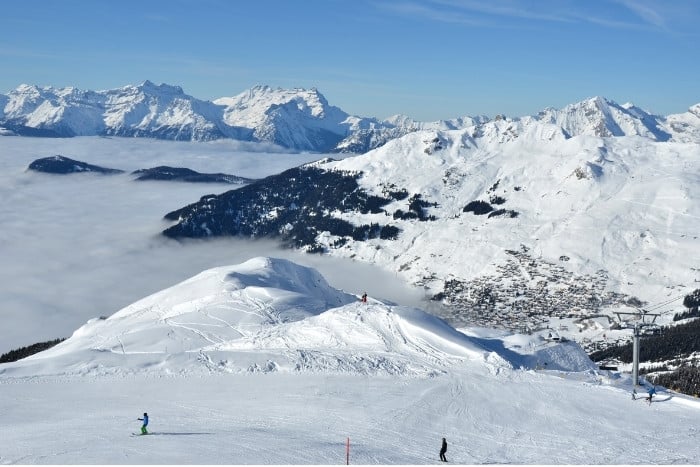 9. Wānaka – New Zealand
While New Zealand might not be the first country that springs to mind when talking about snowboarding, a trip to Wānaka on the south island will expose a deep-rooted ski culture and a community of riders who just can't help chasing winter down to the southern hemisphere.
New Zealand is well known for its gorgeously unique landscape, and Wānaka is far from the exception, with two diverse and well-maintained resorts nearby: Cardrona and Treble Cone.
Treble Cone is the largest ski area in the country and is better suited to advanced and expert snowboarders thanks to its highly challenging runs and accessible backcountry.
Beginners will be more comfortable in Cardrona, which has a much larger choice of less-aggressive terrain.
This is also where you'll find the area's four parks that offer as many opportunities for jibbers and street-style riding as they do for big air junkies.
New Zealand's resorts don't offer the same scale as other countries, and the snowfall and weather conditions can be considerably less reliable.
However, Wānaka is a truly remarkable town and will be on the bucket list of the most serious snowboarders.
10. Les Arcs – France
This last entry may be a little biased as I've been fortunate enough to spend two winters living in Les Arcs, but it's still top of my list of resorts as an avid snowboarder.
One half of the Paradiski ski area, two mountains linked by what was once the biggest, longest, and fastest cable car in the world, Les Arcs has everything a snowboarder could need in one place.
There's enough variety for riders of all tastes and experience levels, with long, sweeping blue runs snaking across the mountain, intersected by wide, high-octane reds, which are buffered by some of the most accessible and exhilarating tree runs in the Alps.
The resort's Aiguille Rouge is the literal high point of Les Arcs at 3,226 meters, and the start of one of the longest ski runs in Europe, and there's a ton of good off-piste riding if you know where to find it.
Les Arcs' is split into four villages built right into the mountain, which means most riders can step out their front door, clip in, and ride straight down to the nearest lift.
There's also plenty of accommodation in the town at the bottom of the mountain, Bourg St. Maurice, which is linked directly to the ski area by a funicular.
While the freestyle park isn't the biggest, there are still plenty of features to hit, as well as an airbag; however, the resort's most enjoyable asset is the "waterslide."
When the end of the season comes around, hundreds of observers grab a beer in the sun and watch as one rider after another attempts to ski or snowboard across a fifty-foot pool of water, usually with hilarious and soggy results.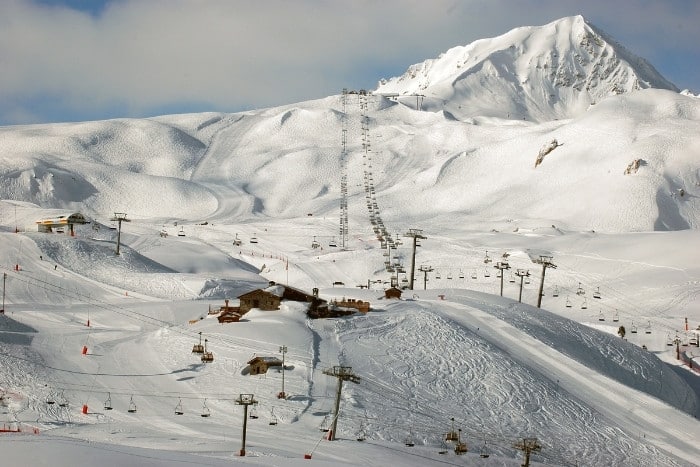 Conclusion
The common denominators of the resorts above make it pretty simple to see why they're the most popular snowboarding areas on the planet.
Anywhere you can find deep, fresh, and consistent snow will always draw in riders.
Add a whopper of a park, exhilarating tree runs, plenty of variety, and a handful of great bars, and you get a resort that will never fail to be popular with snowboarders worldwide.