With COVID-19 dominating our lives and hobbies over the past couple of years, it's a welcomed relief to see restriction-free slopes and lively resorts back up and running. You've dusted the cobwebs off your board but realized it might not last the winter, so you're in the market for some new equipment, and you're wondering when brands release their new range of gear.
In North America and Europe, new snowboarding gear is usually released in October in time for the winter months. However, if you're located in the southern hemisphere, the winter months are flipped, so you can expect new snowboarding gear to come out in May or may need to import it from overseas.
Below are more details about new snowboarding gear releases, including when they usually fall and the advantages and drawbacks of purchasing your kit. If purchasing new gear when it's released is out of your budget, we've covered some handy alternatives.
What Time Of Year Is New Equipment Released?
New snowboarding gear is usually released a month or two before the start of the winter season.
Since winter months differ around the globe depending on which side of the equator you fall, we'll talk you through releases in both the northern and southern hemispheres.
Alongside this, we've got some advantages and disadvantages to buying your gear as soon as new items are released.  
1. In The Northern Hemisphere
Typically, in the northern hemisphere, new snowboarding gear is released in October to prepare for the winter season, which starts in November or December, depending on the resort.
Over these months, snowboarding brands will release new product lines, re-releases from the previous year, and tweaked gear.
The best thing about buying new snowboarding gear when it's released is that stock levels in-store and online will be high.
This means you'll be able to purchase what you need immediately in the exact size and color you're looking for.
If you have the budget, we recommend buying new gear as soon as it's released, as waiting till after the Christmas break could leave you disappointed as stock levels are generally much lower.
Some suppliers will even boost the price of the most sought-after items.
Another significant advantage of buying new releases is that you'll be using the most up-to-date snowboarding technology straight away.
However, you should be aware that new snowboarding gear is not cheap, and discounts on new products are rare. A hefty price tag isn't the only drawback of new snowboarding gear.
If you're purchasing products as soon as they're released, there will be limited customer reviews.
The reviews that are available are probably from pro riders or paid sponsors, which won't give you the perspective of an average rider.
Throughout the year, suppliers may replenish their stock, and the best way to get a heads-up is to sign up online to receive emails from your favorite brands.
This way, you'll be the first to hear about gear drops and new releases.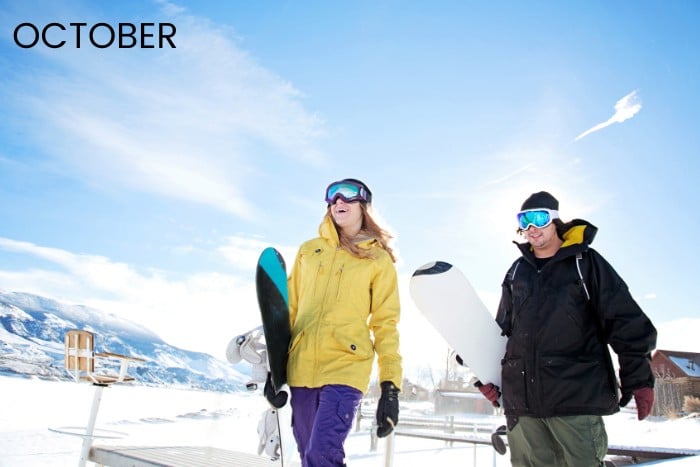 2. In The Southern Hemisphere
When the snowboarding season is at its end in the northern hemisphere, it's only just getting started south of the equator.
Well-known destinations for snowboarding in the southern hemisphere include New Zealand, Australia, Argentina, and Chile.
These countries usually see a release of snowboarding gear in May in anticipation of the snowy season, which falls in June and July.
Most of the advice above about buying new snowboarding gear applies to the southern hemisphere as well.
However, since most snowboard manufacturers are located in the USA or Europe, people in the southern hemisphere are likely to pay premium prices that will include importing the items, and release times may vary.
Additionally, the new gear releases in the southern hemisphere will likely have a reduced range to choose from.
A way to get around paying astronomical prices on new gear in the southern hemisphere is to check out sales or discounts in the US or Europe and check if they offer international shipping, as you might be able to bag a deal before the winter season starts.
Buying New Gear On A Budget
If buying new snowboarding gear upon release exceeds your budget, there are always other options. Below we've listed a couple of sales that can lower the price.
We'd also recommend checking out second-hand gear, as you might find a real bargain.
1. Manufacturer Sales
Burton, Ride, Capita, and Arbor are all snowboarding brands that offer discounts and sales on items throughout the year.
The best way to hear about these sales is to sign up for the websites for news and promotional offers.
You might get bombarded with emails recommending gear you don't need, but it's worth the discounts they'll offer on the gear you want.
You can always unsubscribe from email updates when you have everything you're after.
These sales are usually in March, towards the end of the snowboarding season, so you may have to wait a while to get your hands on the snowboarding gear you're after.
2. Black Friday
Black Friday marks the start of the Christmas shopping season. Held the Friday after Thanksgiving, Black Friday is usually the biggest shopping day of the year, offering huge sales and discounts.
It's renowned for being a pretty manic day, so we recommend scoping out which retailers you'll want to visit in advance.
Most stores will also open earlier, at times as early as midnight, so to avoid disappointment or long queues you'll want to arrive as soon as they do.
If you're unable to reach a snowboarding store in-person to bag a deal, some Black Friday sales also offer promotional discounts online.
3. Cyber Monday
Seen as an extension of Black Friday, Cyber Monday is held the Monday after Thanksgiving. It's the biggest 24-hour online shopping event of the year, so it's possible to find some absolute steals.
Cyber Monday of 2022 saw snowboarding gear such as GORE-TEX Pro Pants, Sequoia Binders, and Rome Snowboards reduced by hundreds of dollars.
Unlike Black Friday, you don't need to travel and queue in a shop to get these deals as they're all at your fingertips.
Cyber Monday is also hosted by smaller, independent businesses, so if you're looking for customized equipment, you can find it at a reasonable price during the sale.
4. Buying Second Hand
Plenty of second-hand snowboarding gear will be as good as new.
Unless it's been used all season by a professional or been given a hammering in the terrain park, most second-hand snowboards or bindings are in very good condition.
Craigslist and eBay are great places to source excellent second-hand snowboarding gear that can save you up to 50% or more on the original price.
Remember, before purchasing any second-hand snowboarding equipment, you'll want to inspect it for signs of structural damage.
If you can, inspect the gear in person and familiarize yourself with what can be considered cosmetic damage and what might be more serious.
Conclusion
Most new snowboarding gear is released before the start of the northern hemisphere's snow season; this is the time of year you'll have the biggest range to choose from.
By signing up for mailing lists, you'll be able to find out when suppliers have more stock coming in and when the deals hit at the end of the season.
If brand-new snowboarding gear is out of your price range, you can still find great gear at low prices by taking advantage of annual discounts and sales.