When they buy snowboard boots, many people don't realize that they get bigger over time because the foam interior "packs out" or expands with wear. Whether you bought your boots too big or they have gotten too big over time, you're in the right place!
If your snowboard boots are too big, you can try to tighten them more, wear a thicker sock, use footbed inserts/insoles, get your boots heat molded, or size them down to the proper fitting boot. You can also combine these suggestions if your boots are more than a little big for you.
I recommend utilizing one or many of the above suggestions to make your boots fit smaller. However, I'll cover the most cost-efficient things to try before spending all your money on a new pair of boots!
How Do You Fix Snowboard Boots That Are Too Big?
If your boots are too big, there are a variety of methods that you can try to remedy this problem. If your boots are more than a little big, you might need to utilize multiple methods to make them fit smaller.
Since some of these resolutions can be expensive and permanent, I have listed them in order of cheapest/easiest fixes to more expensive and more work.
1. Tighten Your Boots
This may seem obvious, but many people fail to tighten their boots properly. This could be due to a lack of knowledge, discomfort, or maybe just a mishap.
Since there are various kinds of snowboard boots, the mechanism used to tighten them can vary. I recommend doing a quick Google search to learn how the mechanism on your boots work.
Once you know which tightening mechanism your boot has, you can play around with how tight you can get it. Just make sure that you don't over-tighten since this can lead to loss of blood flow to your foot.
Below are the most common types of systems used to tighten snowboard boots so you can identify which style you have.
Budget: $0
2. Thicker Socks
The next potential fix is buying a thicker snowboarding sock to wear with your boots. This will take up more room in your boots and could help it fit a little tighter.
Socks designed for snowboarding will be tall (almost knee height) and thicker around the toes and ankles.
If you are wearing non-snowboard-specific socks now, they may be allowing extra room in your boots that could be taken up by snowboard-specific socks.
Budget: $15-$40
3. Footbed Inserts
This recommendation is commonly overlooked in a snowboard boot fit because not many people think to put a footbed in their snowboard boot.
However, using footbed inserts (also known as insoles) can help your boots fit tighter by taking up more room in your boot.
An additional benefit of insoles is that they can be more comfortable for those with high arches, and they also help pull your toes off the front of your boot if you're finding that your toes are constantly sliding forward.
Budget: $30 and up
4. Heat Fit/Custom Molding
The next thing to try might be more expensive, and it's not as quick as the previous suggestions.
A heat fit or custom mold is a process done at a ski/snowboard shop, and it involves heating up your boots to a high temperature to expand the foam on the boot's liner.
The process also helps if you have the opposite problem (boots being too small). By heating and thus expanding the foam on the liner of your boots, it can help make your boot fit a bit tiger.
Occasionally, these shops will have foam pads that they can add to the liner of your boot to help them fit a bit more snug as well.
Going to a snowboard shop and having professionals help you with the fit of your boot might be more expensive, but it can be worth it to have someone analyze exactly which part of your boot is too big and how to fix it.
Budget: Varies (depending on the snowboard shop and where you purchased your boots).
5. Size Down
This is the most expensive fix but potentially the most helpful. Sizing down your boots to the proper size can make all the difference in the world.
Even after making all of the recommendations listed above, your boots may still be too big.
If you have tried everything, and your boots continue to be too roomy, I recommend going to a snowboard boot fitter and having them find the proper size for you.
Budget: $110 and up
How do you know if Your Snowboard Boots Are Too Big?
Are you unsure if your snowboard boots are too big? When you wear them, you might get the feeling that they are fitting too loose, but you might not be sure if that's the proper fit.
There are several ways to tell if your snowboard boots are too big.
If you can lift your heel while your boots are done up, your toe is not touching the front of your boot, or your foot is moving side-to-side, your boots are too big.
These are all broad guidelines to follow, and there are a few smaller details to consider before throwing away your boots and regarding them as too big.
1. Heel Lift
Experiencing heel lift in a snowboard boot is fairly normal, especially when doing toe-side turns.
In an ideal scenario, the rider would have no heel lift in their boots, but as your boot breaks in and expands, it might cause your heel to lift more over time.
If your heels are lifting in your boots, and that lifting is causing fatigue or blisters, then your snowboard boots might be too big for you.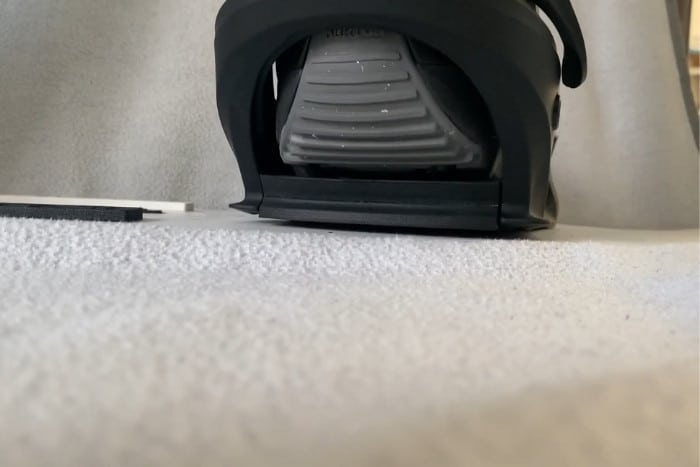 2. Toes Not Touching The Front Of Your Boot
I know this sounds strange, especially if you're comparing how your foot feels in a pair of sneakers versus your snowboard boots.
When sizing your snowboard boots, the front of your toes should touch the front of your boots when standing upright.
If you lean back in them far enough, your foot will move forward, so test out the fit while standing straight up.
If your toes are not touching the front of your boots, it means the length of your boots is not quite right for you.
3. Side-to-Side Movement
If your foot can move side-to-side in your boot, this is a definite sign that your boot is too big for you.
If you have a narrow foot, you might have a hard time finding a narrow enough boot, so I recommend following the tips I listed above.
When trying your boots on, stand straight and wiggle your foot side-to-side to see if it has any wiggle room. If it does, this means it's time to size down.
Now What?
Now that you know how to tell if your boots are too big and how to fix them, if they are, go try on those boots! Walk around, wiggle a bit, and get a feel for how your foot moves in them.
If you determine that your boots are too big for you, make sure to get them feeling just right so that you can enjoy every second of shredding that hill.
Final Thoughts
Having snowboard boots that are too small for you can be annoying.
Luckily there are a few hacks you can try to decrease the amount of room available in your boots, including tightening them, wearing thick socks, having footbeds inserted, and getting them heat molded.
If none of these measures work, you may need to invest in a new pair of boots.