Because of its worldwide popularity, snowboarding has become a globalized industry. Factories have been working on innovative snowboard designs that use modern technology to improve riders' experiences on the slopes.
The USA has some of the best snowboard manufacturers like Mervin Manufacturing, Never Summer, and Winterstick that make their boards from scratch. Their designs are incorporated with modern technology to produce boards to handle the mountain's different terrains and snow conditions.
Some are made by professional riders with first-hand riding experience. These factories work hard to perfect their boards to meet the riders' expectations. Some are located near the mountain, making it easy to try out their boards.
American Snowboard Manufacturers
Snowboarding has evolved into a massive and official Winter Olympic sport, with a growing number of riders daily.
As such, manufacturers are scrambling to keep up with the daily demand for snowboards as the number of enthusiastic snowboarders grows.
Every day, factories work on improving and advancing snowboard gear to the next level for the benefit of riders.
The United States is one of the major countries that produce snowboards.
The factories use modern technology to design and manufacture the best snowboards for riders' safety, comfort, and enjoyment.
Below are some of the best and most reliable snowboard manufacturers in the USA.
1. Mervin Manufacturing
The Mervin MFG factory is located in Carlsborg, Washington.
It is one of the oldest board-building snowboard factories in the USA, founded in 1977 by two snowboarders, Mike Olson and Pete Saari.
Some of the snowboards made by Mervin include all-mountain, freestyle, freeride, and powder snowboards.
The snowboards are made for all levels of riders, from beginners to intermediates and advanced.
Mervin manufacturers are also the home of top brands like Lib Tech, GNU, and Roxy Snowboards.
Snowboarders handcraft the Lib Tech  and GNU snowboards for their fellow snowboarders with the safety and enjoyment of snowboarders in mind.
Roxy snowboards are designed for enthusiastic female snowboarders and come in various colors and designs.
Their models include all-mountain and freestyle snowboards. They are designed in different shapes, including directional twin, directional, and true twin.
The Mervin factory is one of the world's most environmentally conscious factories, using environmentally friendly materials such as bioplastics to design and manufacture eco-conscious boards.
Their innovation incorporates technology in developing high-performance, user-friendly snowboards that give riders confidence when hitting the slopes.
2. Never Summer
The Never Summer snowboard factory is based in Denver, Colorado, and has been manufacturing and building its snowboards since 1991.
They are named after the nearby mountain ranges, the Never Summer mountains.
They design all-mountain, freestyle, freeride, split board, and powder snowboards for children, men, and women of any skill level.
They use environmentally conscious methods to design their snowboards as they source their materials from fast-growing trees.
Never Summer's reputation is founded on using craftsmanship and high-quality materials over marketing and promoting products.
They also have a history of designing durable, high-quality, high-performance snowboards.
The snowboard core block incorporates wood from paulownia, poplar, beech trees, and sometimes bamboo, which helps reduce the board's weight.
They also use rubber to absorb the board's vibration and seal and protect its core.
Never Summer uses fiberglass to make its boards long-lasting, giving them a snappy feel. Their boards have high performance and great flex from using carbon fiber.
Their incorporation of hybrid camber technology into their boards won them their first patent award in September 2010.
3. Winterstick Snowboards
The Winterstick snowboard factory is located in Sugarloaf, Maine, USA, and specializes in custom race boards.
Invented in 1972 by Dimitrije Milovich, the company is now owned by Tom Burt and Olympic Gold Medalist Seth Wescott.
They make snowboards for men, women, and youths. Their boards range from all-mountain to powder, freeride, and freestyle snowboards.
Their manufacturing process is environmentally conscious.
Except for racing boards, they source most of the materials from the US, sourcing their solid hardwood used for core materials from the Northeast.
Using natural wood veneer top sheets means they can easily customize your boards with any choice of art.
Most boards are made from poplar and Maine maple wood, which contribute to the boards' overall weight, strength, and flex.
The snowboards are handcrafted with great care, and their progressive shape enhances your experience on the slopes.
Dimitrije's legacy continues through the creation of one-of-a-kind, high-quality boards.
4. Gilson Snow
Gilson Snow is a snowboard manufacturer based in Winfield, Pennsylvania. The brand was founded in 2013 by Nick Gilson and Austin Royer.
They design all-mountain, freestyle, freeride, and powder snowboards for all skill levels and genders.
Their board's construction and processing are eco-friendly. They locally source their material from Pennsylvania's poplar trees.
They also use high-quality custom artwork in designing their snowboards.
Their all-mountain snowboards are both aggressive and playful, with surfy toe-to-heel transitions.
The sharp edges of freestyle snowboards provide a smooth ride to cruise down the slopes efficiently.
The boards offer good floatation, and their transitions are fast, responsive, and playful.
5. TahoeLab Snowboards
The TahoeLab is located in South Lake Tahoe, California.
Their construction techniques set them apart with over 15 years of manufacturing and 50 years of combined riding experience.
The rider-owned company was established in 2013.
A large selection of boards are built to handle different terrains, including all-mountain, powder, freeride, freestyle, and racing snowboards.
They have boards for both men and women for beginners, intermediate, and advanced riders.
They use eco-friendly methods and construction techniques in producing their boards using materials such as aerospace carbon fiber, bamboo, and layered with fiberglass.
The snowboards are 100% handmade and are light, unique, snappy, and sturdy, designed from high-quality materials that make them last.
They significantly modified their split boards by replacing the top plastic sheet with fiberglass layers with two additional full sheets of carbon fiber, resulting in a 20% weight reduction.
This construction reduced snow build up and provided extra rebound on the board.
They also come in very refined shapes: directional twin, powfish, directional, and asymmetrical, which offer unique characteristics.
The snowboards are made to rip and can handle even the harshest backcountry conditions.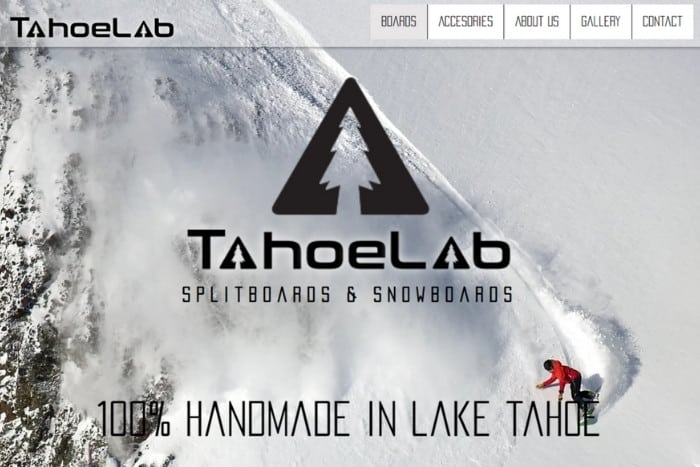 6. MTN Local Snowboards
MTN Local Snowboards are located in Vermont's green mountains in Burlington.
They build solid and splitboards that handle everything from groomers to backcountry conditions.
They include all-mountain, powder, freeride, and freestyle snowboards for all skill levels, for both men and women.
They use environmentally conscious materials, including minimal plastic usage, and all their boards are handcrafted with high-quality forested hardwoods.
Their traditional snowboard manufacturing involves a wood core area surrounded by minimal plastic components that give the board durability and strength.
The boards are reinforced with long-lasting fiberglass, ensuring consistent board flex characteristics.
They come in various shapes, including directional and tapered, with modified tips and tails.
Each board is individually tailored to meet the requirements of each snowboarder.
7. Venture Snowboards
Venture Snowboards was founded in 1999 in Silverton, Colorado.
They make solid and split boards for women and men of all levels, including all-mountain, freestyle, freeride, powder, and alpine boards.
Their construction process is environmentally friendly, with boards made from Colorado's aspen wood that has been sustainably grown and harvested together with poplar and ash.
Their core is a blend of poplar and aspen for lightweight strength and ash for impact resistance and durability.
The boards are designed by die-hard riders who pay close attention to every detail.
Their high-quality handcrafted snowboards incorporate technology to create a clear, classy glass top sheet and a mellower core.
This resulted in reduced weight, more flex, and a playful, poppy ride.
Their boards are handcrafted and tested in the nearby Colorado mountains, which have a lot of powder and some of the steepest terrain.
8. SnoPlanks Snowboards
SnoPlanks have been handcrafting snowboards in Bend, Oregon, since 2012.
The factory designs all-mountain, powder, split boards, freestyle, and freeride snowboards for both men and women of all skill levels.
Snoplank boards are made of steam-bent wood, fiberglass, and resin.
Their manufacturing is based on a great deal of imagination, which relates to the original concept of creating something to ride on the ocean rather than the mountain.
Their unconventional thinking has resulted in one-of-a-kind boards that improve fun and freedom on the snow.
9. SIMS Snowboards
The SIMS boards are manufactured in the United States by Never Summer Industries in Denver, Colorado, and were founded in 1963 by snowboard and skateboard extraordinaire Tom Sims.
They design all-mountain, park and pipe, freeride, powder, and split boards for all skill levels for both men and women.
Their boards have modified shapes, including directional, directional, and true twin.
With a stiff twin-tipped, lightweight camber with good flex, the SIMS Distortion boards deliver a high-performance experience.
The boards have an excellent edge grip thanks to the SIMS Transform Camberfun, a combination of flat and traditional camber that gives it a playful feel.
10. Marhar Snowboards
The Marhar Snowboard brand was founded in 2008 by Nathan Morse and Josh Skiles in Granville, Michigan.
Marhar snowboard has built a reputation for manufacturing high-quality performance and award-winning boards for all riders, including freestyle, park, all-terrain, all-mountain, and powder boards.
They use several materials to produce high-quality, high-performance snowboards, including carbon fiber and bulletproof materials.
These materials give the boards durability and allow them to handle different terrains. Their boards are wide, stable, and have a playful feel for fun rides.
The graphic customizer tool on their website is a lot of fun and allows you to design your board's graphics.  
11. Donek Custom Snowboards
Located in Watkins, Colorado, Donek Snowboards was founded in 1987.
They manufacture boards for all types of riding, including boards for the park, racing, carving, backcountry, and boardercross.
Their environmentally conscious construction process uses recycled materials to produce their boards.
Their boards are handcrafted and come with customized models that meet every rider's needs. Donek's company offers customization options for your boards.
You can also choose your custom from the available graphics and bases.
12. Smokin' Snowboards
Smokin' Snowboards are made in Sparks, Nevada, founded in 1996. The boards are available for all skill levels for men, women, and kids.
Smokin' Snowboards designs boards for all-mountain, freeride, parks, and powder riding.
Their board's core is made of wood layered with fiberglass, epoxy, and rubber strips, providing a soft flex between the feet for better control while riding in the mountains and parks.
They can handle bumpy rides well, giving a unique feel on uneven terrain. The boards are light, flexible, and durable.
13. Notice Snowboards
Notice snowboards are handcrafted in Whitefish, Montana.
Their designs range from all-mountain, backcountry, park, powder, racing, and custom boards for men and women on different levels.
They use eco-friendly US-sourced materials from poplar trees and carbon fiber to create top-quality snowboards.
They offer options to customize your boards by selecting the shape, profile, materials, and artwork.
14. Weston Snowboards
Weston Snowboards are located in Minturn, Colorado, and have been manufacturing snowboards since 2012.
They make boards for all-mountain, freeride, freestyle, and powder for both men and women at different snowboarding levels.
They use eco-friendly materials to produce their boards, including a blend of poplar and bamboo trees.
The snowboards are made to handle the backcountry terrain at high speeds.
15. Arbor Snowboards
The Arbor brand is located in Venice Beach, California, and was founded by Bob Carlson in 1995.
The boards are designed for men, women, and youths to handle different terrains, from all-mountain, powder, freestyle, and freeride snowboards.
The Arbor snowboard brand has been about producing environmentally conscious snowboards by recycling harmful materials to produce top-quality snowboards.
The materials include bamboo and bioplastics. They incorporate technology, art, and eco-materials to build durable, high-performance snowboards.
16. Herr Vaughnster Snowboards
The Herr Vaughnster snowboard brand is located in Orange County, California, and was established in 1998.
The boards are designed to handle all terrain and are suitable for all riders.
Their processing methods are highly efficient, using top-quality carbon fiber and fiberglass to make their snowboards in various shapes, designs, and lengths.
Herr Vaughnster snowboards are unique as they are constructed entirely of carbon fiber, resulting in high-performance, high-quality boards that will last the test of time.
These boards are made, tried, and tested by die-hard riders. They provide custom graphics to their customers for those who like individualization.
17. Lucky Bums Snowboards
Lucky Bums Snowboards are located in Bozeman, Montana.
The brand mainly concentrates on making snowboards for kids and young adults who want to discover the joys of snowboarding.
The kids' boards are made of plastic with a rugged design that can handle the rough treatment of learning to ride.
They are also designed to be stiff with very little flex, which helps the kids have fun without fear of losing control.
Final Thoughts
If you are a passionate snowboarder looking to purchase a board made in the United States, you have a variety of boards and companies to choose from.
These companies use modern technologies to develop innovative boards for all types of riding, including freestyle, all-mountain, park, racing, and split boards.
There are a wide variety of boards made in the US for all riding abilities, from the beginners to the pros, and even boards for the kids.
If you are looking for a unique board, a handful of companies specialize in customized boards, allowing you to have complete control of the construction and materials.
If you enjoy unique graphics, you can always look into companies that allow you to customize your board's aesthetics.