The selection of snowboards on the market seems limitless, making it challenging to decide which one to buy. But it becomes even more tricky when you throw women's snowboards into the mix. Do you need a women's specific snowboard, and if so, what size should you buy?
Women's snowboards are generally shorter than men's. There is more to it than that, as they are shorter, narrower, and more flexible. But, you need to base your decision on your height, weight, and ability. You can get the necessary information from snowboard size charts. But every board is different.
In this post, I'll highlight the differences between men's and women's snowboards and why they differ. I'll also give you a women's snowboard size chart to give you a rough idea of what to expect.
Do Women Really Need Different Snowboards?
Pretty much all snowboard manufacturers used to not take women's equipment seriously.
They used to use the term 'shrink it and pink it," meaning they just made women's snowboards shorter and put girly graphics on the top sheet.
Thankfully, most snowboard manufacturers now take a more considered approach to women's snowboarding. They carefully research and meticulously test the equipment they produce for women.
Women's specific snowboards, boots, and bindings are now designed around the biomechanical and physiological differences between men and women.
Men and women move differently, so riding a snowboard designed for how you move your body is essential.
Some women have no problem riding a men's snowboard, but you may be able to ride better and have more fun if you go for a women's specific board.
How Are Women's Snowboards Different From Men's?
Many women's snowboards still have girly graphics or graphics that appeal to most women. But the best ones are packed with technology and innovation to ensure they suit female physiology.
So what are the main differences?
1. Length
How long your snowboard is, is one of the most critical factors. Generally speaking, women are not as tall as men, so their snowboards have to be shorter.
This shorter length of a women's snowboard means you have sufficient mobility for shredding the mountain. It also makes the board lighter, increasing its maneuverability and making it easier to spin in the air.
2. Width
Women tend to have smaller feet than men, so their snowboards don't need to be as wide. But the narrower width keeps the weight evenly distributed while making it easier to go from edge to edge.
The reduced width also makes the board lighter, making it more agile, and you're not carrying any unwanted weight.
3. Flex
All snowboards are bendy, but they have different flex ratings that make a difference in how it performs.
Heavier riders need a snowboard with a higher flex rating to give it structural integrity so you don't snap it.
You can ride a stiffer snowboard faster on an edge, but you need the skills and body weight to control it, as they are less forgiving than softer boards.
Women's snowboards have a softer flex rating than men's boards, and this is because, generally, women are not as heavy.
The extra softness makes riding more manageable but can make the board chatter at high speeds. This is especially the case on choppy snow, so you must be ready to react when charging hard.
4. Waist
The waist of a woman's snowboard is smaller than a man's. This is because women have a lower center of gravity and smaller feet.
But it also makes turning easier for women, helped by the board's deeper sidecut radius. So before you buy a snowboard, you need to consider all these elements.
If you get one that suits your physical attributes, you will be able to ride more intuitively, smoother, and less prone to injury.
What About Unisex Snowboards?
Most snowboard manufacturers make boards for either men or women, but you can find a handful of unisex snowboards. For example, Burton has introduced some unisex boards to the Family Tree range.
The thinking behind this is that there's no reason why two people of the same height and weight cannot ride the same board, no matter what their gender is.
This kind of goes against the differences in physiology I've discussed so far, so I'm not too sure about this approach. But Burton has been in the game since day one, so they know about this stuff more than I do.
How To Choose The Right Snowboard For You?
As a female looking for a new snowboard, you must consider a few things before handing over your cash. Take your time with this, and don't rush into anything.
There's nothing worse than discovering that you've bought the wrong snowboard.
1. What Kind Of Snowboarder Are You?
Just like men's snowboards, you can get women's specific snowboards for all riding styles; therefore, your first consideration should be the type of riding you want to do.
Here's an overview of the different types of snowboards available:
2. Freestyle/Park
Freestyle snowboards are for riders who like to jib, jump, hit rails, or ride the halfpipe. These snowboards are pretty short and flexible, giving them playful riding characteristics.
They are also more forgiving and easier to control, so you can perform tricks and land more easily. Most freestyle snowboards are true twins or asymmetrical, so you can take off and
land riding switch. They are a good choice for beginners, as they are easy to ride, but don't make a decision just yet keep reading.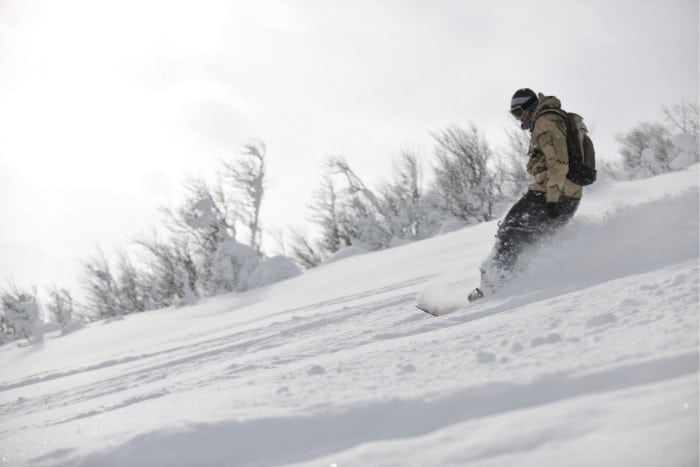 3. Freeride
If you want to ride in the backcountry as much as possible and get the most out of it, you should buy a freeride snowboard.
These snowboards are also great on the groomers, as they hold an edge well and are seriously fast. Freeride snowboards are usually longer and have high flex ratings, meaning they are stiffer.
Their stiffness allows you to hold an edge during high-speed turns; they even cut through ice.
A freeride snowboard's ability on groomers compromises its ability in powder compared to a dedicated powder board. But they are extremely capable and rewarding to ride.
Freeride snowboards are not suitable for beginners due to their stiffness. You need to build up some skills before buying a freeride snowboard.
4. Powder
Powder snowboards work at their best when the snow is deep and untouched. They give you a feeling as if you're flying down the mountain and make powder turns super dreamy.
These snowboards are sized and shaped to provide the ultimate float in powder and to give you a surf-like feeling. Powder snowboards are usually asymmetrical and can have swallowtails and exciting shapes.
If you get the chance to ride a powder snowboard, you'll notice how stiff it is compared to other snowboards.
The stance is different, too, as the bindings are closer to the tail to bring your weight backward. This makes the tail sink and the nose rise out of the snow, increasing float and the surfy feeling.
Powder snowboards must be ridden hard to get the most out of them, which means they are best suited to advanced riders.
5. All-Mountain
All-mountain snowboards are designed to be ridden anywhere, allowing you to go seamlessly from one terrain type to the other.
This means you can smash all the powder in the morning and then head to the park in the afternoon when it's tracked out, all on one snowboard.
This versatility makes all-mountain snowboards the most common.
Most people start out on an all-mountain board as they are not limited to where they can ride, and this gives them a taste of all disciplines before they choose a snowboard more specific to their riding style.
All-mountain snowboards don't excel at any one thing; this is the point. But, you'll notice that some lean towards being a freestyle board, while others are closer to freeride snowboards.
6. How Heavy And Tall Are You?
The next thing you need to look at is your weight. If you weigh less for your average height, you'd be better off with a shorter snowboard, while heavier riders should go for something longer.
It's all very well saying who should have a longer or shorter snowboard, but what does this mean in terms of figures? Below is a snowboard size chart.
It is a good starting point for choosing a snowboard that is the correct length for you. Just cross reference your height and weight to see what size snowboard you should expect to ride.
But, these figures are just a rough guide, as all snowboards are sized differently due to the tech and construction methods used.
The snowboard you have your eye on will have its own size chart, which will be on the manufacturer's website or on a sticker stuck to the base.
Snowboard Size Chart Women
| | | |
| --- | --- | --- |
| Rider Height (feet & inches) | Rider Weight (pounds) | Snowboard Length (cm) |
| 4′ 10″ | 110-120 | 128-136 |
| 5' 0" | 115-130 | 133-141 |
| 5′ 2″ | 125-135 | 139-147 |
| 5′ 4″ | 135-145 | 144-152 |
| 5′ 6″ | 140-155 | 149-157 |
| 5′ 8″ | 150-165 | 154-162 |
| 5′ 10″ | 160-175 | 159-167 |
| 6′ 0" | 170-185 | 160+ |
7. What Is Your Skill Level?
If you're a beginner buying your first snowboard, you'd be better off with a short, flexible snowboard. The shorter length will make the board easier to turn, and the softness makes it more forgiving.
More advanced riders will benefit from a longer snowboard's stability and edge hold. The width of your snowboard is really determined by your snowboard boots.
This is why it's best to buy your boots first, as your board needs to be wide enough to accommodate them. Your toes and heels should extend over the board's edges very slightly.
This will give you the required leverage to go from edge to edge efficiently without your toes dragging in the snow, causing you to crash.
Can Women Ride Men's Snowboards?
There's nothing stopping a woman from strapping into bindings mounted to a men's snowboard. This is good, as taller or larger women may find getting the perfect women's snowboard challenging.
Snowboard manufacturers look at people's average height and weight and base their snowboards around those figures.
So, your choices may be limited if you are outside those figures, forcing you to choose a man's snowboard.
Make sure that the snowboard you buy suits your foot size and that it isn't too stiff for you if you're new to snowboarding.
Can Men Ride Women's Boards?
Finding a suitable men's snowboard can be tricky if the guy in question is shorter and has small feet. However, some brands offer snowboards sized for teenagers, covering the in-between sizes.
If you can put up with graphics aimed at the female market, there's no reason a guy can't ride a woman's snowboard.
I had a go on my wife's Gnu Ladies Choice and loved it; it was a little too small but super easy to spin and butter.
If you're a guy looking at a woman's snowboard, make sure it is stiff enough and wide enough to accommodate your boots.
Is There A Difference Between Women's and Men's Snowboard Bindings?
I mentioned earlier that you should buy your snowboard boots before your board. But what about bindings? If you buy a women's snowboard, it's best to combine it with a pair of women's bindings.
Women's bindings are lighter than men's and are smaller. The difference is that men's and women's bodies are different. Women are lighter than men, and they carry more of their weight lower down.
Also, their bodies are generally smaller than men's. Therefore, women's bindings are designed to support them better and exploit their strength while providing a comfortable ride.
They also complement the design of women's snowboards much better.
When you buy women's specific snowboard bindings, you'll notice that they don't come in a wide range of sizes like boots. Manufacturers usually make their bindings in small, medium, and large sizes.
Each size will accommodate a range of snowboard boot sizes. They are often adjustable too. So when you get your bindings, you need to tweak them so your boots fit into them securely and comfortably.
Here's a snowboard binding size chart to give you an idea:
| | | | |
| --- | --- | --- | --- |
| Binding Size | S | ML |   |
| Boot Size | 4-6 | 6-8 | 8+ |
Again, this chart is just a rough guide. It's best to check the snowboard binding manufacturer's own sizing chart to ensure you get bindings that fit your boots properly.
Whether you buy men's or women's bindings, you need to get the right ones for you. Just like the board, snowboard bindings have different flex ratings.
Softer bindings are made from plastic that flexes but springs back into place. Stiffer bindings don't flex as much, as they are often made from denser plastics, carbon fiber, or aluminum.
Softer bindings are best for beginners and freestylers, as they are more forgiving. Stiffer bindings are more responsive and more suited to intermediate and advanced riders.
It's also a good idea to pair your bindings with your snowboard. For example, if you ride a freestyle snowboard, stick with freestyle bindings rather than freeride ones.
Final Thoughts
As you can see, you may be better off with a woman's specific snowboard. But remember to make sure it suits your foot size, height, weight, and riding style.
It's fine to ride a man's snowboard, but there may be a better snowboard for your needs.