Over the years, we've seen some pretty crazy snowboard design ideas. I'm not talking about controversial or cool graphics, but the way that snowboard manufacturers occasionally release snowboards with unusual shapes. When you look around a ski resort, you see that most snowboards follow a standard shape. So why do we sometimes come across entirely different or otherworldly shapes?
The reason why snowboard manufacturers come up with cool and unusual snowboard designs is down to experimentation. Some people may argue that they do it as marketing stunts, but in reality, they want to innovate. These experiments ensure riders can get the ultimate experience on the slopes.
In this article, I'll investigate snowboard design ideas and how shapes push the boundaries of snowboard tech and innovation.
Unusual Snowboard Shapes
A while ago, I was in Chamonix, France, leafing through the vast collection of snowboards in a shop with a friend. "What's with all the weird shapes?" he asked.
It was a good question, as there were some pretty out there shapes lined up next to the Burton Customs of the world.
Of course, you get specialist snowboards with swallowtails, splitboards, and ones that seem to have the tails chopped off entirely.
But, among these snowboards, we found the likes of Lib-Tech's Rat Tail, apparently inspired by Jamie Lynn's haircut from back in the day.
Another one that stood out was Gnu's Zoid, a weird asymmetrical shape with two versions built for regular and goofy riders.
These unusual shapes are not to look different but to create a specific riding experience. These snowboard design ideas are specific to particular riders' needs.
A Note On Splitboards
Splitboards are one of the most dramatic innovations in snowboarding. If you're unfamiliar with this design, a splitboard allows a snowboarder to tour the backcountry like a ski tourer.
A splitboard breaks into two skis, and the bindings have a special coupling that allows you to fit them lengthways like ski bindings, allowing you to stride forwards.
You affix strips of material to the bases called 'skins.' These have bristles that only allow the skis to slide forwards, so you can walk uphill using collapsable poles.
Once you get to the top of the mountain, you rebuild your snowboard, take a short rest and enjoy the powder.
You can get splitboard versions of regular snowboards, or they have unique designs specifically for touring.
Splitboards became very popular during the Covid-19 pandemic, as many ski lifts and resorts were closed.
Before splitboards, snowboarders had to use snowshoes or simply bootpack into the backcountry, which takes a lot of effort.
That's not to say that touring with a splitboard is easy; it's just much easier than carrying your snowboard on your back.
The weight is on your feet, and your weight is spread over a larger surface area, stopping you from sinking into the snow.
Of course, you must be prepared for several hours of hiking for a run that can last less than a minute, but it is worth the effort. The ascent is part of the experience; it's just a different style of snowboarding.
I love my Jones Hovercraft splitboard. It's a few years old but still performs fantastically well in powder, and I even use it for morning dog walks on my local ski slope in the winter.
Why Do Snowboard Manufacturers Make Boards With Weird Shapes?
When you think back to the early days of snowboarding, we have come a long way.
We have reached a point where there has been so much research and development in snowboard profiles; it's time to look at the actual shape of the board to see how it can be improved.
Without experimentation, we wouldn't have found the superiority of the cambered profile or seen the introduction of other profiles to suit every rider's needs.
It seems that coming up with weird snowboard design ideas is a new thing. But in reality, this is something that has been simmering away for a while.
There Is A Method Behind The Madness
It is hard to determine when the trend for messing around with snowboard shapes started. This could be because it has always been going on, but some brands found more success than others.
The modern trend could have been kicked off in 2006, when Austrian rippers began riding modified snowskates in powder, kickstarting the powder surf movement.
This was when binding-less snowboards were heavily inspired by surfboards to give the rider a similar experience. Creating the perfect powder experience was embraced by Springbreak Snowboards.
The Californian surf brand teamed up with Capita to produce some weird and wonderful shapes to enhance the powder riding experience.
These specialist snowboards include reverse sidecuts, strategically placed holes in the tail, and wacky tail designs.
My favorite Springbreak snowboard is the Slush Slasher. It's a short, fat board with a short tail, perfect for powder and smashing through moguls on a spring afternoon.
The reason why snowboard brands create these shapes differs between the companies. Some say that a pointy nose makes the snowboard lighter while giving it a lower swing weight.
Others say their innovations create more maneuverable snowboards or make them eco-friendly, using less material.
However, you'll come across snowboards with interesting shapes that are purely aesthetic. These boards are a definite talking point and look cool.
In fact, one of my snowboards looks like it has a bite taken out of the nose; it makes no difference to how it rides, but someone asks me about it nearly every day I ride it.
Brands Pushing The Boundaries
An interesting aspect of these innovative snowboard design ideas is that we are seeing more fledgling snowboard brands. However, they are sticking with a niche.
For example, these brands make boards that appeal to freeriders, those who crave powder, and riders who love the art of the turn.
This is because these riders are similar to surfers, who also like strange-shaped boards.
On the other hand, these niche snowboards are more expensive and appeal to older riders, who no longer want to risk breaking a hip in the park, but prefer to spend their time in the backcountry.
1. Korua Shapes
Korua Shapes is a Swiss snowboard brand inspired by the freecarving and snowsurfing movements that became popular in Japan in 2013.
While European and American riders were spinning off kickers, Korua Shapes founders Nicholas Wolken and Jerry Niedermeier decided to start a brand that was all about turning.
The thought process came from seeing pro riders doing triple corks of the biggest jumps. In reality, most riders can't or don't want to risk their lives doing this, making freestyle less relatable to them.
However, they do spend 90% of their time turning. The art of the turn has always been a part of snowboarding.
It set us apart from skiers in the early days, as they didn't have side cuts to perform the perfect carve.
A quick look at Korua Shapes snowboards shows that they are not afraid to push the limits of lengths, widths, and shapes in search of creating different feelings while riding.
Not all of them have worked, but that is the nature of creating concept snowboards. I have a Korua Shapes Otto in my collection, and it is my favorite board at the moment.
It is one of Korua's less extreme shapes, but it magically does everything I want it to, including holding an edge like a dream.
2. Moonchild Snowboards
If you really want to see some weird snowboard design ideas, you should check out Moonchild Snowboards.
This company was founded by two riders who began their career building snowboards for CAPiTA and Elan.
These snowboards are the epitome of unusual shapes and are designed with lots of testing and research.
But Jure and Marcus, the owners of Moonchild, use their experience and knowledge about how snowboards work to bring their exciting shapes to life.
The idea of Moonchild Snowboards is to build incredibly maneuverable boards, have lots of float in powder, and hold an edge when charging hard on groomers.
Moonchild is a small brand from Slovenia, and the prototype workshop is located in Jure's house. But they also build custom snowboards with unique shapes designed to suit the rider's preferences.
I like that Moonchild shows much of its testing on its Instagram page and shows how each shape works or doesn't work.
3. Gentemstick
Gentemstick is a Japanese brand based out of Niseko. As you can probably imagine, these snowboards are biased towards riding deep powder.
These snowboards are handcrafted and shaped by the legendary Taro Tamai. You can expect Gentemstick to have fat noses, and they often feature deep cut swallowtails, perfect for floating in deep powder.
A great example of a Gentemstick powder snowboard is the Big Fish. The shape is designed to give you a surf-like feel when smashing the epic Niseko powder.
Gentemstick is a niche brand, but a few western snowboard shops have been allowed to stock their boards, making them a little more accessible.
4. Bataleon
Bataleon pioneered a new base shape a few years ago, the TBT. TBT stands for Triple Base Technology, which sees the base flat between the binding with angled areas that start close to your heels.
These angles run to the tip and tail, almost creating a hull-like shape. TBT makes the board forgiving and lots of fun to ride.
I found it took a few runs to get used to, but the base runs much faster on flat terrain than regular bases. The shape also feels excellent in powder, giving you lots of float and satisfying turns.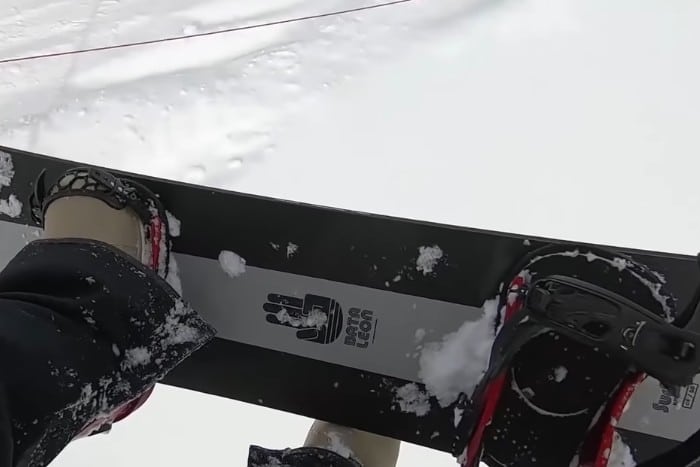 5. Dupraz
Dupraz has been in the snowboard game since 1984. The company has always focused on building surfboards for snow.'
The D series from Dupraz is one of the most eye-catching snowboards you'll see on the mountain. Characteristics that set the D series from other boards are its pointy nose and long length.
These things are massive, so they perform at their best on deep powder days. They are also super-fast, ideal for taking on big freeride descents in the steep and deep.
You can also buy a splitboard version of the D, so you can use a Dupraz for hiking into the backcountry.
6. Ride Snowboards
Ride has always come up with some weird and wonderful snowboard design ideas. I remember back in the day, there was a rumor that they were developing a baseless snowboard.
The idea was to just have a lightweight frame that incorporated the edges and created a platform for the bindings.
This odd snowboard was to be solely used in the halfpipe, allowing riders to spin as fast as they could. Somehow, even if this board did emerge, I can't see it being allowed in competitions.
But Ride has continued innovating its snowboard design ideas, although the results are slightly less extreme. For example, check out the Ride Mountain Pig and Super Pig.
These snowboards are super aggressive to ride and send you into space when you approach a side hit or kicker.
But their tails have a half-moon split, which allows the tail to sink into powder and gives the board a long effective edge, improving edge hold.
This tail design is innovative and suits the aggressive style of the board.
7. Lobster
Lobster Snowboards was founded by the Helgason brothers in 2011. These boards are famous for their bold graphics, which can be controversial enough to be banned from certain snowboard shops.
However, fun is at the heart of Lobster snowboards, which is evident when you look closely at the Lobster Nose Job.
This snowboard is a fun jib and park board with a soft flex and Bataleon's TBT based optimized for hitting rails without catching an edge.
What sets the Lobster Nose Job apart from other snowboards is its nose and tail. To the uninitiated, you wouldn't think too much of the squared-off tips, but there's an element of customization.
On closer inspection, you'll notice the stitch line at each end. Anywhere outside of the stitch lines is yours to do as you wish. Create your own designs, or use the templates and tools that come with the board.
Customizing the nose and tail won't make any difference to how the board performs. Still, it allows you to be creative. You can even create holes to invent new grabs or cut them into obscene shapes.
8. Nitro
Nitro has been around since snowboarding's early days, giving them the time to develop some excellent snowboard design ideas. During Nitro's long history, they introduced the Quiver Series.
The Quiver Series started as three boards, one for powder, one all-mountain board, and one specifically for rails.
Since then, Nitro has introduced more snowboard design ideas to include more shapes and sizes to fill in the gaps.
For example, Nitro has developed its own 3D shape and construction to help you enjoy incredible snowboarding experiences.
They have added a wide board to the lineup for big-footed riders while playing with sidecuts and flex and making big powder weapons, banked slalom machines, and splitboards
Nitro's Quiver Series is designed so you can pull one of these boards out of your collection for particular days but go back to your regular board on normal days.
Final Thoughts
Snowboarding has always had its trends and fads throughout the years, and I think that we will continue to see strange shapes and technologies in the future.
This experimentation may eventually lead to a similar impact we saw when brands played with profile shapes and flex ratings.
These strange shapes may see the birth of a whole new discipline or style of snowboarding.
Whatever happens, the next few winters will be fun, and I'm looking forward to seeing what snowboard brands give us.