Snowboarding is now middle-aged, along with many of its pioneers and early adopters. Depending on who you talk to, snowboarding was invented in the late 1970s. Still, its rebellious personality caused it to boom in the 1980s and 1990s. Since then, snowboarding has grown up, but is snowboarding losing popularity?
The figures show that the snowboarding industry is in decline. There are several reasons for this, including the maturation of the riders, media exposure, the increased cost of living, and climate change. But the key players in the snowboard industry are fighting to slow the decline in popularity.
When you look at the statistics, snowboarding isn't as popular as it used to be. But what is causing it, and is there just a decline in winter sports altogether? In this article, I'll examine the details and discuss how snowboarding is fighting back.
Is Snowboarding In Decline?
A report by the New York Times has stated that the snowboard industry peaked in the 2010-2011 winter season, with 8.2 million riders shredding the mountains.
But the sport has declined, with fewer riders year after year.
This news wasn't exactly a surprise, as a 2015 report by Associated Press stated that the popularity of snowboarding dropped by 28% between 2003 and 2013.
While the Denver Post said that skiing gained over a million new participants in the same period.
What Happened?
1. We Got Old
The 1980s and 1990s were snowboarding's formative years spearheaded by young punks and ambitious pioneers.
Jake Burton and Tom Sims created the first commercially available snowboards, closely followed by Nitro, and Palmer, to name a few.
Snowboarding's popularity flourished thanks to filmmakers such as Warren Miller, Standard Films, and Mack Dawg Productions' showcasing the sport's finest talent.
The snowboard films were a blend of skate and ski films of the time. They were high energy with heavy metal and punk soundtracks, appealing to rebellious teenagers.
Even though snowboarding is still a young sport, it appealed to a young audience in its heyday. However, this audience grew older and became responsible adults with incentives to stay in one piece.
Working and looking after kids is tricky with broken collarbones, so fewer snowboarders headed to the slopes. Some went to the dark side of skiing, decided to do both, or gave up altogether.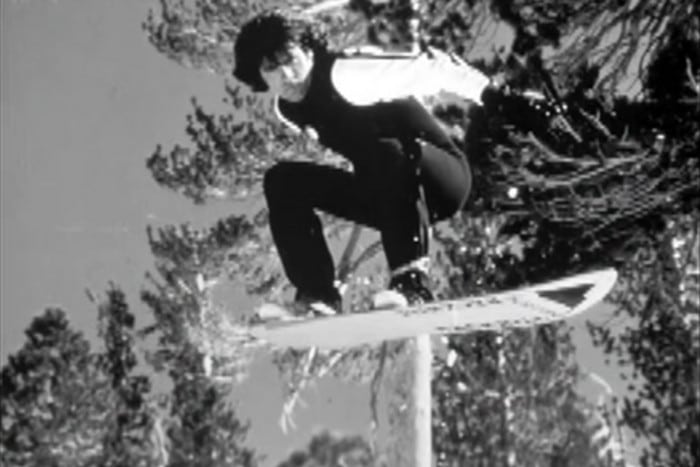 2. Snowboarding Became A Victim Of Its Own Success
Ski brands started to adopt snowboard technology, giving the previously stale sport a new lease of life. Skis became wider and curvy, allowing skiers to effortlessly float in powder and carve on an edge.
Ski brands also developed twin-tip skis so skiers could land tricks switch like snowboarders.
These innovations taken from snowboarding, combined with the ability to carry speed on skis, appealed to new skiers, luring them away from snowboarding.
Much of snowboarding at its peak was based around freestyle. This is understandable, as slalom snowboard competitions have a limited appeal to spectators.
Downhill snowboard races were trialed, but they didn't look exciting enough on T.V, so they were shelved pretty quickly. Also, for many snowboarders, skin-tight speed suits are outside the sport's core.
But most skiing disciplines have managed to keep a popular following. Some of the quirkier disciplines, such as ski ballet, were taken out of the Winter Olympics in an attempt to make skiing much cooler.
The birth of freestyle and slopestyle skiing (which came from snowboarding) has given skiing a boost in popularity, diverting people's attention away from snowboarding.
Every brand tried to get on the bandwagon at snowboarding's peak. Some examples are Juicy Fruit, Pepsi Max, Mountain Dew, Coors beer, and V05 hair gel!
Other than sponsorships, these brands have never contributed to the sport. This saturation damaged snowboarding's bad-boy image, making it less popular.
3. Diluted Media
One of the leading ways snowboarding was put in front of the public was through the Winter X Games.
The Winter X Games were televised on cable T.V. across the U.S. in the late 1990s, encouraging people to take up snowboarding.
However, when we got more options for screen time, cable T.V. struggled to hold the public's attention, reducing its impact on influencing people to snowboard.
Snowboarding was introduced to the Winter Olympics during the 1998 Nagano games, which put snowboarding into the public eye, giving it a boost each time.
But the games only occur every 4 years, meaning it isn't prevalent enough to keep it in people's minds.
4. Inconsistent Snowfall
We are all painfully aware that climate change is making a difference in our weather patterns every year. Therefore, snow cover can be hit and miss, even at high altitudes.
The more prevalent ski resorts can afford to invest in excellent snowmaking facilities, making the snow cover more dependable.
However, smaller, low-altitude resorts don't always have enough money to invest in snowmaking technology.
And as the temperatures rise, they often don't get cold enough for the snow cannons to work.
Poor snow conditions often put people off snowboarding, as snow quality is more critical to snowboarders than skiers. It's better to ride powder or on groomed slopes than on ice and rocks.
5. High Cost
Older generations have grown up with a yearly trip to the mountains, but many millennials don't see snowboarding as a worthwhile recreational sport.
This is mainly down to the costs associated with heading to the mountains compared with other sports. For example, tennis and basketball are much cheaper options if you fancy a physical sport.
Snowboarding requires a lift pass, accommodation, equipment, specialist clothing, and frequent travel. Snowboarding is a costly sport to take up or even try.
What About The Popularity Of Skiing?
We've already discussed how people are being pulled towards skiing away from snowboarding. But is skiing still as popular as it used to be?
According to ANSI, the National Ski Areas Association reported that the 2010-11 season was the most popular in the U.S., with over 60.5 million mountain visitors.
A significant contributing factor is that we experienced some of the best snow and weather conditions in history.
There has been a decline since then, resulting in the 2019-20 season dropping to the 32nd most popular winter since 1978. However, this was when the season was cut short due to Covid-19.
But if you look at historical data, the number of skiers declined between 2003 and 2013 by 10%. This is still pretty significant but less dramatic than the decline of snowboarders in the same period.
So what is turning people off skiing? Things like climate change and high costs affect both skiers and snowboarders. But the aging population is also playing its part in the decline of the skiing industry.
Older skiers have reached an age where they no longer can or want to head to the mountains.
Therefore, fewer skiers are bringing money into resorts, and this means the ski resorts they used to visit every year have lost valuable continuous revenue.
These older skiers are not being replaced by younger ones.
The younger generation doesn't have the disposable income of their parents and grandparents, and it's hard for them to justify spending a large chunk of their wages on an expensive sport for a week every year.
Can Snowboarding Make A Comeback?
Snowboarding is far from dead. As long as we have snow, we will be snowboarding. There may not be hoards of sideways sliders, but that makes it more special in my book.
However, the key players in the snowboard industry are making moves to keep the sport alive. Let's take a look at what we can expect:
1. Female Snowboarding Is Going From Strength To Strength
According to Tahoequarterly.com, one of the demographics that's growing in snowboarding is young girls. Girls under the age of 17 are embracing snowboarding, and it's clear to see why.
Watching the Winter Olympics and other major snowboard competitions, you'll notice that the women's freestyle and slopestyle events are the most entertaining.
This is because they still ride with a smooth style rather than the gymnastic approach used by the males. There's an argument between style and technical ability in competitions.
Do you reward the rider who makes their run look beautiful or the one who has done a nose butter triple cork 1620?
2. Backcountry Riding Is On The Up
Another segment of snowboarding that is becoming more popular lies in the backcountry. Heading into the wilderness in search of untouched powder is increasing in popularity for snowboarders.
The change comes from the development of splitboard technology. Splitboards have made it possible for snowboarders to access terrain they could only reach on a snowmobile or by helicopter.
Of course, splitboarding takes a lot of effort, but it's rewarding and a lot cheaper than the mechanical options.
Splitboarding became more popular during the Covid-19 lockdown, as no lifts were running in many parts of the world.
Whether we wanted a quick run or an epic adventure, we had to hike up every mountain.
This style of snowboarding appeals to older riders wanting to get away from the crowds and anyone wanting to earn their turns.
It has also been made popular by the likes of Jeremy Jones by using splitboards to access the backcountry in a more environmentally friendly way.
The knock-on effect is that there has been a spike in the popularity of avalanche education. Heading into the backcountry or just away from patrolled slopes is dangerous.
So the more responsible split boarders ensure they are clued up on avalanche awareness by booking online and in-person courses.
3. Step-On Bindings
Every now and then, a brand comes up with a quick way of attaching yourself to your snowboard. Over the years, we have had Switch bindings, K2 Clicker, Flow, and Burton Step-Ins.
I tried all of them back in the day and found they were fine for hour-long indoor snow center sessions but fell short during a day on the mountain.
Compared to traditional strapped bindings, I and many others found that step-in bindings gave you less control, which wasn't worth the added convenience.
But Burton launched its Step-On bindings in 2017, following Jake Burton's ethos of making snowboarding more convenient and accessible.
Since then, Burton has kept the tech the same but introduced more sizes suitable for kids and even up to XL. Burton predicts that 50% of their boot/binding sales will be Step-Ons.
But the company has licensed the technology to Nitro and D.C., so they can produce their own bindings and boots compatible with Burton products.
These brands hope that Step-On boots and bindings will become more of an industry platform with some standardization.
One of the things that put people off snowboarding is the inconvenience of bending over to strap in. So brands are aiming to make snowboards as easy to put on as skis.
Step-on bindings also make snowboarding more accessible. They are popular with adaptive riders, who find using straps challenging.
They are also good news for aging snowboarders with expanding waistlines, as they don't have to bend over to put their snowboards on.
4. Snowboard Brands Are Becoming More Sustainable
With many riders becoming more responsible, many purchasing decisions are becoming more environmentally focused. However, snowboards and snowboarding are really bad for the environment.
You cannot recycle a snowboard unless you bolt a few together to make a bench. There are many emissions when building and shipping snowboards.
But brands recognize this and are working to make snowboarding more sustainable. A great example of this is Nitro.
They have worked with ClimatePartner to look at how they make their snowboards last longer, reduce their emissions, and eliminate plastics from packaging.
They now use recycled material and solar power in their snowboard production. In addition to this, Nitro and ClimatePartner worked out the company's emissions for 2021.
With this data, they could invest in projects that offset their emissions and then create a line of snowboards that is 100 percent climate-neutral.
Burton Snowboards also plans to neutralize its emissions, then go carbon negative, taking them beyond offsetting their emissions.
They are also working on alternative materials to eliminate plastic from their packaging. These positive changes should help with some people's guilt about the environmental impact of snowboarding.
Winter Sports Post Covid-19
The number of winter sports participants has been reducing consistently. However, the Covid-19 pandemic boosted the industry during the 2020-2021 season.
Some ski resorts even reported record lift pass sales. Everyone was surprised to see significant numbers of skiers and snowboarders heading to resorts.
In Europe, most ski lifts were switched off, and bars were closed, but people still visited the resorts. It was a good time for people to try skiing and snowboarding cheaply.
Of course, they had to walk up the slopes, but they only used the shallow green runs anyway. It's hard to say if the boost in popularity will continue.
But after being cooped up for so long and having travel restrictions, people will remain keen to go skiing and snowboarding.
Final Thoughts
Snowboarding is becoming less popular, but it isn't dead. There will always be dedicated snowboarders, and the market may separate into niches, but this is okay.
However, winter sports need to appeal to the younger generation to continue to thrive.