The start of Summer signifies the end of the snow season for many resorts. But how can you enjoy your passion for snowboarding again without the weather getting in your way? Here is what we would do:
Snowboarding in the summer is possible by visiting various resorts located in the southern hemisphere. Snow melting in the northern hemisphere results in fresh snow for the new season in these locations: Argentina, Chile, Australia, and New Zealand. Indoor snow parks are another option.
Be it a family vacation or expert-level riders seeking the slopes, we made a list to satisfy all skill levels. And something extra if you can't make it to the southern hemisphere.
Where Can You Snowboard in The Summer?
Melting snow in the northern hemisphere means it will be winter in the southern hemisphere. Hence, when the snowboarding season in Northern America starts slowing down, the lifts in New Zealand, Australia, and Southern America are ready to fire up, signaling the start of a new season.
If you're worried about where you'll get your turns in during the summer in the northern hemisphere, perhaps you should try to hit the slopes in these locations where snowfall is plenty during this time.
Here are the locations where you can continue your cruising adventures:
1. Perisher, Australia
Topping our list is the largest ski resort in the southern hemisphere.
With over 113 slopes and 47 lifts featured across the seven mountains, from green runs to black diamonds, the resort satisfies the needs of the sport's advanced and intermediate riders.
The spooky name of the resort was given by cattle farmers after encountering dangerous storms that occasionally swept the region.
Yet, today strong winds no longer bar access to the mountains as the railway system called Skitube connects the mountain ranges and the resort with the Perisher Village.
The village has an interesting range of hotels, condos, and exquisite dining options for the snowboarding and skiing crowd who visit the ranges for their kick.
2. Catedral Alta Patagonia, Argentina
Catedral Alta Patagonia is the crown jewel of the snowboarding destinations in South America.
A combination of modern technology and pristine natural scenery has made this resort a popular terminus for many seeking the slopes.
Catedral Alta Patagonia features speedy six-person lifts and a giant shopping mall to appease its ever-growing crowd.
It is located on the peak of Cerro Catedral, which gets its name from the massive mountains that resemble a cathedral when viewed from the chairlifts.
The centerpiece location on top of the hills is Lake Nahuel Huapi. Its natural beauty is awe-inspiring to riders as they ride down the slopes.
The majority of the slopes are for intermediate and advanced riders. Although, newbies can still enjoy runs near the base of the hill!
Done riding? Don't forget to visit the culturally rich and elegant San Carlos de Bariloche city for its excellent lodging and amazing restaurants.
3. Queenstown, New Zealand
Do you fancy resorts away from the Americas? Then this one's for you. Be ready to be blown away by the spectacular scenery of this region.
This is doubly true if you are visiting in the winter. For example, the Wakatipu Basin, surrounded by snowy mountainous peaks, is a sight to behold.
Plus, the place has many attractions, from world-class dining to fun activities such as luging, bungee jumping, heli-skiing, skydiving, and many winter events and festivals to keep you occupied in the downtime.
But here's what you're here for: apart from the Treble Cone area, which has a place in this list, Queenstown has three other snow fields.
They are Coronet Peak, The Remarkables, and Cardrona Alpine Resort.
So, you are spoiled with choices, which are fantastic as you can easily find slopes at your skill level.
4. Nevados de Chillán, Chile
We are just getting started with the volcanic slopes.
This resort is surrounded by three active volcanoes and features some of the most memorable terrains for snowboarders.
All the slopes found here are made from lava flowing down the mountains in the past.
And the good news for snowboarding enthusiasts is that this resort features natural hot springs, which is exactly what you'll need after a long day shredding this beautiful terrain.
Those looking for affordable dining and lodging can find them in Las Trancas, the town that is near the resort.
Plus, there are many accommodation options near the base of the mountains, although slightly more expensive.
5. Craigieburn Valley, New Zealand
Fair warning! This one is only for the pros willing to take the risk.
Craigieburn Valley is cut off from modern pieces of machinery such as lifts and snow cannons.
To reach the top of the mountain, you must hike or use ropes bolted to the runs for climbing.
In short, you have to tow yourself up the slopes before riding down. But if you're willing to risk and put in the effort.
Here is the reward: top-notch powder, no crowds, and huge areas of snow. All the good things about snowboarding in one place.
Forget those posh lodging and fine dining. After shredding, you can enjoy the rest of the day in a modest room at the base of a mountain with your friends.
Make sure to check their website and take the necessary safeguards when planning the visit.
6. Portillo, Chile
Steep and fast. That's how we would describe Portillo. The slopes found here are steep with tons of challenging vertical chutes.
The resort even had trouble constructing regular lifts for snowboarders.
A piece of special machinery carrying five riders at a time was developed just to tackle this steep terrain.
Riders on these steep slopes can reach over 200 km per hour speeds.
But if you're still learning, don't let this discourage you from visiting Portillo. Some slopes are friendly to beginners as well.
It also is famous for its Yellow hotel, a luxurious place with bars, clubs, theaters, and pools with fantastic views of Laguna del Inca.
7. Mount Hotham, Australia
Mount Hotham is known for its intermediate and challenging runs, with some aptly named double black diamond runs, like "Wall of Death."
If you are ready, right off the bat, you can do some warming up on intermediate slopes across these mountains before reaching the 437 meters long black diamond slope, The Twilight Zone.
Although there are a lot of challenging runs here, Mount Hotham caters to beginners and intermediate riders, making it a great place for a family vacation.
A special bonus for the riders who got their eyes on these slopes would be the spectacular views on the Great Alpine Road, which connects Melbourne and Mount Hotham.
Drive up and don't miss the scenery!
8. Las Lenas, Argentina
The crowd for Las Lenas is split equally between the people who visit the place for vacation and the snowboarding enthusiasts.
Expert riders across the globe frequently visit these hills to challenge the steep slopes.
At the same time, families on vacation can enjoy the excellent powder on the beginner and intermediate-level slopes.
A cool thing about Las Lenas is the very long 7 km run, made up of three interdependent runs, Apollo, Neptuno, and Venus.
This extends from the top of the hill to the village and will be sure to keep you entertained.
Riders are also in for a visual treat, as the lovely brown ridges of the Andean peaks are unmissable as you ride down these hills.
Located far away from large cities, Las Lenas, at its base, has villages where you can find modest, family-friendly lodging and dining options.
9. Treble Cone, New Zealand
Do you love challenges? If so, the slopes of Treble Cone might be a good fit for you.
Located very close to the city of Wanaka, this place has the largest snow area on the country's South Island.
The bummer is that most of the slopes are meant for advanced riders; hence, people new to snowboarding are discouraged from shredding these hills.
As far as difficulty is concerned, the steeps are as vertical as ones found in Craigieburn Valley in New Zealand.
The advantage is that you just get to slide and hop onto Six Seater Chair Lifts instead of hiking back up the mountain.
10. Valle Nevado, Chile
An amazing all-rounder! And a popular destination for people who just want to have some casual fun.
Here you will find families with kids and adults shredding across this modern resort.
Most of the slopes are for intermediate riders with tons of fun terrain, but there are some fantastic runs just for beginners.
The resort also has a few steep hills for the pros, so nobody feels left out of the game in Valle Nevado. Got bored riding these slopes?
For more powder, you can easily visit the three other major resorts, Farellones, La Parva, and El Colorado nearby using a lift that connects these places.
Indoor Snow Parks to Your Rescue
With our current climate crisis, the weather patterns worldwide have become unpredictable!
So people have started depending on artificial powder to meet their snowboarding needs.
The idea is simple: build a huge hangar, keep it cool, and pump machine-made snow for riding. Here are some of the best snow parks you can visit during summer:
1. Big Snow American Dream, New Jersey, USA
"Every day is a snow day," that's their motto. Plain and simple.
Never worry about poor snow conditions in North America, as the continent's first indoor snow park has slopes covered with over two feet of snow for its riders.
The hangar complex consistently maintains an average temperature of 28 degrees Fahrenheit (-2.22C).
Riders of all skill levels are welcome as the park has slopes dedicated to beginners and pros of the sport and an excellent terrain park with many features.
In addition, the snow park also rents snowboarding gear for those new to the sport.
2. The Snow Centre, Hemel Hempstead, UK
This popular indoor snow park was featured in the show, The Jump. A sports reality TV show centered around celebrity snowboarders and skiers.
The center has parks dedicated to freestyle riders. The Snow Centre also has a huge 160-meter main slope and is the UK's largest indoor lesson slope.
It maintains runs over 30 meters wide with perfect snow for every indoor snowboarding need.
All are welcome, from juniors to adults. It is perfect for families, or groups of friends, the fun is not limited to their skills.
3. SnowPlanet, Auckland, New Zealand
A snow park that emphasizes fun times and family vacations and is the only indoor snow park in the country.
It has 8000 square meters of snow, so you'll have plenty of room for riding around with your buddies and kiddos.
It also has a cozy restaurant for a hearty meal with an excellent view of its slopes. SnowPlanet is a fantastic place to relax and have a good time with the family.
It also features a School Holiday Program and Athlete Training Program for interested people.
4. Snow City, Singapore
Snow City is one of the most famous tourist attractions in Singapore and the entire southeast Asia region.
Due to the tropical weather, snow is a rare phenomenon in most of these countries, hence the massive popularity of this indoor snow park around this region.
The park has Disney vibes across the floors and maintains itself as a family-centric attraction center.
People who love snow and are interested in spending quality family time should keep their schedule open for this park as it receives over 250,000 visitors annually and is covered with 150 tonnes of snow.
Your kids won't be disappointed with a massive snow playground, ice bumper cars, and gigantic snow slides.
5. SnowWorld, Landgraaf, the Netherlands
This snow park is filled with amenities! Apart from maintaining five slopes, the park operates till 11 p.m. and houses many restaurants for fine dining.
Feeling tired after some hard shredding? No worries! You can rent out a room in the hotel inside the complex. In the mood for some adventure?
You can visit the nearby climbing park and Adventure Valley for the Alpine Coaster.
6. AlpinCenter, Bottrop, Germany
Alpincenter is built on a hillside with a beautiful forest surrounding its hall structure.
With a track length of 640 meters, it claims the title of the "longest ski hall in the world." The snow park welcomes both families and pros of the sport.
There are slopes for beginners with a rope lift where riders can quickly gain an understanding of snowboarding.
For people who love challenges, there are slopes with up to 24% gradient.
Once you reach the bottom, conveyor belts stately transport you back to the top of the hill so you can resume your adventure.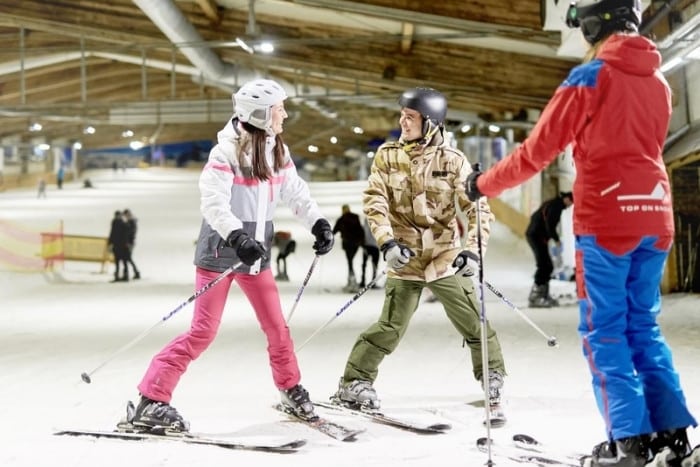 Final Thoughts
Do you want to hit the slopes in summer? You can do so by visiting the resorts in the southern hemisphere.
Snow is plenty at this time in these locations: Argentina, Chile, Australia, and New Zealand. Interested in indoor riding?
Snow parks across the world are your best options. Safe journey and happy riding!