Snowboarding in the Sims 4 is an extreme sport that you can experience within the Snowy Escape expansion pack.
To snowboard in the Sims 4, you'll need to purchase the Snowy Escape expansion pack. Then head to Mt. Komorebi in-game, after which you'll want to buy a snowboard from a vending machine. Lastly, you'll need to select one of the slopes to begin having your Sim snowboard and build up their skill.
Below, we cover in more detail the mechanics of snowboarding in this expansion and how they function.
The Basics Of Snowboarding In Sims 4
If you're looking to take your Sims snowboarding in the Sims 4, there are a few things you will need to know to get going.
1. Purchasing The Expansion Pack
To snowboard in Sims 4, you'll need to purchase the Snowy Escape expansion pack, as the ability to snowboard does not come in the base game.
You can buy the expansion packs for Sims 4 on Origin by clicking on the game's image and selecting "show game details."
From there, click on the Expansion Packs tab to see an array of expansion packs available for purchase, including Snowy Escape.
With the expansion pack purchased, you should be able to go forward with playing the game as outlined below.
2. How To Get To The Mountain?
To snowboard in Sims 4, you'll want to go to the mountain world of Mt. Komorebi and get yourself used to the scenery there.
Then, you'll want to head to the neighborhood of Yukimatsu at the very top of the map.
After that, you'll want to move your screen over to the mountains and select which one you'd like to snowboard.
Your Sim should automatically move to the top of the slope you choose. You could also select one of the gondola buildings to get to the top of the mountain quicker.
Once your Sim is on top of the mountain, you should see a selection of slopes available to choose from.
When starting, you'll have to either select the "Bunny Slope" or the "Easy Slope" and work your way up to more challenging runs by gradually building your Sim's skills.
The "Bunny Slope" is specifically designed for children to snowboard on.
3. Getting a Snowboard
You don't necessarily need to purchase a board to start snowboarding, as you can obtain a rental snowboard from the mountain.
However, buying a snowboard has its benefits, as it is easier to build up your skills over time if you own one.
In case you're in a fix just like Sims 4 whether to buy a new snowboard or not in real life, read our article for tips on how regularly should you invest in a new snowboard.
Coming back to our topic, in addition, if you purchase a board, you have a wider variety of boards to choose from, and you can even customize your board.
There are two ways to purchase a snowboard.
The first is at your house on your computer, as there you could have a wide selection of choices from the various ones that you'll find linked on the internet.
The second way is through the vending machines scattered about Mt. Komorebi, as they sell snowboards specifically for players looking to make a quick purchase.
With a snowboard in your inventory, you can click on it to make it the preferred snowboard for your Sim when they go shredding.
4. Gaining The Snowboarding Skill
There are three specific ways your Sim can enhance their snowboarding skills. The first is through reading books, which will take a long time to grow your skill level.
Another way to enhance your snowboarding skill is to have your Sim snowboard.
By selecting the specific slope you want to snowboard on, you can have your Sim learn and improve their snowboarding.
This is one of the fastest ways to build your Sim's snowboarding skills.
In case you don't snowboard for real, you can try starting in the comfort of your home before moving to the mountain.
We have a wonderful article to help you learn snowboarding at home.
Now, you have to wait for your Sim to travel up and down the mountain between shredding time, which can become tedious.
The best way to build your Sim's snowboarding skill is to start with an easy slope like the "Bunny Slope."
This will let your Sim build up their skill level and experience, granting them the ability to go on more advanced slopes over time.
The third way to gain snowboarding skills is via the computer, and this is an available option after you have already achieved Level 4.
You can gain these skills by studying snowboarding techniques online on your Sim's computer.
5. Different Snowboarding Styles
Your Sim can approach the slopes with distinct snowboarding styles that vary based on your play style.
You can select, per slope, a low, medium, and high-intensity approach to snowboarding.
Each style has your Sim progressively build their snowboarding skills, allowing them to do more advanced tricks over time.
However, the tricks get progressively more dangerous, increasing the risk of injury during snowboarding.
Snowboarding also drains your Sim's hunger, hygiene, and fatigue at progressive rates, depending on the specific intensity you choose.
The 10 Snowboarding Levels
As your Sim gains snowboarding skills, they'll start to rise through the levels.
Each of the levels comes with different perks, bonuses, and unlocks that you can use and explore with your Sim.
Level 1
Level 1 is the most basic level, where you start as a novice snowboarder.
There aren't many options available to you on this level, as you're only granted access to two slopes, the "Bunny Slope' and the "Easy Slope."
The "Bunny Slope" is the simplest, available to children, and doesn't grant you many fun activities to watch.
The "Easy Slope" is a bit more technical, allowing you to advance through the different intensities as you watch your Sim try out various tricks and tactics with snowboarding.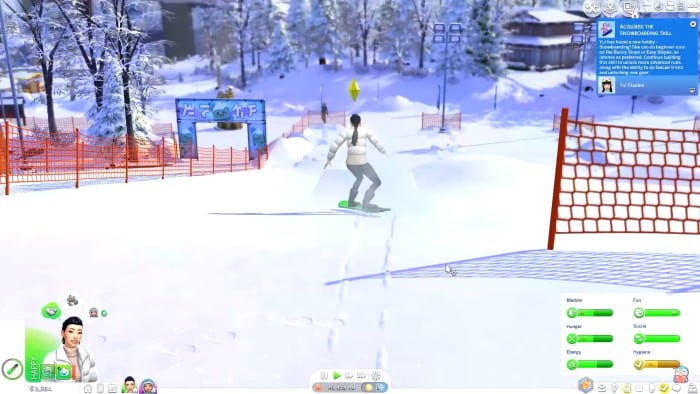 Level 2
Level 2 is the first level that you advance to and is the first level where you unlock items.
The first thing you unlock is a new set of pants that your Sim can wear while snowboarding.
You can find this pair of pants in "Create-A-Sim" if you're looking for a quick costume change.
Level 2 also unlocks the "Snow Bro" mechanic, where your Sim can ask another Sim if they'd like to become 'Snow Bros."
Becoming "Snow Bros" with another Sim allows your Sim to snowboard with them, meaning that they'll be able to grow their skills together as they both learn how to shred.
There's a bonus if you choose to make your Sim Snow Bros with another one of your Sims, as then you can advance both of their snowboarding skills simultaneously.
Level 3
In Level 3, you begin to advance your Sim's snowboarding experience and levels.
You unlock the "Snow Bro High Five" animation allowing your Sim and their "Snow Bro" to high-five one another, and you also unlock the "X2 Classified Timber" snowboard for your Sim to use.
In addition, you gain the ability to snowboard on the "Intermediate Slope" at low and medium intensities.
This slope is slightly more advanced than the "Easy Slope," as it allows your Sims to face rougher terrain with more obstacles.
Level 4
At level 4, you can unlock a number of items for your Sim.
As previously mentioned, level 4 allows you to start researching snowboarding on the computer at this level, which gives you another way to advance your skill.
You also unlock the ability to do more intense runs on the "Intermediate Slope," being able to shred with high intensity.
In addition to this, your Sim also unlocks the "Expert Slope" to ride on.
The "Expert Slope" is riskier as it faces even more intense obstacles than the "Intermediate Slope," This opens up new risks and rewards for your Sim.
The last unlock revealed in level 4 is the ability to get hyped before snowboarding.
This is a self-interaction and works to motivate your Sim to face the mountains ahead of them.
Level 5
At level 5, you reach the halfway point of your Sim's journey to the top snowboarding level.
At this level, your Sim gains the ability to make fun of Sims who like skiing with the "Mock Skiing" interaction.
Your Sim can go onto higher intensities on the "Expert Slopes." This allows your Sim to do more tricks on the slope.
1However, it increases the risk of your Sim getting injured if you're not careful. You also unlock the hazardous "Ludicrous Slope" at this stage.
Your Sim also unlocks a new item of clothing in the Create-A-Sim that is specifically detailed to be worn during cold weather, a snowboarding jacket!
Level 6
At level 6, your Sim gains a few new abilities. Your Sim first gains the "Endure The Burn" interaction, allowing you to talk to other Sims about enduring the hardships of snowboarding.
Your Sim also unlocks a new trick that they can perform when handling the various intensities of the slopes. Lastly, a new snowboard is also unlocked at this level.
The "Freestyle Ultraboard" is a brand new board that becomes available in "Build Mode" for your Sim to use and experiment with.
Level 7
At level 7, you're beginning to near the end of the level-ups for enhancing your snowboarding skill.
At this level, you gain a new interaction, the ability to brag about snowboarding to other Sims.
You also gain a new self-interaction, "Stretching It Out." Using "Stretching It Out" can lower the risk of injury and harm that comes with having your Sim snowboard.
The different intensities you employ on the mountain put your Sim at distinct risks of injury.
Doing this self-interaction allows your Sim to mitigate some of the dangers of shredding.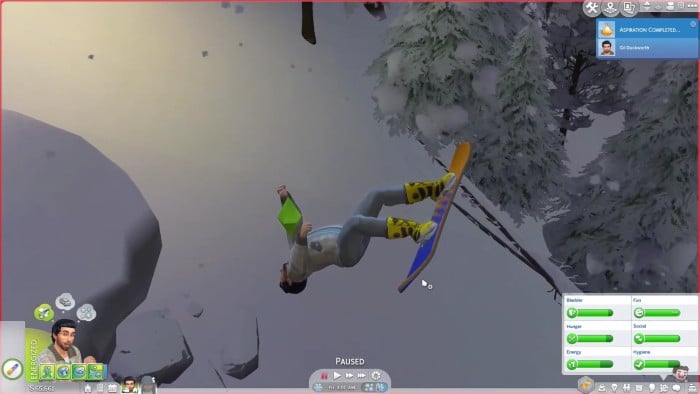 Level 8
Level 8 is pretty exciting in terms of what is available to unlock, as you gain another completely new interaction for your Sim at this level.
Your Sim can dare other Sims to attempt a dangerous slope during this level, allowing for a lot of fun new avenues for your Sim to interact with others.
You also unlock new tricks that you can perform on different intensities for your Sim.
With new tricks, you can ride down the mountain in entirely new ways and make for an exciting time for you.
Level 9
Level 9 is the penultimate level in your Sim's snowboarding adventures. However, what it offers is a bit more mundane than other levels.
The only additional item given to your Sim at this level is to "Chat About Rad Slopes" with other Sims.
There isn't anything else that comes with level 9, making it a more bland level to reach.
Level 10
Level 10 is the last level you can reach when increasing your snowboarding skill in Sims 4, and it doesn't hold back any punches in what it offers.
Your Sim can coach other Sims in snowboarding, allowing for a tremendous lot of opportunities for your Sim to interact with others.
You also unlock the ability to give snowboarding tips to other Sims. Not only that, but you also unlock a new snowboard, the "Gnomeboard X."
The last thing, and arguably the most significant, is the ability to record your runs down the mountain and upload them to the computer.
This opens up a new option for you to record and play videos about your Sim's snowboarding adventures, and when you upload them to the computer, you can get daily royalties from the videos.
This helps to make your Sim feel like a professional snowboarder.
Different Snowboarding Aspirations
Going snowboarding in the Sims 4 also showcases a unique aspiration that becomes available to your Sim as they engage in the hobby.
The "Extreme Sports Enthusiast" aspiration comes in four stages, each including an aspect of snowboarding to incorporate.
You need to reach each successive stage to progress far enough and unlock the aspiration.
1. Snow Student Stage
The Snow Student stage includes going down the "Bunny Slope" and purchasing a snowboard, alongside using an info board when on the mountain.
2. Thrill Seeker Stage
The "Thrill Seeker" stage includes snowboarding for 3 hours, alongside non-snowboarding-related things like achieving level 4 in rock climbing, completing a hiking trail, and encountering a forest spirit.
3. Trailblazer Stage
The "Trailblazer" stage involves performing snowboarding at high intensity on an intermediate or an expert slope.
It also consists of reaching Mt. Komorebi's summit and surviving an injury when snowboarding.
4. Peak Pioneer Stage
The last stage of this aspiration is the "Peak Pioneer" stage.
It involves reaching level 8 with snowboarding and completing a high-intensity snowboarding slope during bad weather conditions, and it also allows you to survive three wildlife attacks unscathed.
The reward for completing this aspiration is the trait of "Survival Instinct."
It allows you to avoid injury when performing snowboarding, rock climbing, or skiing more often than not, have a natural resistance to poor weather conditions, and escape wildlife unscathed every time.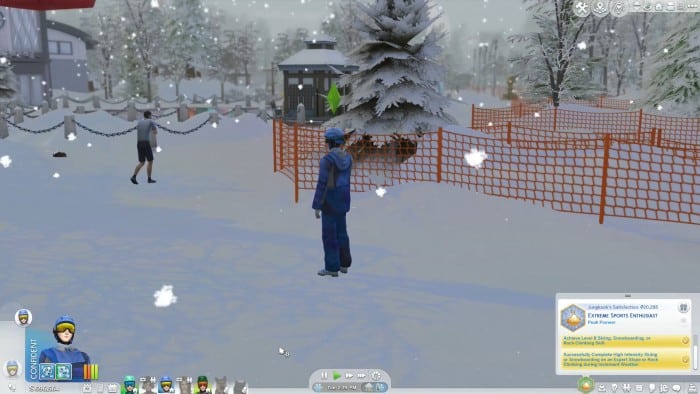 Final Thoughts
Snowboarding in the Sims 4 is a fun experience that allows your Sim to truly partake in the hobby just as it's done in real life.
It allows your Sim to gain a bunch of new skills and completely changes the way you interact with your Sims in your day-to-day playing by implementing a fun new hobby for them to partake in.
Starting it off is a simple process, as all you need is the Snowy Escape expansion pack, then you'll be able to go through the motions of helping your Sim learn to snowboard.