Not every board width is suitable for every rider, and if you have large feet or are heavier than average, you might need a wider board. Fortunately, most snowboard manufacturers make "wide" variants of their boards.
If your boot size or body weight indicates the need for a wider snowboard, most reputable snowboard brands have models that come in a "wide" variant. Lib Tech, Bataleon, Jones, and Capita all offer wide versions of some of the best boards around, suitable for all skill levels and riding styles.
While the width of a snowboard can affect how it performs, choosing a board size to match your needs will only improve your riding experience. It's worth noting that a board is considered wide when the width in the middle is over 160mm, so while some models may not be marked as "wide" by the manufacturer, they're still considered wide for sizing purposes.
Best Wide Snowboards
Compare Top Wide Snowboards
| Snowboard Name | Overall Score | Bottom Line | Price |
| --- | --- | --- | --- |
| Lib Tech Skate | 96 | The best value for money all-mountain snowboard around. | Check Out On Amazon |
| Bataleon Evil Twin+ | 89 | A great all-rounder for those who spend their days in the park. | Check Out On Amazon |
| Capita Spring Break | 88 | It can hold its own all over the mountain but shines in powder. | Check Out On Amazon |
| Jones Solution Splitboard | 84 | The backcountry adventurer's snowboard of choice. | Check Out On Amazon |
| Burton Custom X | 83 | An aggressive board that gives back what you put in. | Check Out On Burton |
| Yes Typo | 80 | An ideal first snowboard that won't break the bank | Check Out On Amazon |
Detailed Analysis Of The Best Wide Snowboards
1. Lib Tech Skate Banana (Best All-Mountain Board)

Overall Score: 96
Advantages
Excellent edge hold
A true all-mountain board
Disadvantages
Not as well-suited to powder as a directional snowboard
Read my article on the pros and cons of directional snowboards to see if those types suit your needs better.
Features
Lib Tech's Skate Banana changed the game when it came to cutting-edge snowboard design, and their latest models still come with the company's proprietary technology.
The feature most folks associate with the Skate Banana is the award-winning "Banana Tech," a hybrid rocker/camber profile that upended modern snowboard design.
The Skate Banana also comes with Lib Tech's Magne-traction.
While snowboards traditionally only feature two snow contact points on each edge, Magne-traction's serrated edges bump this to seven per edge, creating extra hold and cutting through ice like a steak knife.
Piste
Thanks to the Skate Banana's serrated edges, it's a perfect board for riding on piste when snow quality can vary. The board turns ice and hardpack into powder and offers unparalleled edge control.
With Banana Tech, it's almost impossible to catch an edge, and despite a slightly softer flex, you can still rip down the piste at speed without losing control.
Powder
Where most boards that excel on the piste and the park struggle with deep powder, the hybrid rocker camber of the Skate Banana makes freeriding an absolute joy, even on shorter models.
The centered stance means it isn't as surfy as a specialized, directional powder board, but it's still super floaty and can handle itself just as well off-piste as on-piste.
Park
The Skate Banana is the perfect park board. It's a true twin with a centered stance, so riding or landing tricks switch is super easy.
While the rocker section of the profile can make landing the biggest jumps feel a little sketchy, the cambered sections help stabilize the board.
The flex and profile make this board a jibber's dream, and it's superb for buttering. Ultimately, it's an extremely playful snowboard suitable for all abilities, riding styles, and snow conditions.
Price
While it's not the cheapest board on this list, the Skate Banana is at the lower end of the scale and will normally set you back around $600 or slightly under.
To be honest, you get a whole lot of board for your buck, and it's hard to find alternatives that do so much for the same price.
2. Bataleon Evil Twin (Best Freestyle Board)
Overall Score: 89
Advantages
Very hard to catch an edge
Speedy sintered base
Disadvantages
Triple Base Technology takes time to get used to
Features
Like Lib Tech, Bataleon snowboards also have a unique feature that sets them apart from anyone else on the mountain – 3BT.
Short for Triple Base Technology, 3BT is a 3D profile that Bataleon combines with a positive camber to create boards that are nearly impossible to catch an edge on.
If you've never ridden a 3BT snowboard before, it may take a day to get completely used to the new riding sensation, but it makes for such a versatile riding experience that few riders return once they've ridden one.
The Evil Twin+ also features Supertubes™, hollow cylinders of carbon that thread the core to reduce weight, reinforce the camber, and massively boost pop.
Piste
While technically a "park snowboard," the Evil Twin+ is more than capable on groomers with a sintered base that allows for eye-watering speeds and high-quality construction materials that absorb vibrations and eliminate chatter.
Despite the appearance of an aggressive camber board, 3BT makes it extremely hard to catch an edge, and its medium flex makes it a great all-rounder on the piste.
Powder
While the Evil Twin+ shines brightest in the park or on the piste, it still has a few tricks up its sleeve that make it highly capable in deeper snow, especially the longer and wider models.
Bataleon's SideKick™tech expands on 3BT by uplifting the sidebase at the widest points of the nose and tail.
This makes the tips more boat-like, creating a hull shape that maximizes float in powder while helping the board roll evenly from one edge to the other.
Park
Fast, lightweight, and extremely poppy, the Evil Twin+ is a dream in the snow park. It's a true twin, so switching is not an issue, and the 3BT makes it easier than ever to learn new tricks.
The lifted contact points make it much harder to catch an edge on pipes and boxes and also make landing jumps far more forgiving if you stomp down a little off-axis.
Price
The Evil Twin+ will set you back around $650, which is about $80 more than the regular Evil Twin.
Truthfully, the extra spend is definitely justified; it's lighter and snappier than its cheaper counterpart, and the sintered base alone is worth it.
3. Capita Spring Break Powder Twin (Best Powder Board)
Overall Score: 88
Advantages
Lightweight yet very strong
Excellent in powder, especially for a twin board
Disadvantages
Carving takes extra leverage than some other boards
Features
The Spring Break Powder Twin from Capita features ultralight Carbon V-Tech Amplifiers that boost power and response while cutting down on additional weight, and the HOLYSHEET™ fiberglass gives the snowboard extremely high tensile strength and great durability.
Capita also uses their very own Magic Bean Resin; aside from being made of 60% renewal materials, the super strong and rigid resin means a thinner wood core resulting in a lighter board with better energy return.
Piste
The extra width of the Powder Twin means you'll need a bit more leverage when going from edge to edge on groomed runs, but its tighter sidecut radius cancels this out fairly quickly.
On-piste, this snowboard feels stiffer through the center of the board, so while you can still execute quick turns, it holds a carve better than boards with a softer flex.
While it doesn't hold an edge quite as well as the Skate Banana, it's still relatively forgiving on ice and hardpack.
Powder
The surf rocker profile of the Powder Twin means that once you hit deep snow, the flex softens up and feels extremely playful and buttery.
The profile means you can roll up onto the tail and get amazing flotation in powder while getting great stability up through the mid-section of the board.
In general, true twin snowboards are much less effective in powder than directional twin boards, but the Powder Twin really holds its own here and takes very little effort to keep afloat.
Park
While the Powder Twin is most at home on deep, fresh snow, it's still a joy to ride through the snow park.
The dominant camber means there's plenty of pop to be had, and the extra width ensures stability when landing even the biggest jumps.
The rocker aspect of the profile means you can still butter despite the camber, and with a bit of speed on the run-up, the Powder Twin is a versatile jibber too.
Price
The Powder Twin costs around the same as the Skate Banana, which makes it superb value in our eyes and the better pick of the two if you're lucky enough to get tons of deep snow whenever you ride.
4. Jones Solution Splitboard (Best For Backcountry)

Overall Score: 84
Advantages
Opens up a wealth of riding possibilities
Excellent for carving on and off-piste
Disadvantages
Splitboards don't come cheap
Features
As a splitboard, the Jones Solution comes with features you won't find with the majority of other snowboards, namely the ability to split into a pair of cross-country skis that you can slip skins on to traverse the backcountry.
Having said that, the Solution comes with boltless bridges that cuts down on the extra hardware that can affect the performance of splitboards.
It also utilizes Jones' 3D Contour Base 3.0 to reduce drag, increase speed and improve flotation in deep powder.
Piste
While predominantly an off-piste snowboard, the Solution performs well in every condition – just because you're in the backcountry, it doesn't mean you'll be spending your whole time cruising through deep powder.
The stiff flex of the board – 8/10 on the flex scale – means it holds an edge well and is great for carving, and the Solution has the added bonus of Jones' Traction Tech, which is effectively a more mellow version of Lib Tech's Magne-traction serrated edge.
Powder
This board is perfect in powder thanks to its directional rocker profile, which, combined with the 3D Contour Base, helps it cut and carve through deep snow like a surfboard through the water.
The tail sinks nicely, so you won't burn out your back leg on your runs, and the stiffness and edge hold work just as well on ungroomed snow as they do on groomers.
While it's a fairly specialist snowboard, the Solution is unmatched if your favorite days on the mountain are spent exploring the backcountry.
Park
While you could definitely take the Solution through the snow park, its stiffness means you'll need to be strong, skilled, and on the heavier side to get a lot out of it.
The board is still relatively nimble, and its narrow waist makes it easy to turn but harder to flex.
It's also not particularly easy riding switch on the Solution as the fatter nose and setback riding stance means you'll often have to fight the back end from trying to get back in front.
Price
At close to $1000, the Solution is by far the most expensive board on this list.
While the price tag might seem eye-watering, it's pretty on par when looking at splitboards and the extra work that goes into creating them.
If you're dead set on a splitboard but can't justify the cost, it's always worth looking at picking up a previous year's model, which will normally come with most of the same features but at a fraction of the cost.
5. Burton Custom X Camber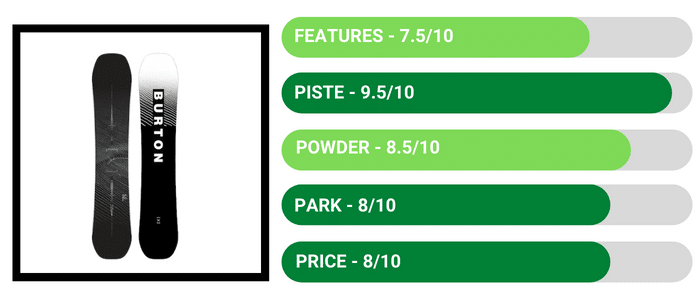 Overall Score: 83
Advantages
Excellent stance customization
A great board for racing
Disadvantages
Not suitable for beginners
Features
While the Custom X Camber might not appear to have too much in the way of flashy features, this can be forgiven when you factor in that Burton effectively created the modern snowboard and can be thanked for much of the tech that's out there.
Having said that, Burton's Channel Board Mount system is always a welcome feature that allows for the greatest amount of customization when it comes to setting up your stance and binding angles.
Piste
The Custom X Camber is a board that needs to be tackled head on by an experienced rider as it responds best to an aggressive riding style.
However, despite its unforgiving nature, it's capable of great things on groomed runs. It's superb for carving at high speeds as it prefers to be up on an edge and makes for a great racer.
Powder
While the camber profile of the Custom X Camber holds the snowboard back somewhat when it comes to floating through powder, the setback stance and directional shape of the board do offset this.
Its stiffness – an 8/10 flex rating – helps, too, and while Burton's Custom Flying V has a rocker profile better suited for deep snow, it's still fair to call the Camber an all-mountain snowboard.
Camber snowboards have their own advantages (and some disadvantages too) which I've covered in great detail in my article on pros and cons of camber snowboards.
In case you feel camber snowboards suit your needs more, you can find some worthy and reliable suggestions in my article on the best camber snowboards.
Park
While the stiffness of the Custom X makes for a forgiving landing, it takes a bit of effort to get the board to really pop.
Despite being directional and having a setback stance, these are fairly minor compared to other boards and don't pose much of a barrier when it comes to riding or landing switch.
The Custom X is a board that needs to be ridden hard and fast, which also translates to the park.
It performs much better when you're hitting big kickers at speed, so it's not ideal for a beginner dipping their toes into the world of freestyle snowboarding.
Price
The Custom X usually costs between $800 and $900, which is a lot of money for an all-mountain snowboard.
For many snowboard brands, we'd say this is far too much, but with Burton, you can guarantee superior quality and construction, which is why they can charge more than the rest and justify it.
6. Yes Typo Snowboard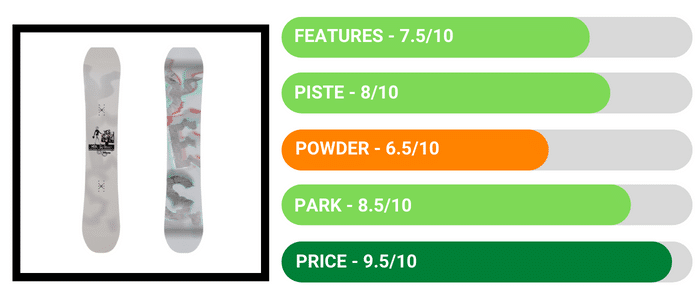 Overall Score: 80
Advantages
Hybrid sintered/extruded base that offers extra speed without extra cost
Great value for money
Disadvantages
There are better snowboards available for less than $100 more
Features
The Typo isn't jam-packed with fancy features, but it does use a design modification called UnderBite that segments the sidecut with divots in the edges adjacent to the bindings.
This effectively makes it easier to turn and hold an edge by redistributing your body weight to the parts of the board that need it the most when carving.
It also comes with a Sintered Spec base, an extruded base made from recycled sintered base materials, giving you most of the benefits of a harder, faster, sintered base without the excess cost.
Piste
While you won't be bombing down the piste at insane velocities on the Typo, there's still plenty of fun to be had. It's smooth at higher speeds, and you can still lay a carve on it.
It's not an aggressive snowboard, but that's not necessarily a bad thing. The Typo is ideal for strong beginner riders looking to expand their skill set on a board that'll last them a long time.
Powder
The Typo is fine in powder but nothing special.
If you don't spend too much time in the backcountry, you'll still get plenty of fun out of it when riding in deeper snow; however, the exception is if you like your tree runs.
The Typo is great at short, sharp turns and is highly maneuverable, making it a true joy if your best days are spent weaving through forests.
Park
The Typo has decent pop and makes for easy buttering thanks to its mid-soft flex. Jibbing is comfortable, and the directional twin shape makes riding switch a fairly straightforward affair too.
While you might struggle to stomp landings from the bigger jumps, it's perfect for small to medium-sized kickers, making it a great choice for confident beginners who have completely fallen down the snowboarding rabbit hole.
Price
At around $500, the Typo is the cheapest board on this list and perfectly good value for money. It's well-made and versatile, and there's plenty of fun to be had.
Having said that, if budget is a concern, it's probably best to research older models of more premium boards to find one that's the perfect fit.
Final Thoughts
Ultimately, there's a reason the best brands in the business have earned their reputations, so it's hard to go wrong with them as long as you prioritize choosing a snowboard based on your boot size, weight, preferred riding style, and skill level.
The snowboards reviewed above come in regular and wide variants, so once you've identified the need to pick a wider snowboard, you can narrow down the choices available.
Do check out my article on regular vs wide snowboards to ensure that you understand their differences correctly.