Whether you're treating yourself to a shiny new snowboard, replacing one that's seen better days, or are a relative newcomer looking to stop renting and purchase some gear to call your own, knowing exactly when to buy a new snowboard can be tricky.
If you want your pick of the very latest snowboards, the best time of year to buy one is just before the start of the season, around October. If it's a good deal you're after, you're better off waiting until the season ends around May, when stores are looking to offload stock before the summer.
However, things get a little more complicated because there are plenty of things to consider when picking the right time of year to buy a snowboard. Fortunately, we've taken a look at all the different things that might impact your choice to make it much easier for you to decide when to start shopping.
What Time Of Year Should I Buy A Snowboard?
The best time of year for buying a new snowboard will vary from person to person based on many different factors.
Your budget will definitely determine when you should buy a new board, and so will how selective you want to be.
If you're trying to save money and find a good deal on a snowboard, you'll also want to consider whether a brand-new board from a previous season is what you're after or whether you'll be happy enough with a pre-owned ride.
1. Range and Quality
If money is no object and you're not too bothered about finding a great deal or hefty discounts, the best time to buy a snowboard is around October (May if you're in the southern hemisphere), just before the snow season begins.
This is the time of year when snowboard manufacturers launch their brand-new product lines and board models for people to snag before the first snow of the year.
If you can afford it, the advantage of buying early is that both the online stores and brick-and-mortar outlets should be packed to bursting with new stock.
You're unlikely to find any discounts, but premium prices mean more products and choices. You won't have to compromise on things like board size if you get in early.
While snowboard manufacturers try to ensure they boost production of the most popular board sizes and styles, that doesn't mean there'll be many options left part way through the season, especially after the pre-Christmas rush.
In fact, as stock runs low, some suppliers may even boost the prices of more desirable snowboards as the season progresses.
One downside of buying a snowboard before the season begins is that without snow, there's no way to test the board before you part with your hard-earned cash.
You also won't have too much to go on in the way of customer reviews if nobody else has been able to try it out for an extended period.
This is unlikely to be catastrophic if you're sticking to reputable snowboard brands known for consistent quality, but you may spend more on a board that's identical or slightly worse than last season's.
2. Deals and Discounts
If you're in the market for a new snowboard but can't justify paying full price for one, the best time to buy will be around May (November if you're below the equator) once the season is over.
It stands to reason that if the shops are fully stocked at the start of the season, their selections will dwindle, and you're not going to have as much choice come spring, but that's the trade-off if you want to save some cash on your purchase.
We recommend buying around May because this is the time of year when most outdoor shops will be trying to empty their warehouses and showrooms to make room for summer gear like mountain bikes, wakeboards, skateboards and longboards, and camping equipment.
At this point, they're more likely to cut their losses and increase the discounts. While the range will be smaller at the end of the season, it still won't be as small as it will be at the end of the summer.
Also, bear in mind that because snowboards are in higher demand just before the season begins, there's a chance that last season's boards will increase in price over the summer.
The advantage of waiting around for an older model is that it will be tried and tested.
There will be people that have spent the whole season putting every snowboard through its paces, so you'll be able to research the pros and cons of each model and find out exactly how it performs in powder, in the park, and on groomed runs.
You might even be able to rent the snowboard you have your eyes on mid-season and get a feel for it yourself before picking one up at a discount later in the year.
3. Buying Second-Hand
If you're lucky and you know what you're doing, buying a second-hand snowboard is a great way to pick up a solid board at a fair price; however, in terms of timing, it usually comes down to finding the right seller.
If you've got a seller in no rush to offload their board and know how the market works, they're more likely to hold off selling until the start of the next season when they know they can get a better price.
On the flip side, if the seller wants to get rid of their board as soon as they can once the season's over, they'll have to list it at a lower price unless they're able to find someone who doesn't really know about the fluctuation in board prices.
Ultimately, the best time to look for a second-hand board at a lower price will be just after the season ends when prices are at their lowest.
Keep an eye out around January, as some folks may have been given a new board for Christmas and want to offload their old one for some extra cash after a time of year that tends to drain our bank accounts.
If you wait until just before the new season begins, savvy sellers will charge more for a second-hand board, so there might be fewer deals to be had.
Having said that, whether the price is higher or not, you might luck out with a better quality second-hand board at this time of year.
Remember, this is the time of year that people with higher budgets splash out on the latest models; that means you're more likely to find boards that people are selling because they don't need them anymore rather than because they're defective.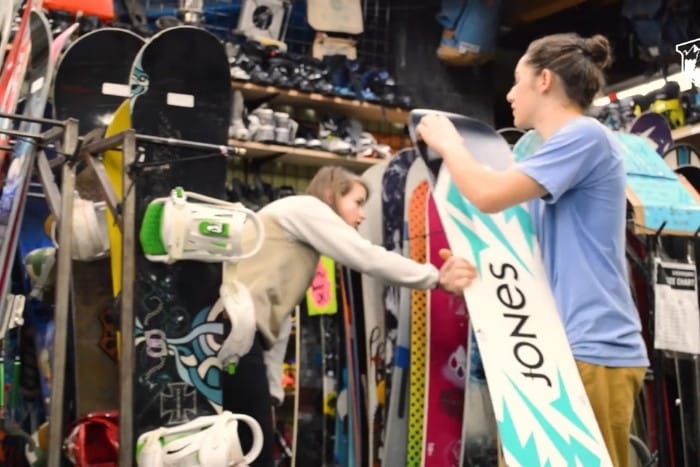 Buying In The Southern Hemisphere
One of the difficulties with discussing when to buy a snowboard is that it's a seasonal sport that can be done in either hemisphere, meaning the seasons occur at opposite times of the year.
For the most part, the sections above still apply to the southern hemisphere when we talk about the start and end of the season; it's just the months that differ.
For example, if you have a large budget and want your pick of the latest boards, the start of the season is June, so you'll want to start shopping around in May.
The season tends to finish around mid-October, so November is a good time to look for post-season discounts.
However, considering the end of the southern hemisphere season falls just before Christmas, when demand and prices can increase, it doesn't hurt to start looking a little earlier, around the mid-September mark.
If you don't mind having a smaller range to pick from, try holding out until the January sales, as these will be taking place in the summer, and you might find the prices drop like a stone.
The main issue those dwelling in the southern hemisphere face is that most snowboard manufacturers are based in North America and Europe, so they're already likely to pay a premium on imported equipment or have a smaller range to pick from.
One solution for those "down under" is to look at buying directly from North America at the times of year we mentioned in the section above.
Not every supplier will ship to New Zealand, Australia, Argentina, or Chile (the four places you can snowboard in the southern hemisphere), but it's still worth having a look.
Specific Sales
Throughout the year, there are also specific dates for your diary that are worth holding out for if you're hoping to pick up a new snowboard at a discounted rate.
1. Black Friday
The notorious Black Friday is held every year on the last Friday of November, the day after Thanksgiving.
Originally an America-only affair, most countries have now jumped on board and hold a sale on the same day.
Black Friday is mostly a bricks-and-mortar sale, so you'll want to choose which store to visit in advance, and its popularity means you'll want to get up early to beat the queues and pick up the best offers.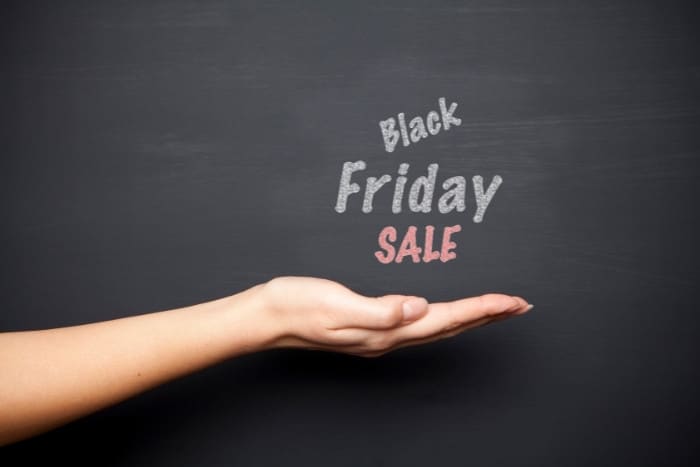 2. Cyber Monday
Held the Monday after Thanksgiving, Cyber Monday was introduced by companies to boost online sales and is the online shopping equivalent to Black Friday.
While buying a snowboard online might be more of a gamble than buying a board you can check out in person with advice from an in-store expert, it's much more convenient than queueing and competing with other shoppers.
You'll also find smaller, independent retailers participating in Cyber Monday, which can be a plus in finding specialized equipment like snowboards.
3. Boxing Day
If you're not still drowsy from a day of feasting on turkey and Christmas pudding, it's worth getting up early on 26th December to make the most of one of the biggest sales of the year.
Almost every retailer, both online and off, tends to drop their prices the day after Christmas with big discounts.
As it's the peak of the ski and snowboard season, it may be harder to find massive price reductions, but it's still worth looking at.
4. Prime Day
If you're an Amazon Prime member, Amazon holds a massive 48-hour sale every summer where you never know what you'll find other than great deals and huge discounts.
This is a perfect time of year to find a snowboard as the season's over, and plenty of retailers will be looking to use the Prime sale as a way to dump old stock.
This year, Amazon added an additional Prime sale in October, which was an even more convenient time to find a new board ahead of the upcoming season; they'll likely do the same thing in subsequent years.
Why You Should Wait Until After The Season
Personally, I never bother with buying a brand-new snowboard at the start of the season, even if I've got cash to burn and money isn't a factor.
Below are three reasons why we think it's always better to wait until the season's finished before picking up a new board.
1. Newer Doesn't Mean Better
Firstly, there's no reason to believe that the latest model released by a snowboarding company will be better than the last. In fact, it's not uncommon for a new model to perform worse than earlier iterations.
A brand new board line may be a disaster and discontinued before the season's finished, and even with a continuation of an existing line, you might be paying through the nose for a board that has a different graphic on the base yet performs exactly the same as last year's model.
2. Lack of Reviews
We mentioned this briefly before, but buying any kind of new gear before the season starts means you're unlikely to find many independent product reviews that will form a truly accurate picture of performance and reliability.
You'll be relying on the word of reviewers who've likely been given the product for free and will have a different perspective of its value for money, and a board may seem great on a test ride, only to let you down once you put it through its paces over several weeks.
3. Will It Be A Game-Changer?
Honestly, how often do you hear about an evolution in snowboard design that sounds truly groundbreaking and revolutionary?
We're not dismissing the time and effort that goes towards pushing the sport forwards, but most modern additions won't even be noticeable to most casual riders.
Unless you're a hardcore park or backcountry rider that relies on very specific adaptations and upgrades, it's unlikely you'd be able to tell the difference between a board from 2015, 2018, and 2022.
In most cases, buying the latest snowboard model amounts to paying double for something that has barely changed from the season before.
In our view, a great snowboard is a great snowboard, regardless of when it was released. If it's safe and reliable, and you have fun riding it, who cares about anything else?
Conclusion
In summary, there's no one right time of year to buy a new snowboard; instead, it comes down to your budget, how much choice you want, and where you live in the world.
While there's nothing wrong with picking out a shiny new model before the season starts, it's worth remembering that picking up an older model towards the end of the season won't stop you from finding a great board for your time on the slopes.