Wearing insoles is becoming more common, with plenty of people requiring corrective orthotics to remedy high arches, flat feet, or medical conditions like Plantar Fasciitis or Achilles Tendonitis. The more strain you put on your feet, the more likely you are to benefit from a pair of insoles which is why so many snowboarders are making sure they find a suitable pair to complete their gear list.
The best insoles for snowboarding boots are those that offer the correct type of support for your personal needs. They'll also provide extra warmth in the cold weather and include extra shock absorption to reduce the impact on your feet and joints while you ride down the mountain or in the park.
Today, we're reviewing six different insoles that we tried and tested to judge whether they offer the right amount of support for your feet while improving your comfort and performance while snowboarding.
Best Insoles For Snowboarding Boots
Compare Top Snowboarding Boot Insoles
Detailed Analysis Of The Best Snowboard Boot Insoles
1. Remind Remedy Insole (Most Versatile)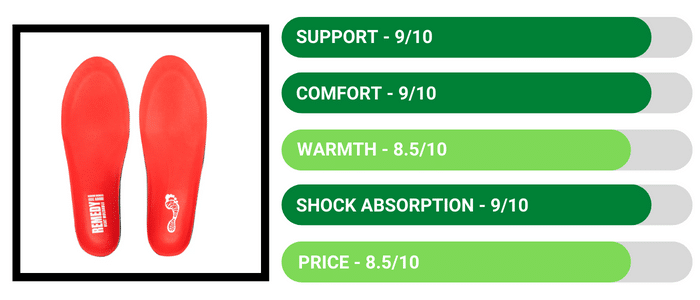 Overall Score: 88
Advantages
Heat moldable
Superior shock absorption
Disadvantages
Not snowboarding specific
Support
The Remedy insoles from Remind feature semi-rigid inserts that have been bio-mechanically engineered to support natural foot movement and guarantee correct anatomical alignment.
This makes them highly effective at relieving pressure from your joints and reducing the risk of injury.
Even better, these insoles are heat moldable, so you can follow the instructions and warm them in your oven before fitting them perfectly to your feet.
By ensuring the insoles conform precisely, you'll see an increase in boot responsiveness and board performance that you won't find in non-moldable insoles.
Comfort
The aforementioned heat-molding makes the Remedy insoles extremely comfortable, but the proprietary materials layered throughout also make a big difference.
These insoles feature one hundred percent organic treatments that wick away moisture from your feet, keeping them fresh and odor-free.
Warmth
While the Remedy insoles don't feature any specific foot-warming technology, moisture-wicking materials also help keep your feet at the right temperature.
They'll be cool and comfortable, so they won't overheat, but they'll also stay dry enough that the excess moisture won't get cold when the outside temperatures drop.
Shock Absorption
The four-layer construction of Remind's Remedy insoles does a lot of the work in dissipating energy and shock up through your feet, but the company's state-of-the-art smart foam makes the biggest difference.
Called "Blue Magic," this patented shock-absorbing material is built specifically for heavy impacts like those you'll experience in snowboarding but remains soft and flexible enough to remain comfortable and long-lasting.
Price
For heat-moldable insoles that are this versatile, they're well worth the price tag.
While they're the same price as the snowboard-specific insoles on this list, they provide excellent impact reduction and are versatile enough to swap between your other footwear.
2. Sidas Winter 3Feet High Insoles
Overall Score: 90
Advantages
Three arch height varieties available
Heat insulated
Disadvantages
Support
While the Winter 3FEET insoles from Sidas aren't heat moldable, they do come in three distinct variants for high, mid, or low arch heights that are a nice change from some one-size-fits-all orthotics.
They provide excellent support for an off-the-peg insole with finely-tuned pressure distribution to relieve stresses across your feet and up through your legs.
Although Sidas make insoles for almost every activity you can think of, the company was initially started by three ski instructors, so they've got plenty of experience when it comes to corrective winter footwear.
Comfort
The perforated, breathable forefoot of the Sidas Winter 3FEET insoles is lightweight enough not to feel cumbersome, and it wicks away sweat from the footbed of your snowboard boots while being a barely noticeable addition.
As long as you know how high your arches are and pick the correct version, these ultra-thin insoles will make a big difference in your riding for such a small item.
The top cover is super comfortable as it's made from a silky smooth, durable velvet.
Warmth
Sidas' Winter insoles are specifically designed for colder weather and related activities like snowshoeing, skiing, and snowboarding.
The Winter versions feature a section of aluminum film under the toe pad that offers extra insulation to prevent the heat from leaving your feet, and the difference is noticeable compared to the non-Winter version.
Sidas offer insoles that feature unbeatable heating elements when it comes to keeping your feet warm, but these are better suited for hiking as the wires and battery pack aren't ideal for snowboarding.
Shock Absorption
The Winter 3Feet insoles use EVA padding to support the foot, the same material used to absorb shock in your snowboard boots and usually in the footbed of your bindings.
While it might not be a particularly rare or high-tech material, it's certainly reliable enough to be used in most snowboarding gear to reduce the force of impacts.
In addition, these insoles feature a gel-cushioned heel, which is a nice buffer for those who tend to come down harder on their heelside.
Price
As the second cheapest insoles on this list, the Winter 3Feet are great value for insoles built specifically with winter sports in mind.
We probably wouldn't bother splashing out the extra cash on the versions with heating elements, as the batteries alone can end up costing double the cost of the insoles.
3. Sole Softec Ultra Insoles (Best for Plantar Fasciitis)
Overall Score: 83
Advantages
Ideal for Plantar Fasciitis sufferers
Heat moldable
Disadvantages
Extra thickness means a tight fit
Support
The Softec Ultra insoles from Sole are an excellent insole for supporting high arches and are even approved by the American Podiatric Medical Association.
If you suffer from Plantar Fasciitis and it's been keeping you off your feet, these are some of the most highly recommended insoles for combatting the associated foot pain.
They're also heat-moldable, so you can fine-tune the fit to your specific needs.
Comfort
Sole's Softec insoles come in a range of thicknesses; however, for snowboarding, the Ultra versions are the most suitable as the thickest of the options.
They're stiff for insoles, but for snowboarding, stiffness isn't necessarily bad, as it helps you keep control over your board.
That being said, the thickness of these insoles does make fitting them slightly difficult. You can trim them down to fit the footbed, but the added thickness may cause tightness across the top of your foot.
Warmth
The thickness of the Ultras works quite well at insulating, but they're not designed specifically for winter wear and therefore don't come with any fancy features designed to keep your feet extra warm on the slopes.
This shouldn't be much of an issue if you've got a well-designed boot liner and wear suitable socks with them.
Shock Absorption
The Softec Ultras feature 3.2mm of open-cell cushioning and are the thickest option in this style.
That being said, they're not particularly good at shock absorption, so you'll be relying on your boots and bindings to do most of that work for you.
Ultimately, you will only miss the extra impact prevention if you're doing most of your riding on hardpack snow or spending a lot of time getting air in the snowpark.
Price
The Softec Ultras sits at the middle of the pack price wise, but if you have a specific orthopedic issue, especially Plantar Fasciitis, they're excellent value for money.
Some orthopedic specialist insoles can cost hundreds of dollars, but these do all the work at a fraction of the price.
4. Shred Soles Maximum Performance (Best for Snowboarding)

Overall Score: 94
Advantages
Designed for snowboarding
Excellent impact reduction
Disadvantages
On the more expensive side
Support
Shred Soles are specifically designed with snowboarding in mind, engineered to minimize strain and maximize arch support with a deeper heel cup.
The cant and taper realign your hips, knees, and ankles to promote a balanced, natural posture for riding, and while they aren't heat-moldable, they form naturally to your feet over a few days.
Comfort
The Soles are extremely comfortable and can be trimmed to fit perfectly to your boots.
If you've got higher arches, you're better off choosing a size up and cutting them down to size, and while the deeper heel cup is noticeable at first, we found they felt completely natural after breaking them in throughout the week.
The fact they're built for snowboarders means they work naturally with your snowboard boots, and you'll likely never ride without them again.
Warmth
The Shred Soles don't feature any extra technology or materials to keep your feet warm while riding, but we didn't feel like we were missing out.
Cutting down on the size this way made the insoles feel more natural in the long run, and if you're struggling to keep cozy in your boots, Shred makes a superb pair of Thermolite snowboarding socks that are breathable and moisture-wicking while also working like compression socks for extra support.
Shock Absorption
Impact reduction is where the Shred Soles really shine. A high-density gel pad at the heel absorbs energy and reduces harsh impacts, and EVA pads under the forefoot and around the gel pad at the heel.
Underfoot, vibrations are reduced through a layer of microcellular urethane.
With some insoles that improve shock absorption, the extra protection comes at the expense of board feel, but we can safely say this isn't the case with the Soles, which let you feel everything you want to through the board while cutting out any uncomfortable sensations.
Price
While not especially cheap, we felt like the price tag of the Soles was well-earned, considering they're tailored with snowboarding in mind.
The extra shock absorption is especially worthwhile for advanced snowboarders who like big air and hardcore runs.
5. Tread Labs Dash Insoles

Overall Score: 80
Advantages
Incredibly lightweight
Carbon fiber inserts
Disadvantages
Support
The Dash insoles from Tread Labs are perfect for those with flatter feet thanks to the arch supports made from one hundred percent carbon fiber.
Having said that, they're still great for different arch heights, with four variants available ranging from low to extra high.
The carbon fiber inserts are perfect for storing and returning energy and improving your riding posture while out on the mountain.
Comfort
Dash insoles are incredibly lightweight and topped with open-cell polyurethane foam that conforms comfortably to the foot.
They will feel over-firm when you start using them, but after a week or so, you'll forget you're even wearing them.
These insoles come with extra top covers of varying thicknesses, which means you can swap them over to use in other types of footwear, making it easy to break them in before using them out on the mountain.
Warmth
Tread Labs' Dash insoles don't come with any specific foot-warming features, and they're so thin that they don't offer much extra insulation.
However, as they're slim and lightweight, you can easily wear an extra pair of snowboard socks if required, as these insoles won't take up too much space and cause any pinching along the top of your feet.
Shock Absorption
The Dash insoles are suitable for snowboarding but aren't the best at shock absorption.
Having said that, they still work well outside of heavy freestyling, and the swappable covers go up to 5 mm in thickness which still provides better impact reduction than having no extra padding in the first place.
Price
Carbon fiber never comes cheap, and these are the priciest insoles on this list, almost double the cost of the second most expensive on this list. The question is, are they worth it? Maybe.
If you partake in enough outdoor activities and swap them between your hiking boots, snowboard boots, and running shoes, they're worth the money.
However, if you're only looking for a pair of insoles for snowboarding, we'd choose a pair tailored for winter sports.
6. Walk Hero Insoles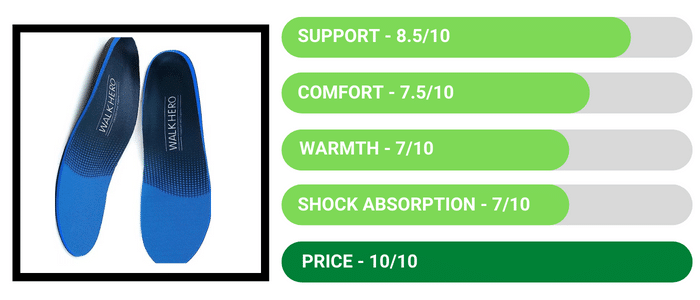 Overall Score: 81
Advantages
Low price
Suitable for Plantar Fasciitis and Achilles Tendonitis
Disadvantages
Support
The Walk Heros are great for flat feet and high arches and suitable for remedying a whole range of orthopedic issues, including bunions, arthritis, Plantar Fasciitis, and Achilles Tendonitis.
They feature an extra deep heel cup to better position your feet, and they'll support your arches to reduce stress on your joints.
Comfort
These insoles were definitely comfortable after breaking them in for a few days, and the foam felt soft yet firm.
They're pretty simple, so they weren't the most comfortable insoles we tried, but they did hold up for the time we tested them.
Having said that, they'll likely degrade more quickly over time than more premium alternatives and will likely need replacing sooner to maintain their level of support and comfort.
Warmth
The Walk Hero insoles are similar to the Dash insoles because they don't have any extra foot-warming properties but are thin enough that you can double up on socks or wear a thicker pair to keep your feet warm on particularly cold days.
Personally, we feel it's more of an issue when insoles lack any winter extras but are so thick that they stop you from taking care of the cold with extra layers due to a lack of space.
Shock Absorption
Although Walk Hero insoles don't feature specific gel pads on the heel or forefoot for impact reduction, they do use a premium EVA foam along the length of the foot which worked better than expected when it came to shock absorption.
They may not make much difference if you're spending your days stomping in the snow park, but they offer more than enough protection for casual riding or snowboarding through deep snow.
Price
The Walk Hero insoles are by far the cheapest on this list and great value for money.
If you use them frequently in all your footwear, they're likely to wear down pretty quickly, but if they work for you, we suggest buying separate pairs for each type of footwear you own.
They're simple, but they definitely offer the support you're looking for in a snowboarding insole.
The Bottom Line
Snowboard-specific insoles are fairly uncommon; however, that doesn't mean that you won't find suitable multi-purpose insoles for wearing out on the mountain.
All the insoles we reviewed worked well, fitting snugly inside our boots and offering the support you need from a pair of orthotics.
Having said that, the Soles insoles from Shred are tailor-made for snowboarders, and it really shows.
Not only do they offer excellent arch support, but they'll noticeably improve your riding posture, regardless of your preferred stance, and the added shock absorption is excellent for those who like to ride hard.