You can never have enough snowboarding beanies; whether you wear them on the mountain or around the resort, a good beanie will keep you warm and looking good. Personally, I like to buy at least one new beanie every season, even if it's just to make my photos look different, but of course, it has to match my outfit.
A decent snowboarding beanie is comfortable, looks good, and keeps you warm. Some are better than others and can make or break your day on the mountain. We like the timeless style of the Carhartt and Coal beanies, but if you want to help the environment, the POW Smartwool Merino Beanie is a winner.
Seeing how vital a snowboarding beanie is, we have put together a list of the best ones you can buy right now. These beanies are guaranteed to keep your head and ears warm and to be bang on trend. We've chosen them for their materials, comfort, style, and any additional features we feel add value and coolness.
Best Snowboarding Beanies
Compare Top Beanies For Snowboarding
Detailed Analysis Of The Best Snowboarding Beanies
1. Burton DND Beanie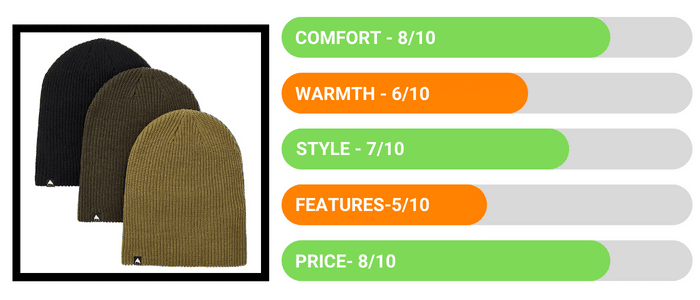 Overall Score: 68
Advantages
Low profile fit, so you could wear it under a helmet
You get three in a pack in different colors
Made from recycled material
Disadvantages
Not the best choice for freezing cold days
Comfort
The Burton DND beanie is designed to keep you warm and hide your helmet hair at the end of a day of riding.
It has a form-fitting and comfortable fit, and its acrylic fabric prevents your head from itching for stress-free wearing.
Warmth
Due to its medium thickness, this beanie is great for après and milder temperatures.
It's not the kind of beanie you would wear in Arctic conditions, nor is it designed for slushy springtime riding, as it fits right in the middle, making it suitable for most other conditions.
Style
The Burton DND has a classic style that suits men and women and can be worn in a couple of ways. You can wear it long, drooping over the back of your head, or roll it up for a more form-fitting style.
Thanks to the subtle colors, it has an understated look, which goes well with most snowboarding outfits, especially from the Burton range.
Features
There are not many features to talk about with the Burton DND, but it is good to know that the material is recycled to help you meet your green credentials.
Still, more importantly, you get three beanies in a pack in different colors. So you can complement your outfit, mix up your style or hand them out to your friends.
Price
Considering the Burton DND beanie is a classic hat that will go with most styles, you get good value for money.
This is enhanced by the fact that you get three of them in a pack, so you can't really complain about the price.
2. The North Face Osito Beanie (Best for freezing temperatures)

Overall Score: 70
Advantages
Incredibly warm
Comfortable
Comes in a variety of colors
Disadvantages
It might not suit everyone
You can't wear it under a helmet
Comfort
This hat from The North Face is super comfortable, thanks to its furry texture. It is pretty short compared to other beanies, so it is form-fitting, which may appeal to you more than a relaxed fit.
Warmth
The medium thickness of the Osito hat creates an excellent level of warmth, perfect for chilly days. It may be too much for milder temperatures, but great for early-season snowboarding trips.
Style
This type of snowboarding hat would look great on some people but terrible on others due to its shape. Some people can pull it off, while others tend to look a bit mushroom-like.
But if you are one of the lucky few, you could look super cool, especially as there are a few different colors to choose from.
Features
There are not many features associated with this hat, but you'll like the fleecy material. The subtle logo embroidered on the center also tells everyone it's a quality product.
Price
Considering how comfortable and warm this hat is, it is reasonably priced.
3. MyDeal Winter Bluetooth Beanie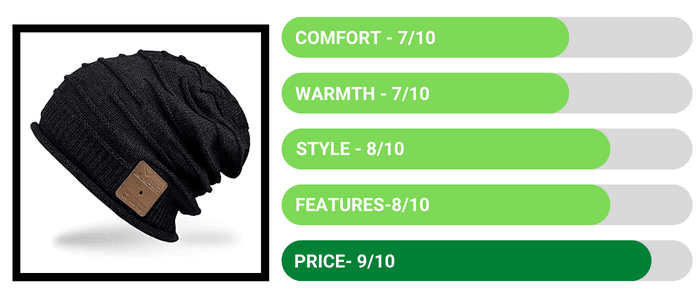 Overall Score: 78
Advantages
Allows you to listen to your favorite tunes while shredding
Looks pretty good
Great value for money
Disadvantages
You can't wear it under your helmet
Comfort
This beanie is made from a soft acrylic fabric with medium thickness, making it very comfortable to wear on the slopes or around town.
It has a relaxed fit, so you don't feel tightness around your head, further enhancing comfort.
Warmth
The MyDeal winter Bluetooth beanie is double-knitted, with two layers to keep you nice and warm. It's probably not the best for extremely cold temperatures, but it will serve you well in most ski resorts.
Style
The style of this beanie is pretty cool. This is down to its slouchy and droopy design, creating a casual look.
You can also choose between 18 colors and patterns, so you can surely match them with your snowboard jacket.
Features
This beanie allows you to listen to your favorite tunes while you are riding. This is because it has an integrated speaker that provides excellent sound quality without having to use earbuds.
The beanie also has a built-in rechargeable battery that lasts a couple of hours.
The hat's integrated control panel allows you to skip tracks and take calls without getting your phone out of your pocket.
You can wash this hat in your washing machine, but remember to take out all the electronic components before you do so.
Price
The MyDeal winter Bluetooth beanie is very well-priced, considering you can listen to your music through it. In fact, it is such good value you may want to buy more than one in different styles.
4. Carhartt Watch Beanie
Overall Score: 71
Advantages
Timeless style
Very comfortable
A few colors to choose from
Disadvantages
Comfort
The Carhartt Watch beanie is a super comfortable hat. Its thick acrylic material is super stretchy, so it fits your head perfectly and will not move, no matter how hard you shred.
You can adjust the comfort and style by folding the cuff up or down, which alters how much coverage it gives you.
Warmth
This beanie's thickness and comfortable material protect you from the cold and wind very well. You may find it too warm for springtime, but you have no complaints throughout the rest of the season.
Style
You can't really go wrong wearing this beanie as it has a classic style that looks good on the mountain and in the apres-ski bar.
There are a few different colors to choose from, and most are pretty subtle, apart from the two fluorescent versions that are probably more suited to construction workers.
The only slight downside of this classic style is that it's pretty popular, so you can guarantee you won't be the only person wearing this hat, but who cares?
Features
This is a reasonably simple beanie with no bells and whistles. Still, the notable features you will benefit from are the stretchable fabric and the fold-up cuff.
Price
The Carhartt Watch beanie is pretty well-priced for such a classic and popular design.
It's not the cheapest, but it's not the most expensive either. Still, it is a quality beanie that looks great and is super comfortable.
5. Coal Uniform Beanie
Overall Score: 73
Advantages
Looks great
Nice and warm
Versatile styling
High quality
Disadvantages
Comfort
The Coal beanie is made from a soft acrylic material that makes it super comfortable to wear. The wide cuff keeps it secure while adding to its traditional style fit.
It's the kind of hat you will be happy to wear all day, especially as its material is itch-free.
Warmth
The thickness of the coal beanie will keep your ears and head warm all day without being over the top.
It may be a little too thick for milder days, but you love wearing this from January through March in any ski resort.
Style
Like the Carharrt beanie above, this one is inspired by workwear, meaning it is a classic cuffed winter hat. But you can wear it in a couple of ways to suit your style.
You can wear it just over your ears with some room at the top or fold it down for a more snug, fit, and low-profile style.
And top of all this, you can choose this beanie in over 20 different colors and styles. Therefore, there's a good chance you'll find one you like that will perfectly match your fit.
Features
With its simple design, this hat doesn't have many features. However, you will love this soft tight rib knit material, versatile styling, and the fact it looks good anywhere.
Price
With the versatility of this hat and the warmth it provides, the Coal Uniform beanie is very well-priced, which may lead you to buy more than one, so you have a spare or a different color to mix up your look.
6. Neff Daily Beanie (Best for under your helmet)

Overall Score: 64
Advantages
Classic design
Fits under your helmet
Lots of colors to choose from
Breathable
Versatile enough for multiple sports
Suitable for men and women
Disadvantages
Not very good for very cold days on its own
Comfort
The Neff Daily beanie is made from an ultra-soft and stretchy acrylic material. Therefore, you can expect it to be incredibly comfortable even if you wear it all day.
Part of this comfort comes courtesy of the material's breathability, so you don't get too hot, and any moisture is wicked away from your head.
Warmth
This beanie is not designed to be used in freezing temperatures; instead, it is made for milder days and for wearing underneath your snowboard helmet.
Its lightweight material makes it perfect for spring riding or other energetic sports such as skateboarding, hiking, or running.
Style
This style of beanie is popular with skaters and anyone with steez. If you like wearing your hat and goggle strap underneath your helmet, this is the perfect beanie.
It also comes in a wide range of colors, so you can still look cool and coordinated when you take your helmet off.
Features
The Neff beanie is as simple as they come. Don't expect a list of features; it is just a simple beanie that looks great and is versatile.
Price
Due to the simplicity of this hat, it is incredibly well-priced. It's another one of those hats you may want to buy more than one of, so you've always got a clean one or a different color to suit your mood and style.
7. POW Smartwool Merino Beanie
Overall Score: 72
Advantages
Eco-friendly
Looks great
Made from technical fabrics
Very comfortable
Disadvantages
Comfort
This beanie is incredibly comfortable. Thanks to its shape and materials. It is made from 100% recycled polyester and Marino wool.
The Marino wool draws moisture away from your skin and releases it into the atmosphere, so you don't get a sweaty head. The soft polyester gives you a snug feeling when on the mountain.
Warmth
The combination of polyester and Marino wool means you get a good level of insulation.
Still, the Marino wall is an active fiber that reacts to changes in your body temperature and environment, which means it insulates your head when it's cold and manages heat and moisture when you feel warm.
Style
The style of the POW beanie is quite distinctive with its large, Protect Our Winters logo, embezzled on a mountain scene background.
The logo looks cool, but it also shows off your green credentials while raising awareness of climate change.
Another good thing about this beanie is that it is thin enough to wear under your helmet. But it is still thick enough to wear while walking between the après bars at night.
It's also quite striking, so there's a good chance you won't lose it on a night out.
Features
The POW beanie is very simple, so it's not very feature-rich. However, its primary purpose is to look good and raise awareness while keeping your head and ears warm.
Price
Protect Our Winters want to get their message out, so they have kept the price of this beanie reasonable so it won't break the bank.
Final Thoughts
A snowboarding beanie should be stylish, comfortable, and warm; we believe these are among the best ones you can buy, as they check all the boxes.
Which one will you go for? Or will you start to build up a collection?