The east coast of the USA is nicknamed the "Ice Coast." It is due to the low elevation of its mountains, high humidity levels, and extreme weather conditions. This results in icy conditions in East Coast ski resorts. To snowboard in these conditions requires you to modify your technique and the right equipment.
With this in mind, we have compiled a list of the best East Coast snowboards on the market. We have based our recommendations on extreme edge hold, stiffness, durability, and a few other considerations that make them ideal for icy conditions.
It would be best to have a snowboard with a medium to stiff flex rating and good edge hold to make the most out of your time riding on the east coast. Therefore the Lib Tech Travis Rice Pro HP is an excellent choice. But, if you want something kinder to your wallet, check out the Capita Mercury.
These snowboards are best suited to East Coast ski resorts as they are designed to cope with the often challenging snow conditions. By choosing one of these boards, you stand a better chance of staying on your feet and enjoying yourself.
The Best Snowboards For Riding East Coast Ski Resorts
Compare East Coast Snowboards
Detailed Analysis Of The Best Snowboards For The East Coast
1. Gnu Head Space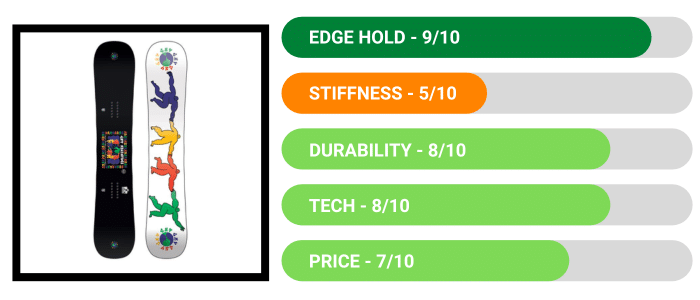 Overall Score: 74
Advantages
Lots of grip in all conditions
Effortless turn initiation
A fast and durable base
Disadvantages
Edge Hold
The Gnu Head Space has excellent edge hold thanks to the C3 hybrid profile. This profile puts a rockered section between your feet and a mild camber at the nose and tail.
The idea is to provide a tremendous amount of pressure between your feet, allowing you to hold an edge even on the hardest ice. Edge hold is also enhanced by Magne-Traction.
This technology increases grip in all conditions by making the edges wavy, giving you protruding points that dig into hardpacked snow and ice.
Stiffness
Gnu has given the Head Space a medium flex rating, so it hits the sweet spot between edge hold and forgiveness. Therefore, you can expect easy turn initiation and reduced chatter at high speed.
This snowboard is best suited to intermediate to advanced riders.
Durability
The Gnu Head Space is handmade in the Mervin Manufacturing facility, which also makes Roxy and Lib Tech equipment.
They pride themselves on high-quality workmanship, highly durable construction, and a tough base.
Tech
Gnu has squeezed lots of technology into this snowboard. We have already mentioned the profile and edge technology.
Still, the Aspen and Paulownia mixed core makes the Head Space light, strong, and poppy. The sintered base is fast, tough, and retains wax exceptionally well.
The Head Space is one of Gnu's asymmetrical snowboards, meaning your heel side edge is shorter than your toe side edge.
This is to make turns effortless and compensate for the differences in your physicality when going from edge to edge.
If you don't know much about asymmetrical snowboards, you can read my article on advantages and disadvantages of asymmetrical snowboards.
Mervin Manufacturing has also worked hard to make this new board as eco-friendly as possible.
Price
It's quite a high-end snowboard, so you need to expect it to be priced accordingly.
But if you are riding on the east coast, this will check all the boxes for you, and it will even perform incredibly well when the snow conditions are much nicer.
2. Lib Tech Travis Rice Pro HP

Overall Score: 78
Advantages
A luxury and high-performing snowboard
Fantastic edge control in all conditions
Stunning graphics
A dreamy ride
Disadvantages
Edge Hold
This snowboard is one of the many Travis Rice signature models. Travis has tested this board extensively, so you know it will perform exceptionally well.
It features Lib Tech's C2X hybrid camber profile which sees a mild rocker and a camber underneath your feet.
This design gives you a silky, smooth ride, seemingly effortless turn initiation, and incredible edge hold on hard surfaces.
Like the Gnu Head Space, The Travis Rice Pro has Magne-Tratction edge technology which makes you feel locked into carve turns and gives you plenty of grip on ice.
Stiffness
The Travis Rice Pro HP has a medium to stiff flex rating, making it best suited to intermediate to advanced riders.
The stiffer nose and tail combined with the medium flex rating between your feet enhances this snowboard's grip on ice.
Durability
Lib Tech makes incredibly durable snowboards as part of their eco-friendliness.
But this is a high-end snowboard you will pay a lot of money for, so you want it to last and withstand the punishment of riding the terrain it was designed for.
You'll also be impressed by how robust the base is. After you've bashed a few rocks, you can't help but be impressed.
Tech
As you would expect from a snowboard like this, it has lots of tech thrown at it. But the HP version, which stands for horsepower, gives you a lighter, more environmentally friendly, smoother snowboard.
Price
All this luxury comes at a price, so don't expect this to be a budget purchase. But you get what you pay for, and that is a high-end snowboard that almost feels like cheating.
It will also last a long time no matter where you ride.
3. Ride Berzerker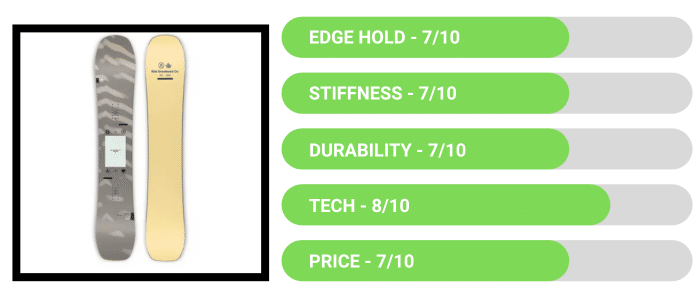 Overall Score: 72
Advantages
Excellent control on any snow condition, from ice to powder
An incredible amount of power and pop
Lightweight and durable
Disadvantages
It looks a bit boring compared to other Ride snowboards
Edge Hold
The Ride Berserker was designed by Jake Blauvelt, who wanted to build a snowboard that matched his smooth riding style in all conditions and anywhere on the mountain.
He has given this snowboard a tip rocker and a mild amount of taper in the tail. This makes transitioning between the edges super fast.
But once you are on an edge, the tapered quadratic sidecut provides excellent traction and stability on hard-packed snow and ice.
Stiffness
The Berserker is a stiff all-mountain snowboard suitable for intermediate and advanced riders. If you have the skills, you will benefit from its excellent edge hold, as well as its float in powder.
The flex and snap have been enhanced with Ride's Slimrods, which are carbon and urethane rods added to the board to enhance pop.
You can buy this board with two levels of Slimerod technology to dictate how snappy you want the board to be.
Durability
This snowboard has a unique 3-D structure, using urethane Slimewall sidewalls.
This construction makes the Berserker incredibly strong and light, but it also has a durable top sheet that should stand the test of time.
The lightweight Paulownia and Aspen wood core is set in a biaxial and triaxial fiberglass sandwich, contributing to the board's durability while enhancing control and snap for aggressive riding.
Tech
Ride has used lots of in-house tech in the Berserker, giving it unique riding characteristics.
It doesn't feature any kind of Magne-Traction, but you can still expect excellent edge hold on ice, which is what you need for East Coast riding.
Price
With the expertise of Jake Blauvelt and the high-end construction, the Ride Berzerker is quite pricey.
However, we believe it is appropriately priced for such a high-performing snowboard that will last you many seasons.
4. Burton Custom Camber

Overall Score: 70
Advantages
Forgiving
Great for riding switch
Easy turn initiation
You get the excellent Burton warranty
Disadvantages
Not ideal for absolute beginners
Edge Hold
The Burton Custom Camber features Burton's DualZone EGD engineered wood grain on both edges.
This provides excellent edge hold and responsiveness, so it performs well and is easily controlled in icy conditions. It doesn't have aggressive edge technology like Magne-Traction.
Still, as long as you sharpen the edges and service it regularly, it will continue to perform well on ice.
Stiffness
Burton has given this version of the Custom a medium flex rating which is consistent throughout the whole snowboard.
This strikes a good balance between playfulness and control and also means riding switch is manageable despite having a directional shape.
Durability
Burton Snowboards are well made, and the custom camber is no exception. You can tell that it is a quality snowboard as soon as you take it off the rack, and Burton's excellent warranty backs this up.
Therefore you can have peace of mind that you will have a durable snowboard and protection if something does go wrong with it.
Tech
The camber of this snowboard provides powerful turns and lots of pop as it distributes your weight evenly across the board, allowing for smooth and predictable edge control along the whole sidecut.
The directional shape gives the Custom a slightly longer nose than the tail; this adds to the snowboard's versatility and ability to cope with any terrain or snow condition, which is ideal for riding on the east coast.
It features Super Fly II 700G Core, which is made from lightweight wood that gives you lots of pop while strengthening the board without adding too much weight. Burton has also given the Custom their WFO base, a high-density, sintered material that absorbs wax and provides high speed.
Another feature of the snowboard is the channel binding mount system, which gives you pretty much limitless adjustment for your stance.
Price
Burton Snowboards are not known for their cheapness, so expect to pay a little more for the Custom Camber.
But remember that you get a highly durable and high-performing snowboard with a three-year warranty. This is another one of those cases where you get what you pay for.
5. Capita Mercury
Overall Score: 69
Advantages
Versatile
Fast
Easy turn initiation
Grippy edges
Disadvantages
Edge Hold
Capita has given the Mercury long cambered effective edges to ensure maximum grip on icy slopes.
But it also has Capita's death grip system, which incorporates a third contact point between your feet, providing extra traction and edge hold when carving on hard, packed snow and ice.
Stiffness
The Mercury has a medium to stiff flex rating, which strikes a good balance for riders with an aggressive style while also being a good choice for intermediates.
This is a good snowboard for intermediate riders looking to take their snowboarding to the next level. The directional flex makes the tail stiffer than the nose.
Therefore, the tail cuts into the snow, giving you more stability when carving, even in icy conditions.
Durability
Capita has worked hard to make the Mercury a durable snowboard. It has reinforced side walls, bombproof bonding components, and a durable top sheet.
So you can expect this snowboard to look and perform well for many years.
Tech
A lot of technology is incorporated into the Capita Mercury, causing it to win several awards for all-terrain versatility.
The 2022/23 version features Capita's new Hover Core and Amplitex V-Tech Amplifiers to ensure it can cope with any condition and allow you to ollie higher than ever.
The sintered Hyperdrive base has been custom engineered with special additives to retain wax and provide speed freaks with high performance.
Price
Although this snowboard isn't cheap, it is the most affordable one on this list. But it is also a high-performing snowboard that is incredibly fun to ride.
When you consider its versatility, it is excellent value for money, and many people will consider it a quiver killer.
Final Thoughts
You can, of course, ride any of these snowboards on any snowy mountain. But we've chosen these for their performance in the less than favorable conditions associated with the East Coast.
They have excellent edge hold medium to stiff flex ratings and are packed full of technology. This means these boards are not ideal for beginner snowboarders as they aren't too forgiving.
However, if you have intermediate to advanced skills, you will love riding any of these snowboards on the East Coast.