One of the best ways to enhance your snowboarding experience is to listen to your favorite tunes while you shred. This means choosing the right audio solution that will give you good sound quality over the wind, rushing past your helmet, comfort, and security. But due to the harsh environments of snowboarding, the best earbuds have to be durable enough to not be affected by wet weather.
The best earbuds for snowboarding need to be water-resistant, have a great sound quality, and be comfortable. Therefore, you should check out the Alek 006, as it provides an excellent communication device and audio system. Alternatively, check out the versatile and durable AfterShokz Aeropex.
Create a playlist and keep your ears happy with our selection of the best earbuds for snowboarding.
Best Snowboarding Earbuds
Compare Top Earbuds To Wear While Snowboarding
Detailed Breakdown Of The Best Earbuds For Snowboarding
1. Beats Flex Wireless Earbuds
Overall Score: 80
Advantages
Excellent sound quality
Comfortable
Some useful features
Great battery life
Disadvantages
Some owners say the controls can be awkward
Features
The beats flex earbuds have many great features to make them easier to use.
They have a long battery life giving you up to 12 hours of listening time, so you shouldn't have to worry too much if you forget to charge them every day.
Some other cool features include auto play and pause, which means the music stops when you do, so you can chat to your riding buddies about which après bar you're going to.
You can also wirelessly share your audio with a friend, so they can listen to the same tunes as long as they have a pair of Beats headphones or AirPods.
These earbuds also have built-in controls that allow you to change your track volume, take calls and use your voice assistant.
Sound Quality
The Beats Flex earbuds sound fantastic. You can be sure to have excellent sound quality wherever you use them, even when blasting down your favorite red run.
They also have a built-in microphone with wind reduction, so you can use your phone while riding or sitting on the chair lift.
Tech
The Beats Flex earbuds use the Apple W1 headphone chip, giving you seamless connectivity. In fact, it's one of the best systems you can buy.
Even though this is an Apple product, you can use these AirPods with Android devices, laptops, and tablets too.
Comfort
The fit of the Beats Flex earbuds is customizable. Thanks to the four tip choices, you can select the perfect one that fits your ears and your snowboard helmet for comfort and security.
Price
When you're talking about high-end earbuds, the beats flex is one of the best budget choices you can buy.
2. Bose SoundSport

Overall Score: 84
Advantages
High level of sound quality
Great tech
Resistant to sweat, cold, snow, and water
Disadvantages
Expensive, but you get what you pay for
Features
These earbuds, from the very reputable Bose, are high-end items for people serious about their music.
When it comes to features, there's not a lot to play with; however, the features add to the durability and usability of these earbuds.
For example, what makes them ideal for snowboarding is that they are weather-resistant and sweat resistant.
They can also be used at any temperature, so you can be sure that your earbuds will work as they should and not get damaged by wearing them in the winter.
Sound Quality
As you'd expect from Bose, the sound quality is quite exceptional. They give you super high-quality audio, but you can make many different adjustments to fine-tune the sound to suit your preferences.
Tech
The wireless connectivity of these earbuds uses near-field communication and Bluetooth. Therefore, they are compatible with pretty much any Apple or Android product.
Comfort
Bose has worked hard to make the SoundSport earbuds extremely comfortable. They sit in your ears comfortably and securely, thanks to the three different tips to choose from.
Price
As you would expect from such high-end items, these earbuds are not cheap. However, their outstanding sound quality and durability give you many years of audio excellence.
3. AfterShokz Aeropex
Overall Score: 90
Advantages
Fully waterproof
Incredibly comfortable
Good battery life
Disadvantages
Some owners have had connectivity problems
Features
These are bone-conducting headphones, meaning you put them behind your head, and the sound comes in the form of vibrations transmitted through your cheekbones into your inner ear.
This gives you a high-quality audio experience.
They also have an IP rating of 68, which is professional protection, making these headphones very versatile.
For example, you can wear them snowboarding as their resistant to just about any element you can throw at them.
You can even use them for swimming and listening to downloaded songs while doing laps in the pool.
Sound Quality
The sound quality is fantastic as the sound is transmitted through your cheekbones. All the frequencies and elements associated with sound files are brought to you with outstanding clarity.
Tech
The AfterShokz Aeropex earbuds use 5.0 Bluetooth, which is the fastest version. Therefore, you get seamless and uninterrupted connectivity with any device.
They are powered by a lithium polymer battery that gives you eight hours of tunes which is more than enough for a day of shredding.
You can also upload 32GB of songs to them, so you can listen to music without using your phone, draining the battery.
This also allows you to use them while swimming, as Bluetooth doesn't work underwater.
Comfort
These headphones are incredibly lightweight, so you don't have the issue of them being annoying or painful. You also don't have things in your ears, which can get uncomfortable or tiresome after a while.
Price
These bone conduction headphones are reasonably priced, not too expensive, but enough to reassure you that you are buying a quality piece of kit.
4. Alek 006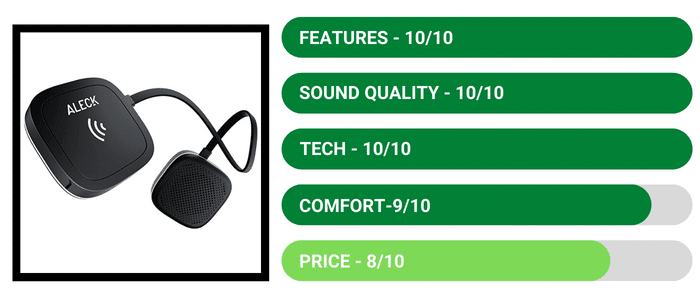 Overall Score: 94
Advantages
Great sound quality
Feature-rich
More than just audio
Great for communicating with your group
Disadvantages
Sometimes the communication feature is hit and miss
You need an audio-ready snowboard helmet
Features
The Alek 006 has many features that allow you to listen to music, communicate with your group and even track them down when they are lost.
Many of the features come from the app that allows you to create a group to communicate with your friends by just touching a button on the side of the headset.
You can even see where they are on a map, so it is easier to find them when you get split up.
Sound Quality
The speakers fit inside the ear pads of your audio-ready snowboard helmet.
These speakers are high-quality and give you excellent sound, whether listening to music using your phone or communicating with your friends through the app.
Tech
There is a lot of tech used with these headphones. For example, the communication group is encoded to a military level to ensure that you don't lose contact or get any eavesdroppers.
The fact you can see where your friends are in real-time is a great safety measure while making it convenient to make plans throughout your day.
You can communicate with your group by tapping the button on the earpiece, even while wearing gloves. You can also answer calls and change the volume suit whatever you are doing.
Comfort
This system can only be used with audio-ready helmets.
This means you tuck the speaker behind the foam in the ear pads, which creates a tight fit, but it's still very comfortable as long as you position the speaker correctly.
This can take a couple of tries to make sure they are comfortable.
Price
You get quite a lot of tech for your money with this system. Anybody can use the app for free, so the location services are open to everyone.
However, for the communication to work, everybody in your group needs to buy the Alek 006 speaker system.
It's also worth mentioning that the app uses your cell phone data. So this could become expensive if you use the Aleck 006 in a foreign country.
5. Jaybird X4
Overall Score: 78
Advantages
Great for all sports
Comfortable
Disadvantages
Features
The Jaybird X4 is a high-quality set of earbuds that are perfect for snowboarding, as they have a high level of waterproofing and sweat resistance.
Therefore, you can go snowboarding in the worst conditions but still know that they will pump out the tunes as long as the battery is charged
Sound Quality
Thanks to its custom EQ, you can expect excellent sound quality from the Jaybird X4.
This allows you to customize the sound to precisely how you want it and save your settings, so you don't have to tweak it every single time you ride.
Tech
The rechargeable battery takes two hours to fully charge, and it has a class 2 Bluetooth system that gives you 10 m/33ft of range.
Therefore with your phone in your pocket, you will have reliable connectivity giving you uninterrupted access to your tunes.
Comfort
You can expect a comfortable fit from the Jaybird X4 earbuds thanks to the Thermo reactive tips that mold to the shape of your ears which also goes a long way to ensure you have a rich sound.
The other advantage of the Thermo reactive tips is that you get a secure fit, so the earbuds stay in place no matter how hard you ride.
These earbuds are also connected, so there is little chance of losing them if you fall badly.
Price
Jaybird 4X for earbuds are reasonably well-priced; however, the others on this list that are similarly priced offer a little more functionality and quality.
6. Beats Studio Buds
Overall Score: 78
Advantages
Excellent sound quality
Battery life
It's a miserable fit
Disadvantages
Features
The beats studio buds are compatible with pretty much any device, Apple or Android.
They also have built-in controls and show device status, such as battery level and provide regular firmware updates to keep them working and compatible.
You activate your assistant, such as Siri, with just one touch, for extra convenience while snowboarding.
Sound Quality
Thanks to the active noise canceling feature that isolates you from unwanted external noise, you can expect excellent sound quality from these earbuds.
This isn't great for snowboarding, as you should know what is happening around you. Therefore you may want to go into transparency mode, which allows you to hear what's happening around you.
External microphones let in the sounds of the outside world, so you get a listening experience that seems more natural.
Tech
There's lots of tech jammed into the Beats Studio Buds. One of the great features is that the external microphones filter out external noises but target your voice.
This means you can use the system to use your phone while on the mountain.
Comfort
These earbuds come with different-sized tips that allow you to find the best fit. This makes them comfortable to use while ensuring they stay in place.
However, the earbuds are not connected, so it is easy to lose one when you remove your helmet.
Price
The Beats Studio Buds are not cheap, but they are excellent. It is worth looking at the other items on this list of similar prices to determine which works best for you.
7. Skullcandy Smokin' Buds 2

Overall Score: 66
Advantages
Inexpensive
Good sound quality for the money
Comfortable
Disadvantages
They may not fit your ears as well as more expensive options
Features
These earbuds are not feature-rich but are an excellent option for someone who doesn't want to spend too much money. However, they allow you to listen to music and take calls while snowboarding.
They also have a water-resistant design, so you don't have to worry about sweat, rain, and snow damaging them.
Sound Quality
The Smokin Buds 2 produces powerful bass notes, warm natural vocals, and crystal-clear highs. The sound quality isn't as high-end as some of the other systems on this list, but they are way more expensive.
Tech
As these earbuds are the budget option, you can't expect too much. However, they have a button that allows you to answer calls, cycle through tracks, and play and pause your music.
Comfort
The oval shape of these earbuds creates a good fit inside your ear. But some users have found that the fit could be more secure. But it shouldn't matter too much if you wear a helmet with earpads.
Price
The Smokin Buds 2 are the budget option on this list, but they are great for their price.
If you want to listen to your favorite tunes while riding but have a habit of losing things, these earbuds could be your best option.
Final Thoughts
These earbuds are all great for snowboarding. Which you choose depends on your budget and how serious you are about your audio experience on the mountain.
But please be careful when riding with music. Earbuds and headphones can isolate you from what's happening around you, which can be dangerous. Keep the volume down and your head on a swivel.